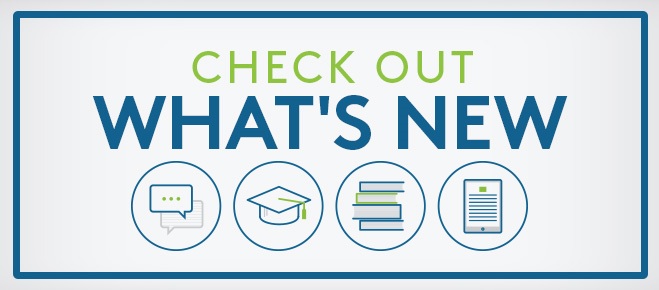 OverDrive Resource Center updates
By: Sydney Kalnay, Training Manager
The Staff Training pages on our Resource Center have been redesigned with you in mind, and we'll be adding improvements throughout 2020 to ensure you have everything you need to get started learning about all things OverDrive.
Webinars –Live and on-demand
We have a full schedule of engaging and informative webinars covering a variety of topics in 2020. Learn from OverDrive experts about getting your students started with the Sora reading app, engaging parents and other community members, the latest and greatest in content and product updates and more.
Upcoming Webinars are live and require pre-registration for a specific date and time; On-Demand Webinars are pre-recorded and can be accessed at your convenience as soon as they're released.
All our webinars are free and include:
A PDF copy of the PowerPoint slides
A link to a recording of the session to review and share with staff
Next steps for incorporating the information you've learned into your daily practice
Our Upcoming Webinars also include:
Live Q&A with OverDrive subject matter experts
How-to videos
Our instructional videos are easy to discover and quick to watch. Access videos about Sora, OverDrive Marketplace, your OverDrive website and the OverDrive "classic" app 24/7.
We've remastered our Sora series to include short, sequential videos so you can learn as your time allows – in one longer session or in shorter bits and pieces. Each video comes with a downloadable PDF of slides and content, and you can share the videos with other staff, rate them to improve our training program and even view related videos.
Look for shorter, sequential videos on our other topics – such as OverDrive Marketplace – later in the year.
Training kits
Want to host your own training for staff or students? Looking for training downloads like customizable PowerPoint presentations, how-to guides and more to help with your training needs? Keep an eye on the Training Kits section of the Resource Center to:
view and download current kits
stay up to date on upcoming offerings throughout the year
We hope the newly redesigned Staff Training pages of the Resource Center give you all the tools you need to learn more about your OverDrive service and to assist you in helping your students get the most out of your digital collection.
As always, you can email the OverDrive Training Team at training@overdrive.com to ask questions about current and future training assets, or email your Account Manager to schedule your personalized training session today!
---
About the Author:
Sydney, the Training Manager at OverDrive, is deeply engaged with technology and education as a creator, developer, and instructor. She has designed and delivered classroom training and e-learning experiences for diverse audiences since 2002. She loves pretending she's already a famous YA novelist, spending time with her cat-familiar, and listening to nothing but Nothing But Thieves.
Browse blog and media articles