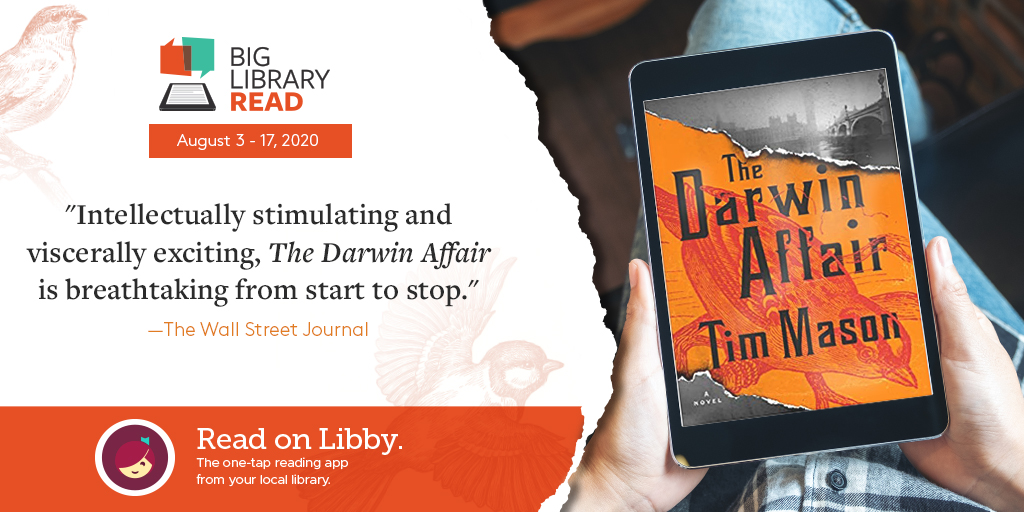 Big Library Read is back with The Darwin Affair
By: Jill Grunenwald, Marketing and Communications Specialist
Big Library Read (BLR) is back, and this time we bring you The Darwin Affair by Tim Mason. Set against the backdrop of London in the summer of 1860, The Darwin Affair is a page-turning mystery that will have you guessing until the very end.
From now until Aug. 17, readers at participating OverDrive libraries can check out the ebook and audiobook of The Darwin Affair without any waitlist or holds. After reading this incredible book, be sure to head over to our discussion board to share your thoughts. You can also join the conversation using the hashtag #BigLibraryRead.
Listen to the Professional Book Nerds talk with Tim Mason:
Library partners looking to promote The Darwin Affair to their community can download our marketing kit, which includes social media graphics and press release templates. You will also find a letter from author Tim Mason and a discussion guide.
Contact your Account Manager with any questions about Big Library Read.
About The Darwin Affair
London, June 1860: When an assassination attempt is made on Queen Victoria, and a petty thief is gruesomely murdered moments later—and only a block away—Chief Detective Inspector Charles Field quickly surmises that these crimes are connected to an even more sinister plot. Was Victoria really the assassin's target? Are those closest to the Crown hiding something? And who is the shadowy figure witnesses describe as having lifeless, coal-black eyes?
Soon, Field's investigation exposes a shocking conspiracy in which the publication of Charles Darwin's controversial On the Origin of Species sets off a string of murders, arson, kidnapping, and the pursuit of a madman named the Chorister. As the investigation takes Field from the dangerous alleyways of London to the hallowed halls of Oxford, the list of possible conspirators grows, and the body count escalates. And as he edges closer to the Chorister, he uncovers dark secrets that were meant to remain forever hidden. Tim Mason has created a rousing page-turner that both Charles Dickens and Sir Arthur Conan Doyle would relish and envy.
About Big Library Read
Big Library Read, facilitated by OverDrive, is a global reading program that connects readers around the world with the same ebook at the same time without any wait lists or holds. This worldwide digital version of a book club is available for free through your local library or school and all you need to get started reading is a library card
Tags In
Browse blog and media articles