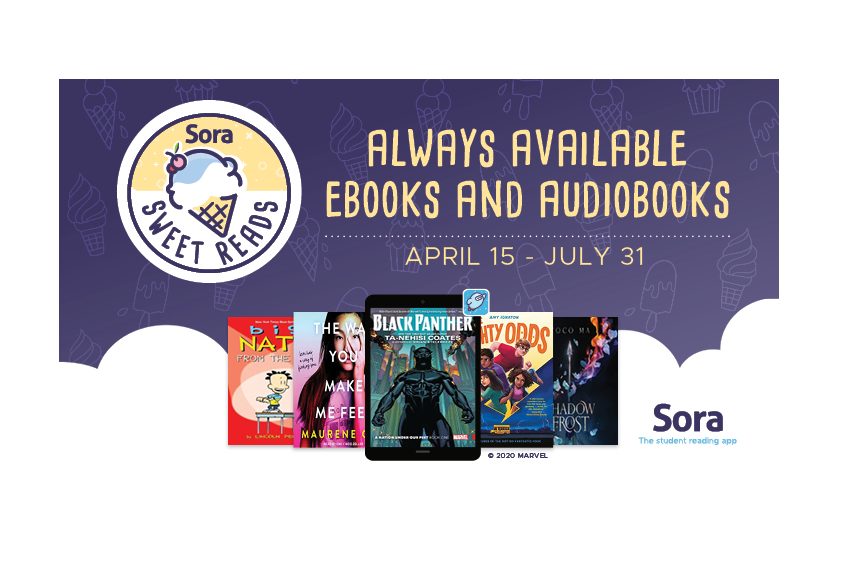 Sora Sweet Reads ends on a sweet note
By: Christina Samek, Outreach Specialist
Back to school season is right around the corner, and we've got loads of great stuff planned to make this year with the Sora reading app the best one yet! But first, we can't close out the summer without celebrating the success of the Sora Sweet Reads program.
This year's program – which began April 15 and ran through July 31 – offered 30 free and simultaneous-use juvenile and young adult ebooks (and select audiobooks) along with free, complementary marketing materials, including student worksheets, social media graphics, a staff memo and a letter to parents. Though similar in many ways to our past summer reading programs, the 2020 edition was especially unique in that it began two months earlier than planned to accommodate schools transitioning to remote learning due to COVID-19.
We hoped the program would be successful and come in handy while our partners navigated their new normal. Looking at the results, students exceeded our hopes and expectations and kept coming back for more of these sweet reads!
Sweet reading stats
Thousands of schools worldwide participated in the reading program.
There was a 90% increase from the number of schools that participated in 2019's program (then called OverDrive Summer Read).
Checkouts increased over 500% compared to 2019.
Over 250,000 students participated by reading at least one of the program's simultaneous-use titles
Most importantly, Sora has provided ongoing access to additional reading materials from the school's digital collection. From April – when schools were closed – through the end of July, an additional 500,000 students read a total of 5 million titles from their school's collection beyond the Sweet Reads program!
Most downloaded books
The top downloads stemmed from our younger readers. Big Nate from the Top led the pack, followed by Arcade or Bust and The Dirt Diary as the top three most downloaded titles overall. Older students, unsurprisingly, couldn't get enough of popular reads like Black Panther, Ms. Marvel and The Downstairs Girl.
We're so excited to see what's in store for 2021!
Tags In
Browse blog and media articles