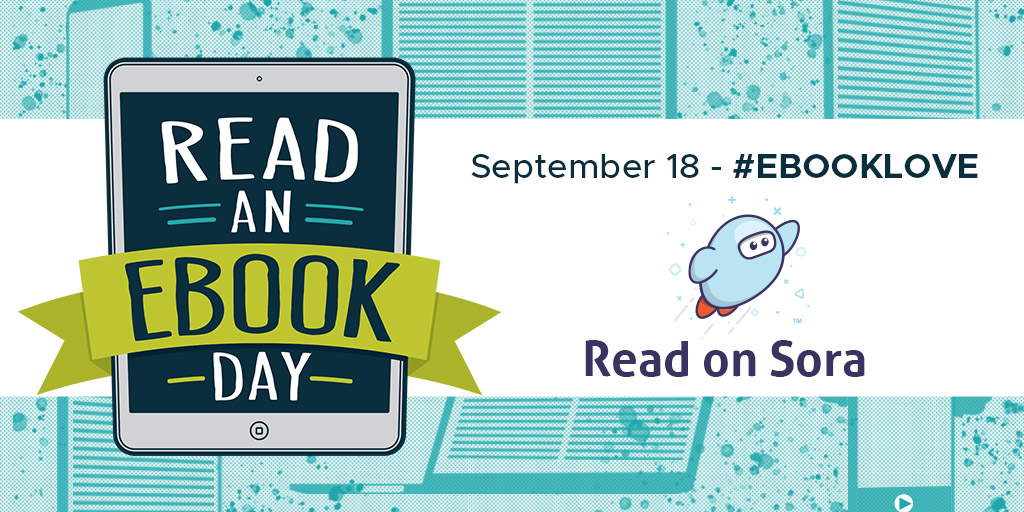 Read an Ebook Day is almost here!
By: Christina Samek, Outreach Specialist
It's already, somehow, September 9 – and that means Read an Ebook Day is right around the corner! Every year since 2014, on September 18, schools and libraries celebrate the joys of digital reading. This year has brought so many challenges to so many, and while there's always reason to celebrate digital reading, now it feels more important then ever.
Get students involved in Read an Ebook Day
Ensure students, teachers and even parents know that Read an Ebook Day is coming with this Read an Ebook Day Marketing Kit. In it, you'll find engaging graphics to share on social and a printable, informative flyer.
Speaking of social, throughout the day on Read an Ebook Day, OverDrive will be posting fun facts about digital reading on social media and sharing what everyone is reading. Students can use the hashtag #ebookLove to tell the world which ebook they're enjoying for a chance to win free Sora apparel from shop.overdrive.com.
Anyone who uses the hashtag is entered to win. We'll randomly select several winners and send them a box of Sora swag!
Share the #ebooklove
Take some time to read on September 18, not only because it's important and it matters, but also because you (yes, you!) deserve a break. We're thrilled to be able to offer digital reading solutions, always, but we're especially grateful to be able to do so in 2020.
We hope you'll share in the #ebooklove on Read an Ebook Day – and we'll hopefully "catch" you reading, then!
---
About the Author:
Christina Samek is an Outreach Specialist at OverDrive. She develops resources that help K-12 educators grow engagement among their students, faculty and parents. Prior to coming to OverDrive, she worked in the magazine industry. She has a degree in journalism and English literature from Miami University (OH). She loves reading, writing, running, her adorable little boy, her husband, cherry turnovers and her dog, Willow.
Tags In
Browse blog and media articles