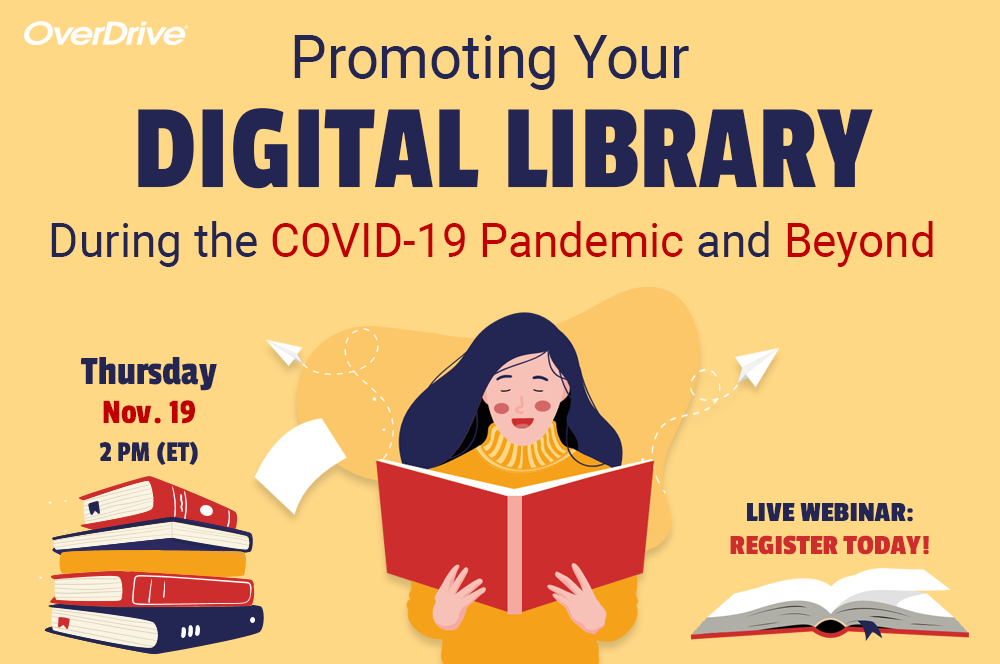 Upcoming webinar: Promoting your digital library during the COVID-19 pandemic & beyond
By Annie Suhy, Outreach Services Specialist
In this upside-down world, one fact has remained true: libraries have continued to discover innovative ways to reach readers, both in person and virtually, and prove their value as communities change. The 24/7 digital collection has served as a key resource in this effort, no matter the status of the physical building.
To help you get the word out about your digital collection, join OverDrive's Outreach experts as they walk you through best practices to maintain mindshare with current users as well as reach new users and show them what they're missing. In this session, we'll share strategies from partner libraries and you will learn about:
• Using marketing collateral for curbside pickup and signage
• Digital resources for your website and social media
• Fun outreach activities to promote in person or virtually
• How to host virtual training sessions for patrons
This session would benefit public library staff currently involved with marketing and outreach, social media, training, and frontline workers.
Register for the live 45-minute session taking place on Thursday November 19, 2020 at 2 PM Eastern Time. A recording will be sent to all registrants after the live webinar.
About the presenters:
Joe Skelley has a degree in English and Promotional Communications from Cleveland State University, and before working at OverDrive has worked in museum event planning, social media marketing, and development. Joe has been with OverDrive since 2017, and is the coordinator behind OverDrive's Digital Bookmobile! Most days, you can find Joe listening to true-crime audiobooks while taking his Boston Terrier, Roscoe, for walks.
Annie Suhy has been working with public libraries since 2006. An Outreach Services Specialist at OverDrive, Annie has partnered with libraries across the globe to integrate their digital collections into their outreach efforts. She is the proud owner of 2 black cats, Sunny and Boo, and dreams of one day playing the perfect practical joke. She is an Aries.
Browse blog and media articles