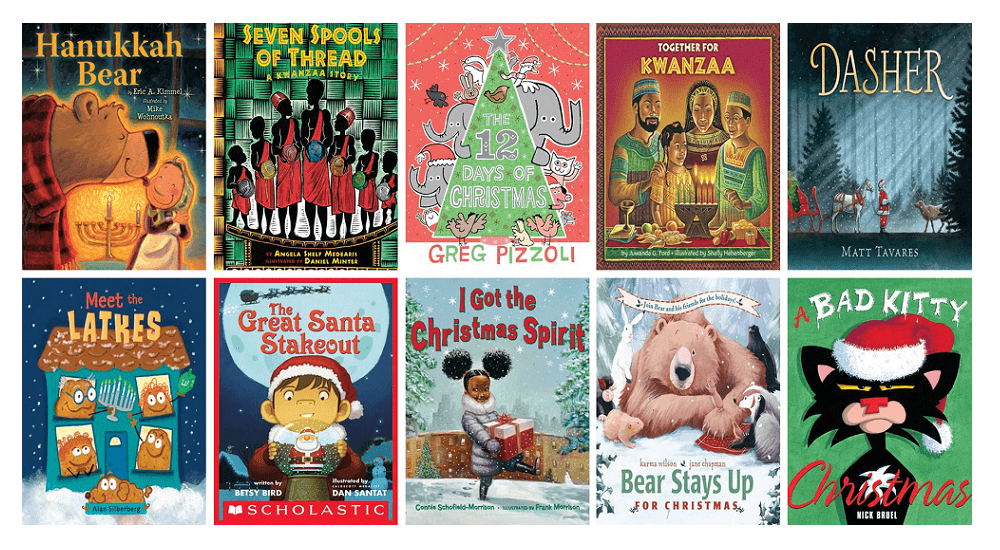 10 cozy holiday picture books to read around the fire
The holidays are here, and while they may not be accompanied by quite as much hustle and bustle as in years past, there's magic to be found in some of the quieter, simpler moments as well: the first snowfall, twinkling lights, a warm drink – or, a cozy night spent buried in a favorite book.
While most people are familiar with the classics – The Polar Express (Chris Van Allsburg), How the Grinch Stole Christmas (Dr. Seuss) and Hershel and the Hanukkah Goblins (Eric A. Kimmel), just to name a few – there are also plenty of other family-friendly holiday tales you can turn to to make the season merry.
So this year, whether you're huddled around the hearth with your closest family, hosting a Zoom read-along or finding other ways to virtually connect and share stories, consider adding one or two of the picture books below to your library. They all come recommended by OverDrive's expert librarians, and who knows – one of them just might lead to your next holiday reading tradition!
---
1. A Bad Kitty Christmas, by Nick Bruel, narrated by Vanessa Williams
"Twas the night before Christmas, and all through the city, not a creature was stirring…Except for BAD KITTY."
A greedy Bad Kitty didn't get all the presents she wanted for Christmas, but after she goes on a Christmas caper across town and through multiple alphabets, she makes a new friend, finds an old friend, and learns the true meaning of Christmas. Or not.
---
2. Dasher, by Matt Tavares
Dasher is an adventurous young reindeer with a wish in her heart. She spends her days with her family under the hot sun in a traveling circus, but she longs for a different life — one where there is snow beneath her hooves and the North Star above her head. One day, when the opportunity arises, Dasher seizes her destiny and takes off in pursuit of the life she wants to live. It's not long before she meets a nice man in a red suit with a horse-drawn sleigh — a man named Santa. And soon, with the help of a powerful Christmas wish, nothing will be the same.
---
Lucy Latke's family is just like yours or mine. Except that they're potato pancakes. And also, they are completely clueless. After lighting the menorah and gobbling the gelt, Grandpa Latke tells everyone the Hanukkah story, complete with mighty Mega Bees who use a giant dreidel to fight against the evil alien potatoes from Planet Chhh. It's up to the Latke family dog to set the record straight. (To start with, they were Maccabees, not Mega Bees…) But he'll have to get the rest of the Latkes to listen to him first!
---
Kwanzaa is Kayla's favorite time of year. But this year, it looks as if a heavy snowstorm will keep her big brother, Khari, from getting home in time for the festivities! Will Khari miss the celebration completely? Or will Kayla and her brother somehow find a way to be together for Kwanzaa? A perfect introduction to Kwanzaa, this book will teach children all about the traditions and practices that make it a special winter holiday.
---
It's the most wonderful time of the year, and a mother and daughter are enjoying the sights and sounds of the holiday season. The little girl hears sleigh bells ringing and carolers singing. She smells chestnuts roasting—CRUNCH! CRUNCH! CRUNCH!—and sees the flashing lights of the department store windows—BLING! BLING! BLING! She spreads the spirit of giving wherever she goes. And when she reaches Santa, she tells him her Christmas wish—for peace and love everywhere, all the days of the year.
---
It's holiday time — and at first, Elephant is delighted to get a gift. But as the twelve days of Christmas continue, presents pile precariously higher and higher! A partridge in a pear tree? Cute! But soon, Elephant's dad despairs. Two turtle doves? THREE French hens?! And just what are they supposed to do with ten lords a-leaping? Kids will love each silly spread in this raucous take on the classic carol that is perfect for reading aloud around the fireplace.
---
Freddy Melcher is Santa's #1 Fan. He has Santa posters, Santa action figures, and even Santa underwear. But there is one prize Freddy desperately wants: A photograph taken with Santa, fresh out of the chimney.
Oh, is it risky! It's awfully hard to sneak anything by someone who can see you when you're sleeping and knows when you're awake. That's why Freddy has been extra good this year . . . at hiding his plans. Will Freddy get away with his delightfully devious scheme to outwit Santa Claus himself and capture the ultimate selfie?
---
In an African village live seven brothers who make family life miserable with their constant fighting. When their father dies, he leaves an unusual will: by sundown, the brothers must make gold out of seven spools of thread. If they fail, they will be turned out as beggars. Using the Nguzo Saba, or seven principals of Kwanzaa, the author has created an unforgettable story that shows how family members can pull together, for their own good and the good of the entire community.
---
Bear's friends are determined to keep Bear awake for Christmas! So they wake Bear up and have him help them find a Christmas tree, bake cakes, hang up stockings, and sing Christmas songs. Bear stays up—by discovering that giving is one of the best Christmas presents of all!
---
10. Hanukkah Bear, by Eric A. Kimmel, Mike Wohnoutka
A bear wakes to a wonderful smell that leads him to the house of Bubba Brayna. Bubba Brayna makes the best latkes in the village, but at ninety-seven, she doesn't hear or see well. When the bear arrives at her door, she believes he is her rabbi. Bubba Brayna and the bear light the menorah, play the dreidel game, and eat all the latkes. The mix-up is revealed, Bubba Brayna has a laugh about it, and everyone works together to make more latkes.
Tags In
Browse blog and media articles