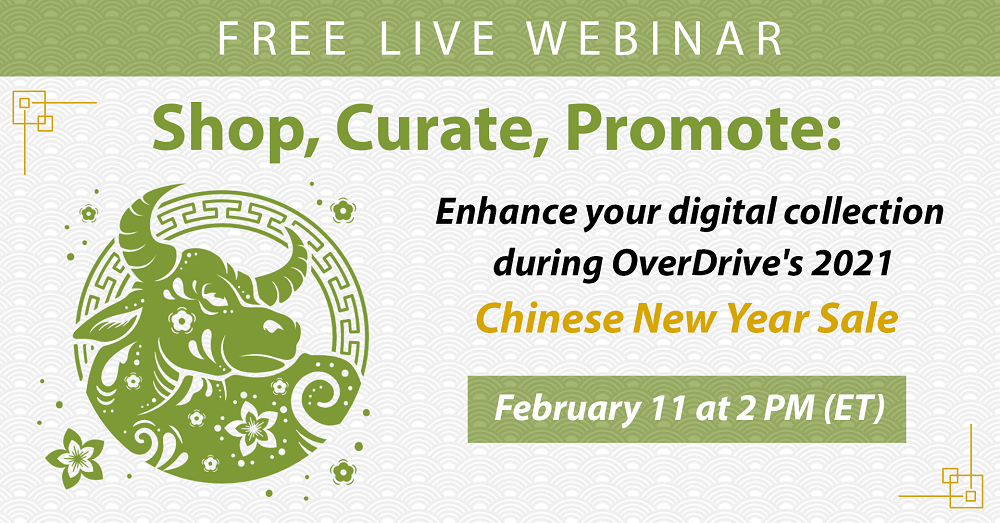 Shop, Curate, Promote: Enhance your digital collection during OverDrive's 2021 Chinese New Year Sale
By Lisa Mullins, Training Specialist
Happy Year of the Ox!
According to Chinese Astrology, 2021 is considered a year of prosperity and wellness. I don't know about you, but I could use some prosperity and wellness in my life! Start off the Year of the Ox by joining OverDrive experts on February 11 at 2 PM (ET) for a live webinar:  Shop, Curate, Promote: Enhance your digital collection during OverDrive's 2021 Chinese New Year Sale. We'll share highlights from the Chinese New Year Sale in OverDrive Marketplace and best practices for leveraging the content at your library.
Listen as Winnie Li, Manager of Publisher Account Services, shares with us how she builds and nurtures relationships with our Chinese publishers. Gain insights and expert advice from Shelia Henline, Content Specialist extraordinaire, who will share which titles to highlight from the sale and why you should include Chinese content in your digital collection. Watch as Sydney Kalnay, Manager of the Training team, takes us through shopping the sale and curating the great titles offered. Finally, join me as I share tips for promoting your digital collection in your building, in Libby or Sora, and on social media.
This session will benefit public library or K-12 school staff who are selectors, purchasers, or curators for your digital collection, as well as anyone who's responsible for the success of your digital library.
Register here to join us on Thursday, February 11th at 2:00 PM (ET).
But wait, there's more!
Don't forget that we host monthly, live webinars on Marketplace and Sora too! Register today to learn more about shopping and purchasing digital content in OverDrive Marketplace or get to know and love Libby.
See you there!
About the author
Training Specialist Lisa Mullins, M.A. Ed. provides support to both schools and public libraries, using her background as a classroom teacher to provide engaging and informative experiences. Prior to joining the Training team, Lisa was an OverDrive Product Support Specialist and she brings that additional technical knowledge to her current team. Lisa has a long list of loves, including: tap dancing, reading, crafting, animals, clever word play, and… lists.
Tags In
Browse blog and media articles