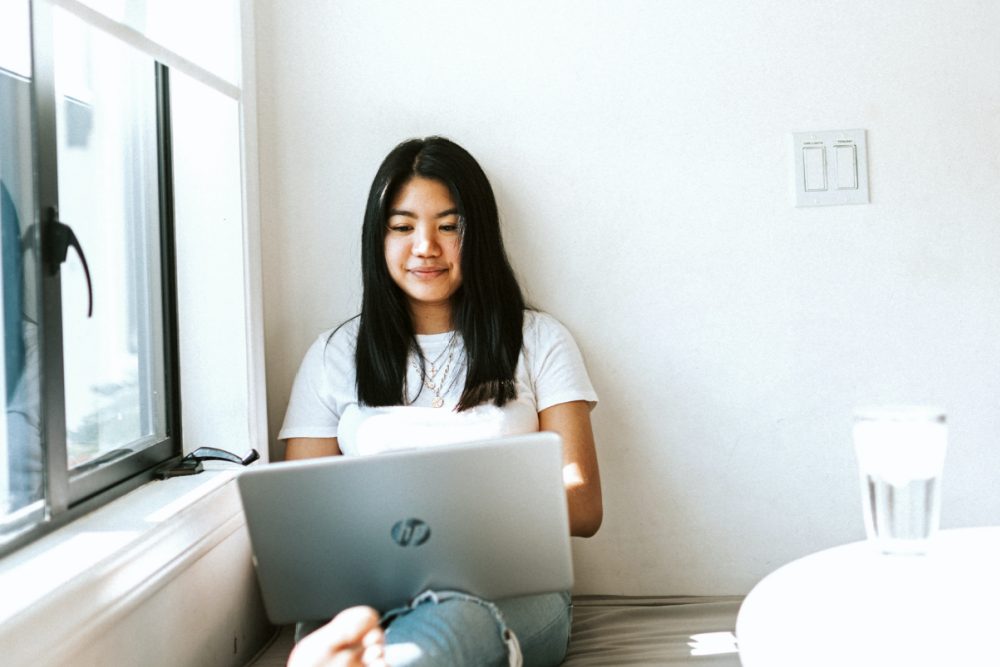 How to promote your academic library's digital collection in 2021 & beyond
By Annie Suhy, Outreach Services Specialist
We've heard how the usage of ebooks and audiobooks has grown exponentially in the last year in academic libraries. Accelerated by the pandemic, digital usage in the academic environment is an upward trend that began in the mid-2010's. With more colleges and universities than ever now relying on their digital libraries, it's a great time to share how many of these institutions are already promoting their collections, reaching more students and faculty and enhancing discoverability.
Savvy social tips (and one that takes no work at all)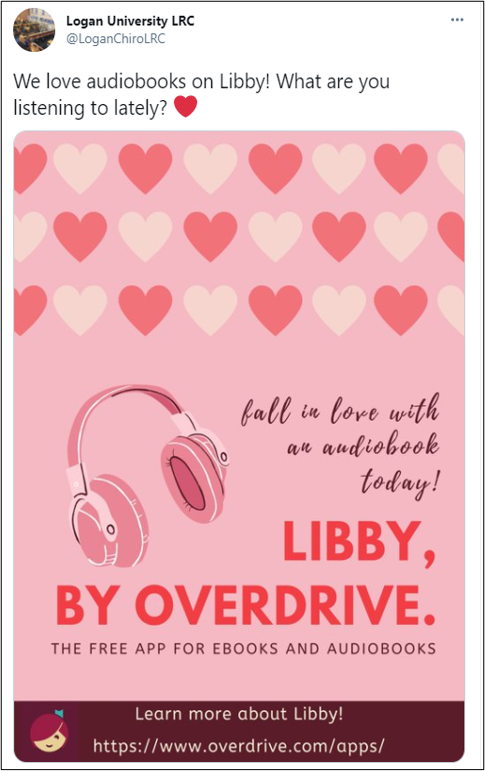 We're not quite out of the woods yet when it comes to the pandemic. Social media has been a go-to marketing tool during COVID-19 while we social distance.
Logan University (MO) took a sweet and timely approach this past Valentine's Day when they promoted their audiobook collection. Asking a simple question like, "what are you listening to lately?" is a quick way to get instant engagement with your audience, build the relationship, and possibly even get some collection development recommendations.
State College of Florida Libraries also got creative with their colorful (and animated!) post on Facebook. For students ready for a break from studying, instant access to thousands of titles await. And the magic words for so many college kids… it's free. What more could you ever want?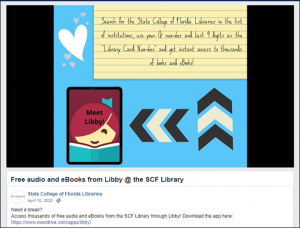 With YouTube and TikTok dominating the phone screens of Generation Z, it's clear that video is a great way to capture this audience's attention. Miami Dade College (FL) did just that with their brief but informative Facebook video on how to read on the Libby app. They made ebooks even easier to find with discoverable #hashtags, genres call-outs, and even a QR code to make navigating to the collection as simple as a quick scan with your phone.

Did you know? We have ready-made social media graphics you can download that were created to help target students on a college campus. No extra design work required! Visit the Resource Center and find them under Promote Your Digital Library.
Help your campus discover Libby
An easy way to organize and showcase your library resources is through LibGuides. Merrimack College (MA) and Rogers State University (OK) effectively explain how students and faculty can access the Libby app, as well as other important information like checkout limits, lending periods, getting started videos, and credentials you'll need in order to get access. If you don't currently have a LibGuide, or if it's not up to date with the latest information about the Libby app, you can find a Libby LibGuides template available to download on the Resource Center to help you get started.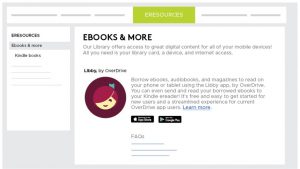 Ensuring the information about your digital collection is available and easily discoverable is key. This includes your library's website. One of the best ways to drive traffic to your digital collection is to give it prominence on your homepage.
To make sure your students are getting the best reading experience, check to see if your website is up to date and that you are using the most recent version of the Libby logo.
Emory University (GA) keeps a clean, simple approach on their website and tells readers everything they need to know to get started. You can also visit the Resource Center for more tips and tricks on how to display Libby on your website for maximum discoverability.
Giving your digital collection a physical presence
For some universities that were able to have students on campus this year, passing out print materials gave their virtual collection an all-important physical presence.
Flyers, business cards, or bookmarks promoting your digital collection are easy to hand out or leave in the library or stuff inside new student orientation information or other giveaways. Likewise, posters are perfect for posting on bulletin boards, in coffee shops, dining halls, the student center, or anywhere else you'd find a high volume of student and/or staff traffic.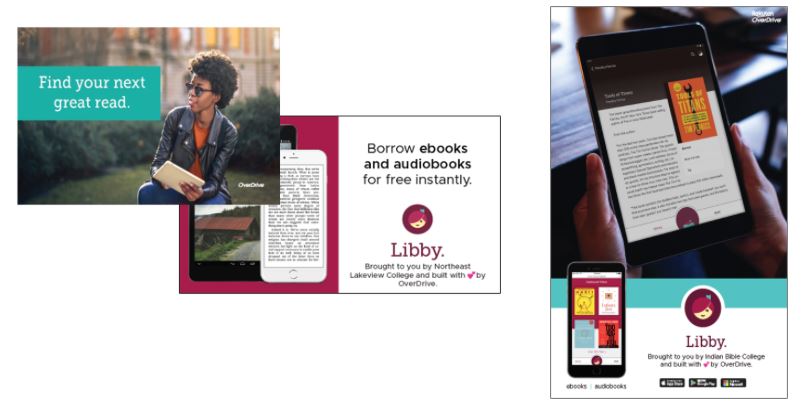 Northeast Lakeview College (TX) and Indian Bible College (AZ) used the business cards and halfsheets available on the Resource Center to get the word out about ebooks and audiobooks at their schools. Find these ideas and more, all in a printer-friendly format.
Are you an academic library that has tried a new approach to promoting your digital collection this year? We'd love to hear about it!
Tags In
Browse blog and media articles