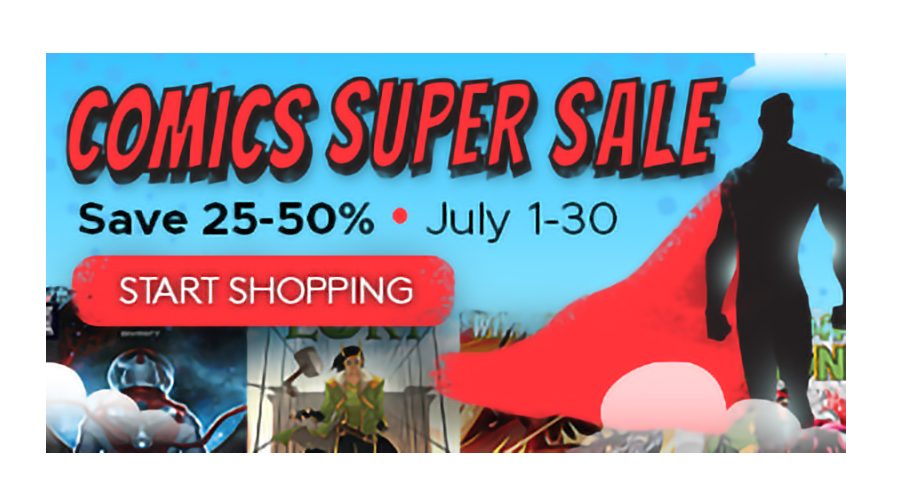 Save up to 50% on Marvel, DC and more during our Comics Super Sale
Are your students mad for Miles Morales and Ms. Marvel? Nuts for Naruto? Can't catch enough Pokémon?
If so, you're in luck! Our Comics Super Sale is running through July 31, offering you 25-50% off comics from publishers like Marvel, DC Comics, Valiant Entertainment, VIZ Media and much more. You can stock up now on digital comics, graphic novels and manga that'll lift your students up, up and away in the Sora student reading app before the school year even begins!
Keep reading for a peek at some of the most popular titles across schools on sale now, then head over to OverDrive Marketplace to shop the full selection!
---
Popular juvenile comics
Making Friends (Making Friends #1)
Kristen Gudsnuk
Danielle needs a perfect friend, but sometimes making (or creating) one is a lot easier than keeping one! Sometimes making a friend is a lot easier than keeping one! Sixth grade was SO much easier for Danny. All her friends were in the same room and she knew exactly what to expect out of life. Now that she's in seventh grade, she's in a new middle school, her friends are in different classes and forming new cliques, and she is totally, completely lost. What Danny really needs is a new best friend! So when she inherits a magic sketchbook from her eccentric great-aunt in which anything she sketches in it comes to life, she draws Madison, the most amazing, perfect, and awesome best friend ever. The thing is, even when you create a best friend, there's no guarantee they'll always be your best friend. Especially when they discover they've been created with magic!
---
Sunny Side Up
Jennifer L. Holm, Matthew Holm
When is a summer vacation not really a summer vacation? Sunny Lewin has been packed off to Florida to live with her grandfather for the summer. At first she thought Florida might be fun — it is the home of Disney World, after all. But the place where Gramps lives is no amusement park. It's full of . . . old people. Really old people. Luckily, Sunny isn't the only kid around. She meets Buzz, a boy who is completely obsessed with comic books, and soon they're having adventures of their own: facing off against golfball-eating alligators, runaway cats, and mysteriously disappearing neighbors. But the question remains — why is Sunny down in Florida in the first place? The answer lies in a family secret that won't be secret to Sunny much longer. . .
---
The Witch Boy
Molly Knox Ostertag'
In thirteen-year-old Aster's family, all the girls are raised to be witches, while boys grow up to be shapeshifters. Anyone who dares cross those lines is exiled. Unfortunately for Aster, he still hasn't shifted . . . and he's still fascinated by witchery, no matter how forbidden it might be. When a mysterious danger threatens the other boys, Aster knows he can help — as a witch. It will take the encouragement of a new friend, the non-magical and non-conforming Charlie, to convince Aster to try practicing his skills. And it will require even more courage to save his family . . . and be truly himself.
---
My Beijing: Four Stories of Everyday Wonder
Nie Jun
A 2019 Batchelder Honor Book. Yu'er and her grandpa live in a small neighborhood in Beijing—and it's full of big personalities. There's a story around every corner, and each day has a hint of magic. In one tale, Yu'er wants to swim in the Special Olympics, a sports competition for people with disabilities. But she and her grandpa don't have a pool! Their trick to help Yu'er practice wows the whole neighborhood. In another story, a friend takes Yu'er to a wild place full of musical insects. Later, Yu'er hears a special story about her grandparents. And in the final story, Yu'er and her grandpa show a cranky painter the sweet side of life.
---
The Giver (Graphic Novel)
Lois Lowry, P. Craig Russell
Now in graphic novel format, Lois Lowry's Newbery Medal–winning classic story of a young boy discovering the dark secrets behind his seemingly ideal world is accompanied by renowned artist P.Craig Russell's beautifully haunting illustrations. In this new graphic novel edition, readers experience the haunting story of twelve-year-old Jonas and his seemingly ideal, if colorless, world of conformity and contentment, through the brilliant art of P. Craig Russel that truly brings The Giver to life. Witness Jonas' s assignment as the Receiver of Memory, watch as he begins to understand the dark secrets behind his fragile community, and follow the explosion of color into his world like never before.
---
---
Popular YA comics
Miles Morales: Spider-Man (2018), Volume 1
Saladin Ahmed, Javier Garron
Collects Miles Morales: Spider-Man #1-6. Miles Morales swings back into the spotlight! When the rampaging Rhino and a cadre of mysterious criminals start plaguing Brooklyn, things take a dark turn for the young Spider-Man! What mystery lurks under the surface of this newest villainous uprising? Why does the Rhino have minions? And who is the new antagonist who may just become Miles' most dangerous foe?
---
Moon Girl and Devil Dinosaur (2015), Volume 1
Amy M. Reeder, Brandon Montclare, Natacha Bustos
Collects Moon Girl and Devil Dinosaur #1-6. Lunella Lafayette is a preteen genius who wants to change the world, but lives in fear of the Inhuman genes inside her! Now, Lunella's life is turned upside down when a red-scaled beast is teleported from the prehistoric past to a far-flung future we call…today! Together they're the most Marvelous Team-Up of all — Moon Girl and Devil Dinosaur! But will they be BFFs forever, or just until DD's dinner time.
---
They Called Us Enemy
George Takei, Justin Eisinger, Steven Scott, et al.
George Takei has captured hearts and minds worldwide with his captivating stage presence and outspoken commitment to equal rights. But long before he braved new frontiers in Star Trek, he woke up as a four-year-old boy to find his own birth country at war with his father's—and their entire family forced from their home into an uncertain future. In a stunning graphic memoir, Takei revisits his haunting childhood in American concentration camps, as one of over 100,000 Japanese Americans imprisoned by the U.S. government during World War II. Experience the forces that shaped an American icon—and America itself—in this gripping tale of courage, country, loyalty, and love.
---
Ms. Marvel (2014), Volume 1
G. Willow Wilson, adrian Alphona
Collects Ms. Marvel (2014) #1-5, All-New Marvel Now! Point One (Ms. Marvel story). Marvel Comics presents the all-new Ms. Marvel, the groundbreaking heroine that has become an international sensation! Kamala Khan is an ordinary girl from Jersey City – until she is suddenly empowered with extraordinary gifts. But who truly is the all-new Ms. Marvel? Teenager? Muslim? Inhuman? Find out as she takes the Marvel Universe by storm! As Kamala discovers the dangers of her newfound powers, she unlocks a secret behind them as well. Is Kamala ready to wield these immense new gifts? Or will the weight of the legacy before her be too much to handle? Kamala has no idea either. But she's comin' for you, New York!
---
The Girl Who Owned a City: The Graphic Novel
O. T. Nelson, Joëlle Jones
A deadly virus killed every adult on Earth, leaving only the kids behind. With her parents gone, Lisa is responsible for her little brother, Todd. She has to make sure they stay alive. Many kids are sick or starving, and fierce gangs are stealing and destroying everything they find. Lots of people have given up, but on Grand Avenue, some kids are surviving. Because of Lisa. Lisa figured out how to give the kids on Grand Avenue food, homes, and protection against the gangs. But Tom Logan and his army are determined to take that away and rule the streets themselves. How long can Lisa's group keep fighting them off? They need to find a place to live safely. A strong place. A secret place.
In a world like this, someone has to take charge. But does Lisa have the strength to take charge of a whole city?
---
---
Popular manga titles
My Hero Academia, Volume 1
Kohei Horikoshi
Middle school student Izuku Midoriya wants to be a hero more than anything, but he hasn't got an ounce of power in him. With no chance of ever getting into the prestigious U.A. High School for budding heroes, his life is looking more and more like a dead end. Then an encounter with All Might, the greatest hero of them all, gives him a chance to change his destiny… Rated: T
---
Naruto, Volume 1
Masashi Kishimoto, SHUEISHA Inc.
Twelve years ago the Village Hidden in the Leaves was attacked by a fearsome threat. A nine-tailed fox spirit claimed the life of the village leader, the Hokage, and many others. Today, the village is at peace and a troublemaking kid named Naruto is struggling to graduate from Ninja Academy. His goal may be to become the next Hokage, but his true destiny will be much more complicated. The adventure begins now! Rated: T
---
Pokémon Adventures, Volume 1
Hidenori Kusaka, mato, et al.
All your favorite Pokémon game characters jump out of the screen into the pages of this action-packed manga! Red doesn't just want to train Pokémon, he wants to be their friend too. Bulbasaur and Poliwhirl seem game. But independent Pikachu won't be so easy to win over! And watch out for Team Rocket, Red… They only want to be your enemy! Rated: A
---
YO-KAI WATCH, Volume 1
Noriyuki Konishi, Shogakukan, et al.
Nate Adams is just an average kid until the mysterious Whisper gives him the Yo-kai Watch. Now he can see what others cannot: Yo-kai of all shapes and forms! Rated: A
---
Demon Slayer: Kimetsu no Yaiba, Volume 1
Koyoharu Gotouge, SHUEISHA Inc.
Learning to destroy demons won't be easy, and Tanjiro barely knows where to start. The surprise appearance of another boy named Giyu, who seems to know what's going on, might provide some answers—but only if Tanjiro can stop Giyu from killing his sister first! Rated: T
---
---
Like what you see here? Then you'll want to check out the full Comics Super Sale, running now through July 31.

Tags In
Browse blog and media articles