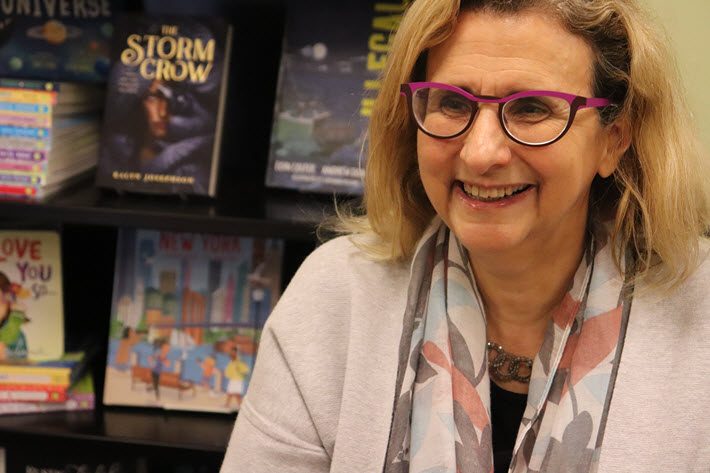 Announcing Sourcebooks CEO Dominique Raccah as second Keynote speaker at Digipalooza '21
Digipalooza '21 is less than a month away and we are so excited to announce Dominique Raccah, publisher and CEO of Sourcebooks, will be our keynote speaker on Day 2 of our three half-day virtual conference.
Registration for Digipalooza '21 is only $39, so if you haven't registered yet now is the time. We designed Digipalooza '21 with everyone in mind. Along with providing sessions for public librarians and K-12 educators, we also have tracks available for corporate and academic librarians.
Keynote speaker Dominique Raccah
An inspiring and passionate presenter, Dominique speaks internationally on innovation, the future of book publishing and entrepreneurship, and has been featured in Wall Street Journal, Bloomberg, Entrepreneur, The Chicago Tribune, NPR, and New York Times.
The pandemic forced all librarians and publishers to think outside the box and discover new ways to deliver books and create community engagement for patrons during a deeply challenging time. We've welcomed an extraordinary number of new readers who adopted a combination of print, ebook, and audio technology to access books. As our second day keynote speaker, Dominique Raccah will share how her company utilized Growth Mindset to establish innovative digital opportunities for librarians and readers – from inventive virtual programs with OverDrive, to educational solutions for individuals who want to pursue a career in books.
This unique conversation is only available to Digipalooza '21 attendees so register today.
Digipalooza '21 sessions include:
Addressing Equity Challenges in Libraries and Schools
Digital Access for All: How Government Investments for Libraries & Schools in 2021 are Succeeding
Trends and Insights from the Surge in Digital Circulation
Community Reading Programs, Digital Books Clubs and More
Scaling Up Your Digital Catalog with New Content Access Models
Actionable Data and Intelligence from Your Digital Catalogs
Publisher Showcase for the Fall and Back to School
Visit the Digipalooza '21 website to see the full program and speakers.
Along with this keynote from Dominique Raccah, registering for Digipalooza '21 includes opening keynote Dr. Carla Hayden,  a closing session from Professor Anita Hill, and a special session featuring bestselling author Andy Weir and our own Professional Book Nerds. Register today!
Tags In
Browse blog and media articles