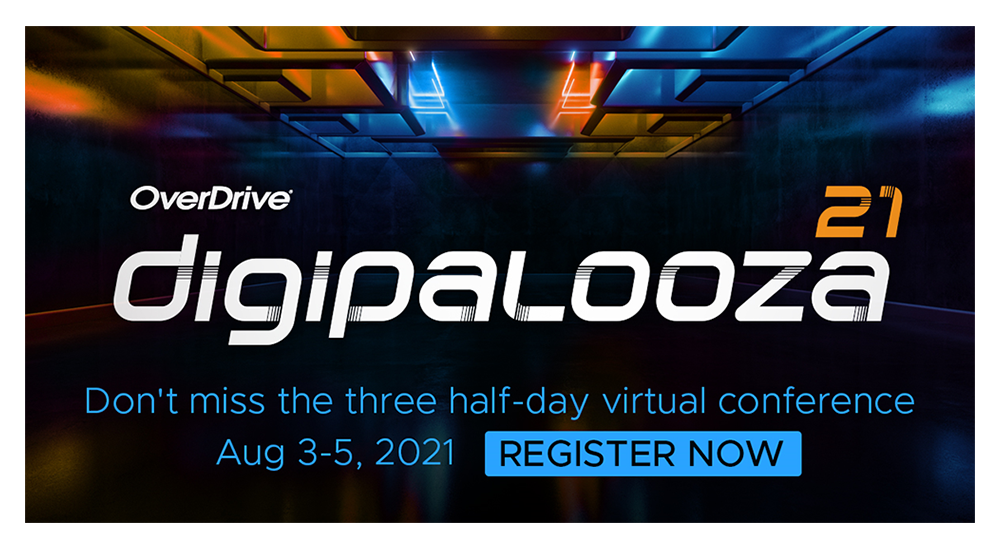 Digipalooza '21 sessions for our OverDrive Professional partners
Digipalooza '21 is almost here! Digipalooza is our opportunity to bring together our partners for a unique blend of education, networking, and fun. This year Digipalooza is entirely virtual and we recently announced Dr. Carla Hayden as our first keynote speaker. Registration is only $39 for our 3 half-day virtual conference, making it a cost-effective professional development option for all of our partners.
We designed Digipalooza '21 with everyone in mind, including our OverDrive Professional partners. With a track of sessions created specifically for our academic and corporate library partners, we hope you'll register and join Team OverDrive for educational panels, networking opportunities, and informative sessions to help you become a digital expert at your library.
Digipalooza '21 OverDrive Professional sessions include:
Bringing Diversity, Equity and Inclusion to your Workplace or Campus
Lessons from the Data for Academic and Corporate Libraries
The Future is Now: How a Digital Catalog Best Complements your Physical Library
Spotlight on New Publishers, Collections and Resources for your Digital Catalog
Best Practices to Promote your Digital Collection
OverDrive Professional Technology & App Updates
Our academic librarians should also be sure to attend Trends in Demand for Non-Academic Materials for Academic Campuses while corporate partners won't want to miss Empowering the Workforce: Real world examples of corporate libraries leveraging digital.
Registration is now open, so don't miss your opportunity to join us for three half virtual days full of engaging presentations, valuable information, and memorable experiences.
Visit https://digipalooza.com/ to discover more reasons to register for Digipalooza '21. To ensure you don't miss out on key Digipalooza updates, make sure your email preferences are up to date and you are subscribed to our Events subscription list.
Tags In
Browse blog and media articles