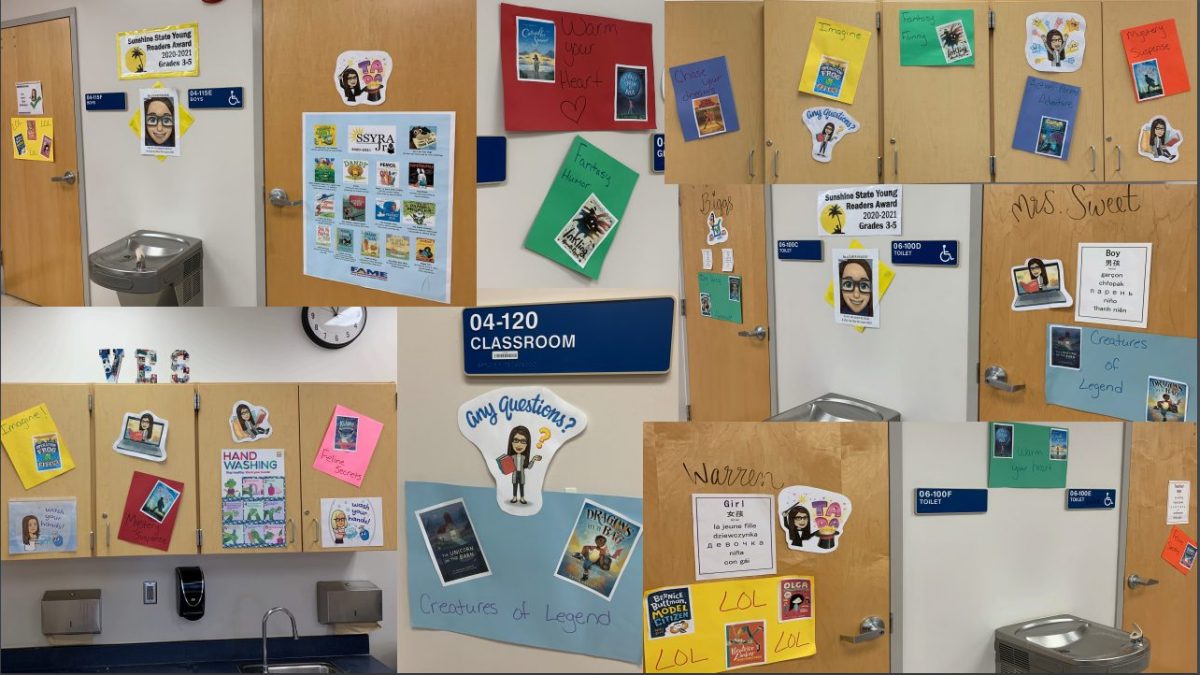 Sora Spotlight: Susan Forgas from Veterans Elementary School (FL)
By: Kristen Hein, Product Support Specialist
In this recurring series, we'll feature a different librarian, media specialist or educator who's become a Sora champion at their school, impressing us with their innovative methods for implementing the reading app and engaging with their students. We've asked them to share their thoughts and ideas here so that we can all be inspired and identify new ways to reach students and help them fall in love with reading.
Today, we'll hear from Susan Forgas, a Resource Management Associate at Veterans Elementary School in Florida.
Educator Stats:
Name:
Susan Forgas
Describe your position and your school.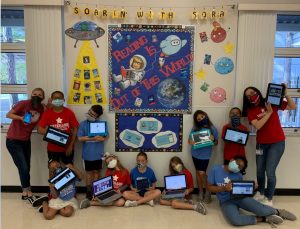 I am the Resource Management Associate at Veterans Elementary School in the Pasco County School District. We serve kindergarten through fifth grade in Wesley Chapel, Florida. I have a degree in communication and film/video studies, so when this position became available in 2013 when my daughter was starting fifth grade and my youngest son was starting kindergarten, I jumped at the chance to work here. My degree and previous experience in media helped immensely, as I was tasked with leading our fifth grade news crew, in addition to running the library and managing technology.
Since we couldn't have a news crew (during COVID-19), I really focused my energy on promoting reading digitally, both through Sora, and through an online form that our online and in-school students could use to request library books. I focused heavily on creating pages on our school website that highlighted Sora and our award-winning Sunshine State books, which we promote by offering quizzes that can earn the students "brag tags" and a spot in the Book Battles that we have a few times a year.
This year was the first time we invited students in grades K-2 to earn brag tags and participate in the Book Battle, and it was a huge success. We have given out hundreds and hundreds of brag tags, and we had a record number of students participating in the Book Battle. Overall, it has been a great year, and I really think it wouldn't have been as great without the flexibility Sora provided our students to read online.
How many years have you been active with OverDrive?
1
What are you currently reading?
Next year's Sunshine State books, currently Following Baxter by Barbara Kerley.
Susan's Sora Story:
What do you love most about Sora?
What I love the most about Sora is that it allows students to not only read books that I've purchased for them, but with a free library card, they can also access the huge selection of public library books, all in one app. The number of books that gives them access to, whether in school or at home, is priceless.
What unique things have you done to help increase student engagement with Sora?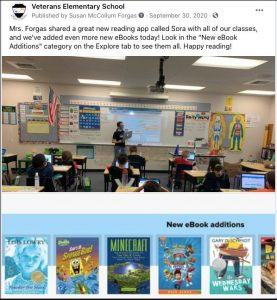 I started promoting Sora first by scheduling time to go to all the in-person classrooms and show them how it works. For the online students, I schedule Zooms and showed them the same presentation. For our younger K-1 online students, I asked parents to be present so they would know how it works, too. I tied in the promotion with our Sunshine State book incentives. I purchased all of this year's Sunshine State books on Sora that were available and I made sure that through Overdrive Marketplace I curated them to be at the top of their "Explore" pages categorized into the 3 different grade level groups (k-2nd, 3rd-5th, and 6th-8th for our higher readers) plus the sequels. I knew that if they had easy access to the Sunshine State books, they would be more likely to read them and take the quizzes on their Canvas platform.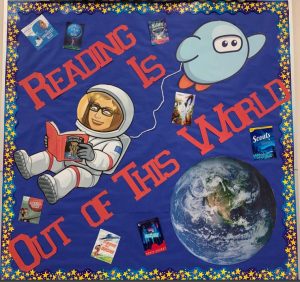 I continued to promote Sora and the Sunshine State books during weekly Zooms I had with all classrooms. I created a huge bulletin board in the cafeteria that all the in-person students see every day that promotes Sora using my bitmoji. That bitmoji ties into my bitmoji on our media center webpages, so students can make the connection and know that they can always get how-tos and more information about Sora on our website.
I know that my promotion of Sora has worked, because I had to purchase a record number of School Life brag tags this year, and the Sunshine State books on Sora almost always have a wait list. When I am at lunch duty or arrival/dismissal duty, the students can't wait to tell me how many books they've read and how many brag tags they've earned this week. They tell me they can't wait until Friday because that's the day I come around to deliver brag tags. I also have two pickup times each week when online students can come pick up their brag tags and library book requests. I have loved those pick-up times, because it gives me a chance to connect with those online students who I see every week on Zoom, and I really get to hear from the parents how much the students love Sora and love the Sunshine State reading incentives we've promoted this year.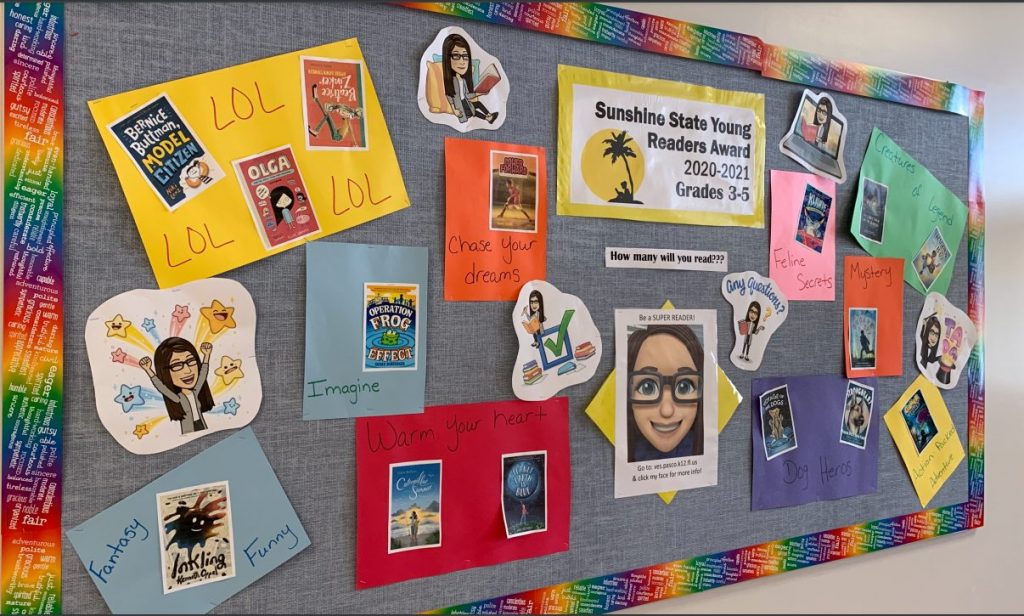 In what ways has this been successful?
Even without having the library open this year, I feel like we really sparked a bigger love of reading in the students with Sora and the Sunshine State incentives. Even though we've done Sunshine State incentives in the past, I think Sora really launched a kind of excitement we've never seen before. I know that next year when they get to come back to the library, the Sunshine State incentives will be even more popular. I have received so much positive feedback from staff, administration, students and parents that I know I'm on the right track and can't wait to see how much the love of reading in our students grows after this inaugural year of Sora.
Due to the current circumstances, in what ways have you transitioned to/accommodated for distance learning?
The biggest way I have reached all students is through our website that I maintain, my weekly Zoom meetings and my personal delivery of all the incentives to the students, either directly to the classroom or via morning pickup with their parents.
Get to know Susan
In your opinion, why is reading digitally important, especially for student readers?
I believe digital reading is important because students are on technology anyway, and reading has a positive impact on them, so much more than video games and social media. When reading a digital book, they can easily highlight, take notes and find definitions for words they may not know. They have 24-hour access to digital books, unlike the tangible library books that they must check out and return. The best thing about Sora for students is that they don't have to worry about paying lost or ruined book fees!
If you could have your students read one book and one book only, what would it be and why?
Kamala and Maya's Big Idea. It's based on a true story about Vice President Kamala Harris and her sister when they were younger. It shows the power that young people have if they aren't afraid to ask for what they want and to put the work in to get their goals accomplished.
What is your favorite "reading" moment with a student? (One of those memorable teaching moments that has stuck with you)
I can't think of one specific moment, but my favorite moments are when I see students eyes light up when they accomplish their reading goals and get those incentives they've worked hard for — and as a result, they find that love of reading that keeps them going. I have also loved reading to classes and seeing their reactions, especially when I am reading a funny book that cracks them up. When they ask me to read more books because they love how I read to them, it makes my heart happy.

What is the most important thing you hope your students take away from reading/education?
I want them to realize that literacy is the foundation of all other subjects. To be able to read words on a page and comprehend their meaning is the most invaluable thing you can learn to do. Everything else is built upon that skill.
What advice do you have for new educators/librarians with a digital collection?
Kids will never use something if they don't know it's there, and they may never use it to its full ability if you don't promote it and show them all its great features.
---
If you want to be the next Sora Spotlight, please reach out to us with a brief explanation of what you're doing in your school and how you're making an impact with Sora!
Interested in learning more about Sora? Join a live demo to see it in action!
---
About the Author:
Kristen Hein is a Product Support Specialist working with schools to integrate digital into their libraries and classrooms. She herself has experience as a history teacher working with students grades 8-12 focusing on U.S. history and government. She generally spends most of her free time chasing around her hyper-active pup Romeo, hiking, practicing yoga and trying out the best Cleveland restaurants.
Check out how other educators are using Sora to increase student reading:
Tags In
Browse blog and media articles