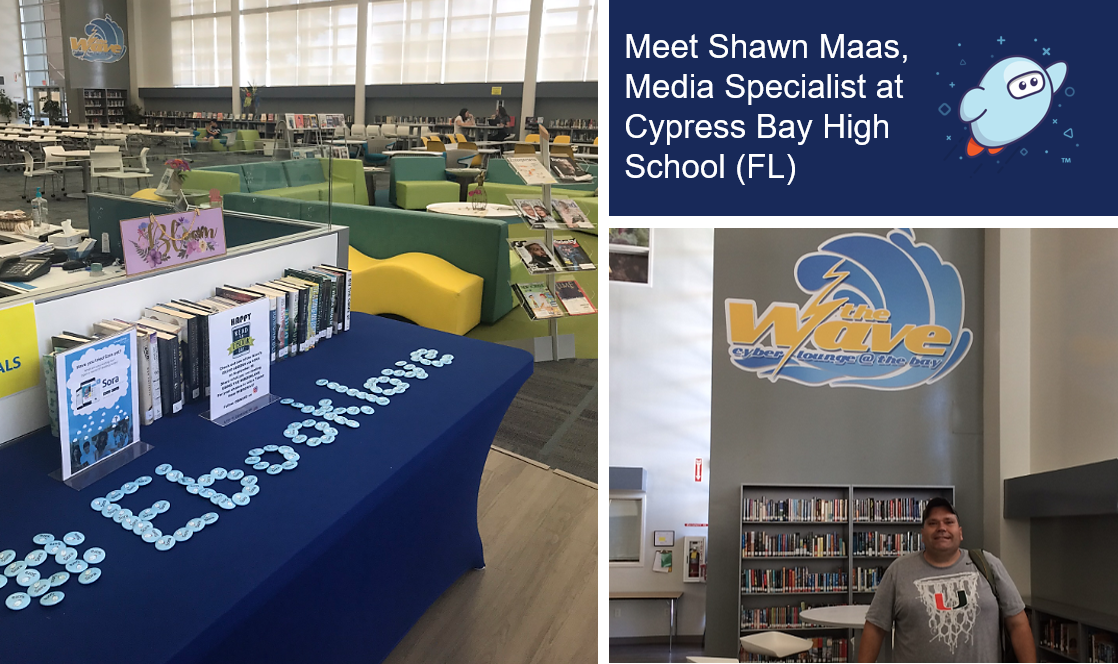 Sora Spotlight: Meet Shawn Maas, Media Specialist at Cypress Bay High School (FL)
By: Kristen Griesmer, Product Support Specialist
In this recurring series, we'll feature a different librarian, media specialist or educator who's become a Sora reading app champion at their school, impressing us with their innovative methods for implementing the reading app and engaging with their students. We've asked them to share their thoughts and ideas here so that we can all be inspired and identify new ways to reach students and help them fall in love with reading.
Today, we'll hear from Shawn Maas, Media Specialist at Cypress Bay High School in Florida.
Educator Stats:
Name
Shawn Maas
Describe your position and your school.
I am the media specialist at Cypress Bay High School (FL). Cypress Bay is a typical public high school in the Broward County Public Schools system, with approximately 4,600 students. The school, which opened in 2002, is in the city of Weston. Our multicultural school is 54% Hispanic, with many families from Colombia, Brazil, Argentina, Venezuela, Mexico and other countries.
Weston is a suburban community that was established in 1996. The city is part of the Miami/Fort Lauderdale area and has a population of over 65,000 people. Because of the enormous growth of the city in the past 20 years, the schools in Weston are critically overcrowded, which is one of the biggest challenges associated with the community.
I am a graduate of the University of Miami. Over the past 25 years I've taught English, theater and film for Broward County Schools. Four years ago, I was offered the opportunity to help update the Wave – Cypress Bay's media center – for 21st-century learning. I became a certified media specialist, and with OverDrive's help, we were able to provide digital counterparts to our vast print collection.
How many years have you been active with OverDrive?
3
What are you currently reading?
Talking to Strangers by Malcolm Gladwell.
Shawn's Sora story
You mentioned how you helped update the Wave, your school's media center. How did you do that?
We removed 20,000 physical books that were approaching over 15 years of age and replaced them with over 10,000 current OverDrive digital titles. This freed up the 6,000-square-foot library space to allow for four wired collaboration stations, powered workspace and soft seating for patrons. Two flexible meeting spaces (24 and 72 seats) were planned into the space as well. OverDrive was also able to help create an online Chinese language library in an area that was holding physical books for our AP Chinese program. We were able to open that space and turn it into our Confucius room, a quiet place with mindfulness at the heart.
How are you reaching the diverse population of your school with Sora?
Our second language learners have been introduced to Sora this year. Sora's in-app definitions feature – as well as the link to Google Translate – have helped engage our international students. The app allows them to read in place without leaving to open the dictionary. Thanks to OverDrive, we've also been able to offer books in their native languages.
What unique things have you done to help increase student engagement with Sora?
I work with all our school departments to help make students aware of their access to Sora. I introduce staff to our professional development collection, and once the staff experiences Sora, they are more likely to share the experience with their students. Teachers love how we can assign titles within our curriculum. Once a student uses Sora to access required reading like Of Mice and Men or To Kill a Mockingbird, they are introduced to the platform and discover all the titles within our collection.
Each year, during Florida Literacy Week, we try to break the record for checkouts in a single day using Sora. We also have a pre-summer reveal of the next school year's Florida Teens Read selections and provide access to multiple digital copies of each title. We encourage students to participate in Read an Ebook Day, and we also provide sweet treats to students who show us their Sora ebooks during the last week of October through Nov. 1 (our unofficial "Day of the Read").
In what ways has this been successful?
Checkouts have increased since we added Sora. Before we worked with OverDrive, we had fewer than 400 checkouts a year for 4,500 students. Last year, we exceeded 7,500 checkouts. The OpenDyslexic font has been a great selling point, as well as our graphic novels and comics.
Get to know Shawn
In your opinion, why is reading digitally important, especially for student readers?
Our state assessments are in digital format. I wish they weren't, but that's the reality our students face. With online blended classes in both high school and college, our students will be reading in digital formats. So why not allow them to learn to love reading online by allowing them to choose what they get to read instead of what they must read?
If you could have your students read one book and one book only, what would it be and why?
Les Misérables by Victor Hugo – it's the first book I remember reading cover to cover in high school (albeit the abridged version). It's more than just a story of socio-economic ills and political partisanship, it's the story of a life and the philosophy learned throughout. Most of all, it's about how a single act of kindness can change another's life.
What is your favorite reading moment with a student?
When they come back and tell me why they loved what they read.
What is the most important thing you hope your students take away from reading/education?
It's the greatest gift, to be able to self-educate.
What advice do you have for new educators/librarians with a digital collection?
Model what you want your students to do.
To learn more about Shawn's experiences with Sora and discover how a strong digital collection helped smooth Cypress Bay's transition to distance learning, click here.
---
If you want to be the next Sora Spotlight, please reach out to us with a brief explanation of what you're doing in your school and how you're making an impact with Sora!
Interested in learning more about Sora?  Get no-cost access today!

---
About the Author:
Kristen Griesmer is a Product Support Specialist working with schools to integrate digital into their libraries and classrooms. She herself has experience as a history teacher working with students grades 8-12 focusing on U.S. history and government. She generally spends most of her free time chasing around her hyper-active pup Romeo, hiking, practicing yoga and trying out the best Cleveland restaurants.
Check out how other educators are using Sora to increase student reading:
Browse blog and media articles