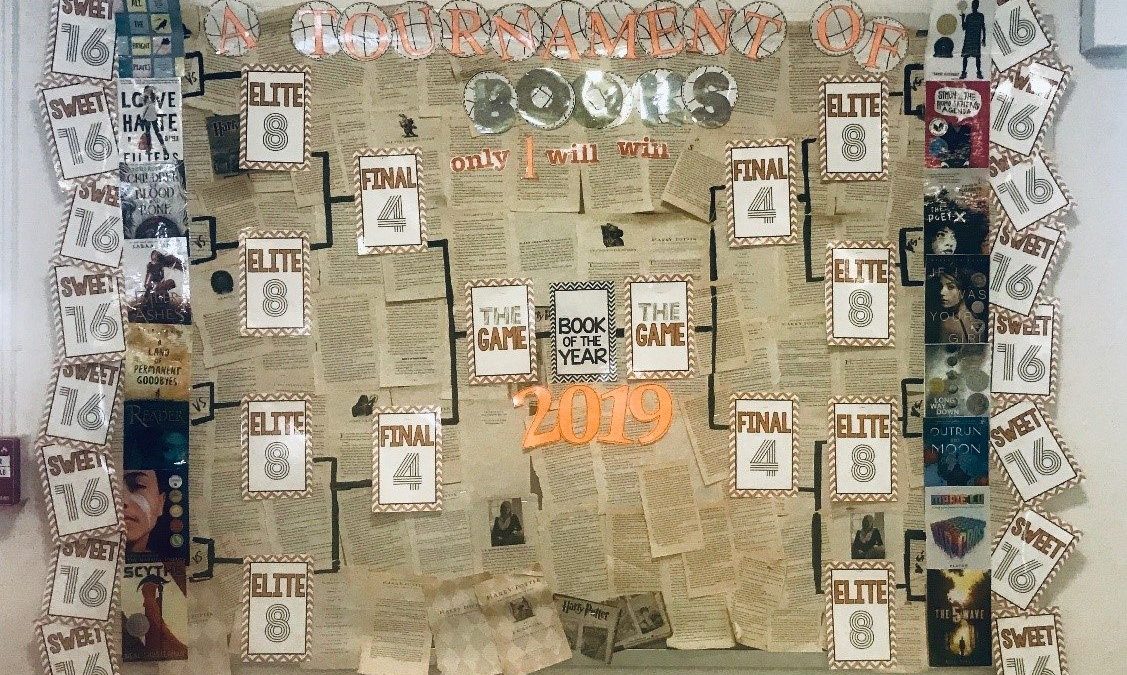 Sora spotlight: Mary Thomas from DC International School
By: Kristen Griesmer, Product Support Specialist
In this recurring series, we'll feature a different librarian, media specialist or educator who's become a Sora champion at their school, impressing us with their innovative methods for implementing the reading app and engaging with their students. We've asked them to share their thoughts and ideas here so that we can all be inspired and identify new ways to reach students and help them fall in love with reading.
Today, we'll hear from Mary Thomas, a librarian at DC International School in Washington D.C.
Educator stats
Name
Mary Thomas
Describe your position and your school
I am the librarian at DC International School (DCI), a public charter school serving over 1,300 students in grades 6-12 in northwest D.C. The three pillars of our school are international education (through the implementation of the International Baccalaureate Curriculum for all students), student agency and language immersion. Many of our students come to DCI from one of five feeder elementary schools, all of which are language immersion schools.
We offer three language tracks: Spanish, French and Mandarin, and most of our students are bilingual. My undergraduate background is in French and Spanish, so it's sort of incredible being in a job/school setting where my language skills can be put to use!
How many years have you been active with OverDrive?
1.5
What are you currently reading?
Always multiple books at once! I usually have an audiobook, a nonfiction book for learning (usually about anti-bias or anti-racism) and a fiction book! My audiobook is How Long 'til Black Future Month by N.K. Jemisin, and my print books are An Indigenous Peoples' History of the United States for Young People by Roxanne Dunbar-Ortiz (adapted by Debbie Reese & Jean Mendoza) and My Hero Academia Volume 1 by Kohei Horikoshi.
Mary's Sora Story
Why do you love Sora?
My love for Sora started as a love for OverDrive and then Libby – before I was even a librarian! When Libby came out, I was thrilled – mostly for easier access to the DC Public Library's audiobooks! Because of that, when I started at DCI, I knew immediately that we would partner with OverDrive for digital content. I think Sora is great because it provides a way for students to access reading 24/7 from their devices. We know that kids spend a lot of time on their Chromebooks/phones/tablets, and for reading to be among the decisions they have when they go to open an app is really important.
I also love that Sora gives me an excuse to get on my soapbox about how audiobooks and Kindle books are REAL READING (probably more on that later because it's truly my favorite topic). Oh, I am also so excited about starting to use the local content feature!
What unique things have you done to help increase student engagement with Sora?
Right now, Sora is most popular with our middle school students. And a big part of this is because of the incredible English teachers at our school! Partnering with teachers has been a great way to introduce Sora to a lot of students quickly.
One thing that has really helped is that in each grade of middle school, students access at least one of their curricular texts through Sora (and the class set feature!). This gives students really great exposure to the awesome books we have in our digital collection. As they go to open their text for English class, they're noticing that we have the new Jason Reynolds or Raina Telgemier book.
Our English teachers also use Sora as a way to bring our library collection to students who are in reading support class, where independent reading is a course requirement. For many units, I'll create curated collections of books that complement themes for students to browse as well, and usually teachers promote those collections in English class.
In what ways has this been successful?
One big lesson is that whichever collection is listed first under explore is going to get a lot of circulation. Additionally, having students exposed to Sora through English class has been amazing for our circulation numbers.
I forgot to mention earlier, but all of our students have Chromebooks (through a) 1:1 program, where they take the Chromebooks home. Sometimes during lunch I'll walk around and ask the kids if they want a free Sora sticker. This is just an easy way to start the conversation if kids don't know what it is, and often it'll spark conversation between kids because inevitably someone at the table will be like "It's how I read graphic novels after I finish my work in class!"
Also, since many of them are using their Chromebooks to watch YouTube or do work during lunch, it's a great way to introduce or reintroduce them to the app. During these conversations they'll pop it open and be like "Omg we have My Hero Academia?" or whatever else they might like, and it instantly hooks them.
We also try to let student choice dictate our collection development, so every year we survey students asking them what would make Sora better or which specific titles they're looking for. We also keep a Google form on our library website where kids can request books in whichever format they want. The form and surveying work out really well because it gives us valuable feedback about our collection that we can look at alongside circulation data. It also means that kids will write things in their survey like "What is Sora?" and I can then follow up to show them.
Anything else you want readers to know about your implementation of Sora or your library/classroom?
One other thing that I love about Sora is that sooo many of our staff use it, especially to listen to audiobooks on their commute. A lot of our staff will share that with kids or tell them that they have a hold on a certain book because they're currently reading it. It really contributes to the culture of reading in the building overall, and I definitely encourage staff to use it and talk about using it!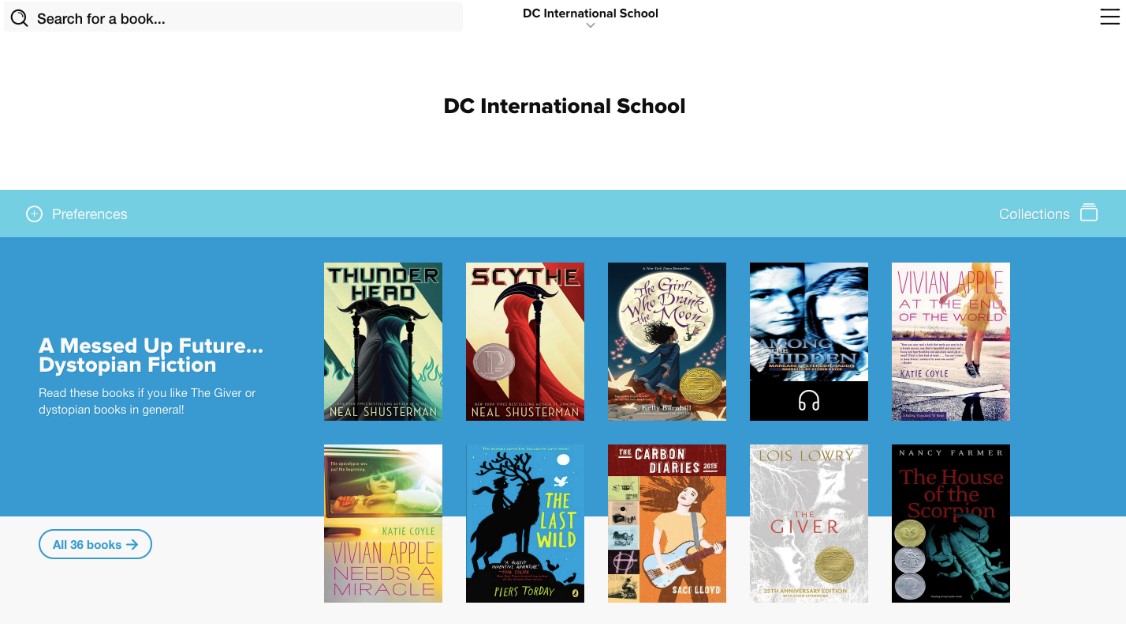 Get to know Mary
In your opinion, why is reading digitally important, especially to student readers?
Ok, so slight re-frame…I don't actually think reading digitally is important. I think giving readers all of the options and access to different modalities is important. Per Richard Allington's research, three of the most important things educators can do to foster readers is to provide choice, access and time. By curating a selection of digital reading materials (especially when dictated by student choice), we are widening the access our students have to reading experiences.
Sometimes a student will put a print book on hold and I'll look it up to tell them it's available in Sora, and they'll say "Oh, you know, reading on Sora really isn't for me," and that's wonderful too! We want our readers to get to know themselves as readers.
What is your favorite "reading" moment with a student?
Definitely any/all experiences where I'm reading out loud with students. I love a group read aloud (for all ages!) and think they are the perfect and easiest way to build community quickly. I also think that in another life I would be a voice actor, and I love doing all the different voices and accents for different characters. Plus, when reading time is up for a read aloud, having students yell "Noooooooo" is the most wonderful sound.
What advice do you have for new educators/librarians with a digital collection?
I love the James Baldwin quote: "You think your pain and your heartbreak are unprecedented in the history of the world, but then you read." I think reading is such a great and healthy way to build empathy and to learn about the world. Dr. Rudine Sims Bishop's research about books serving as windows and mirrors informs a lot of my practice as well. I work really hard to make sure our collection provides all the students in our school the opportunity to see themselves and to learn about others.
Final Thoughts
Also..In our library survey at the beginning of the year, kids had some cool things to say about Sora. The response prompt was "The collection on Sora would be even better if…"
"impossible."
"it's already great!"
"it's already the best"
"I love it how it is!!!!!!!!"
---
If you want to be the next Sora Spotlight, please reach out to us with a brief explanation of what you're doing in your school and how you're making an impact with Sora!
Interested in learning more about Sora?  Get no-cost access today!

---
About the Author:
Kristen Griesmer is a Product Support Specialist working with schools to integrate digital into their libraries and classrooms. She herself has experience as a history teacher working with students grades 8-12 focusing on U.S. history and government. She generally spends most of her free time chasing around her hyper-active pup Romeo, hiking, practicing yoga and trying out the best Cleveland restaurants.
---
Check out how other educators are using Sora to increase student reading:
Browse blog and media articles