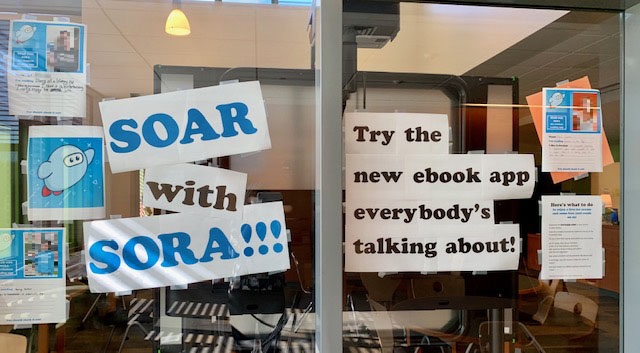 Sora spotlight: Dr. Linda Verge from Tahanto Regional Middle/High School
By: Kristen Griesmer, Product Support Specialist
In this recurring series, we'll feature a different librarian, media specialist or educator who's become a Sora champion at their school, impressing us with their innovative methods for implementing the reading app and engaging with their students. We've asked them to share their thoughts and ideas here so that we can all be inspired and identify new ways to reach students and help them fall in love with reading.
Today, we'll hear from Dr. Linda Verge, library director at Tahanto Regional Middle/High School in Massachusetts.
Educator Stats
Name
Dr. Linda Verge
Describe your position and your school.
I am fortunate to be the library director at a small and caring public school community in Massachusetts. Our school, Tahanto Regional Middle/High School is comprised of about 600 students spanning grades 6-12. Our students go on to do some amazing things! One is a musician in Nashville, others have careers as news reporters, while others are preparing for their careers in the medical field. The list goes on, and on; I'm so proud of their accomplishments. I've been a school librarian for a very long time – since 2002! I have a master's in library science, and a doctorate in educational leadership. I love being a librarian, because I get to help people research things that interest them, and I'm always learning new things, too.
How many years have you been active with OverDrive?
One.
What are you currently reading?
The Little Englishman by A.H. Verge.
Linda's Sora Story
What do you love most about Sora?
I love that Sora is easy to use and is so customizable. For instance, our eighth graders are reading biographies, autobiographies and memoirs right now. Using OverDrive Marketplace, I was able to highlight the Sora collection on our home page. I was able to pull out over 90 titles that are interesting, varied and grade-level-appropriate, too! The OverDrive staff has been very supportive, and there are tons of free marketing resources available for promoting Sora.
What unique things have you done to help increase student engagement with Sora?
I created a "SOAR with SORA" promotion! As I am introducing Sora for the first time, I challenged students to download the app, agree to be photographed with Sora open on their device(s) and to fill out a recommendation sheet saying what they are reading, and why their peers should give that title a try. That peer recommendation sheet, with their picture, is featured on the glass wall in front of the library for all to see. To sweeten the deal, I offered free ice cream to the first 50 students/faculty willing to try Sora.
In what ways has this been successful?
Sora is brand new to our school, so we're still gaining traction. We're getting the word out also by involving teachers, parents and the parent-teacher organization. Students who have downloaded the app like it very much.
Anything else you want readers to know about your implementation of Sora or your library/classroom?
What's not to love? The cost to our district is nominal and, best of all, there's no pleading with students to get the book back, etc. Sora checks books back in automatically after two weeks. I'm also getting more familiar with OverDrive Marketplace in order to customize more collections for specific classroom assignments.
Get to know Linda
In your opinion, why is reading digitally important, especially to student readers?
Being able to read digitally is a skill that is increasingly necessary in today's environment.
If you could have your students read one book, and one book only, what would it be and why?
The Miraculous Journey of Edward Tulane by Kate DiCamillo. This book is sooo powerful. Edward Tulane is a self-absorbed, vain china rabbit. He's a child's toy who thinks about no one except himself. During his heart-wrenching journey he learns what life is really about, loving others more than himself. It's a story about love, redemption, but most of all, it's about hope. I like that.

What is your favorite book of all time, and why?
Oh my gosh, it's the same book! I love the delicious way Kate DiCamillo strings words together. For example: "…the green outrageous hopeful light of spring." Her descriptive word strings help to paint the pictures in my mind as I read about Edward.
What is your favorite "reading" moment with a student?
I first worked as an elementary school librarian. One of my kindergarten students would actually flap his arms with excitement as I began to read to his class. Now, that's a pretty awesome endorsement, and it certainly conveyed his enthusiasm about our read-alouds!
What is the most important thing you hope your students take away from reading/education?
Knowledge is power, and non-fiction books can provide you with all the information you need as you're researching a topic. Also, great fiction titles can transport you when you need a break from all that research!
What advice do you have for educators/librarians with a new digital collection?
Use OverDrive Marketplace to create a collection of titles within the larger collection for specific assignments. This makes the collection less daunting and easier to use, especially for students new to ebooks.
---
If you want to be the next Sora Spotlight, please reach out to us with a brief explanation of what you're doing in your school and how you're making an impact with Sora!
Interested in learning more about Sora?  Get no-cost access today!

---
About the Author:
Kristen Griesmer is a Product Support Specialist working with schools to integrate digital into their libraries and classrooms. She herself has experience as a history teacher working with students grades 8-12 focusing on U.S. history and government. She generally spends most of her free time chasing around her hyper-active pup Romeo, hiking, practicing yoga and trying out the best Cleveland restaurants.
---
Check out how other educators are using Sora to increase student reading:
Browse blog and media articles