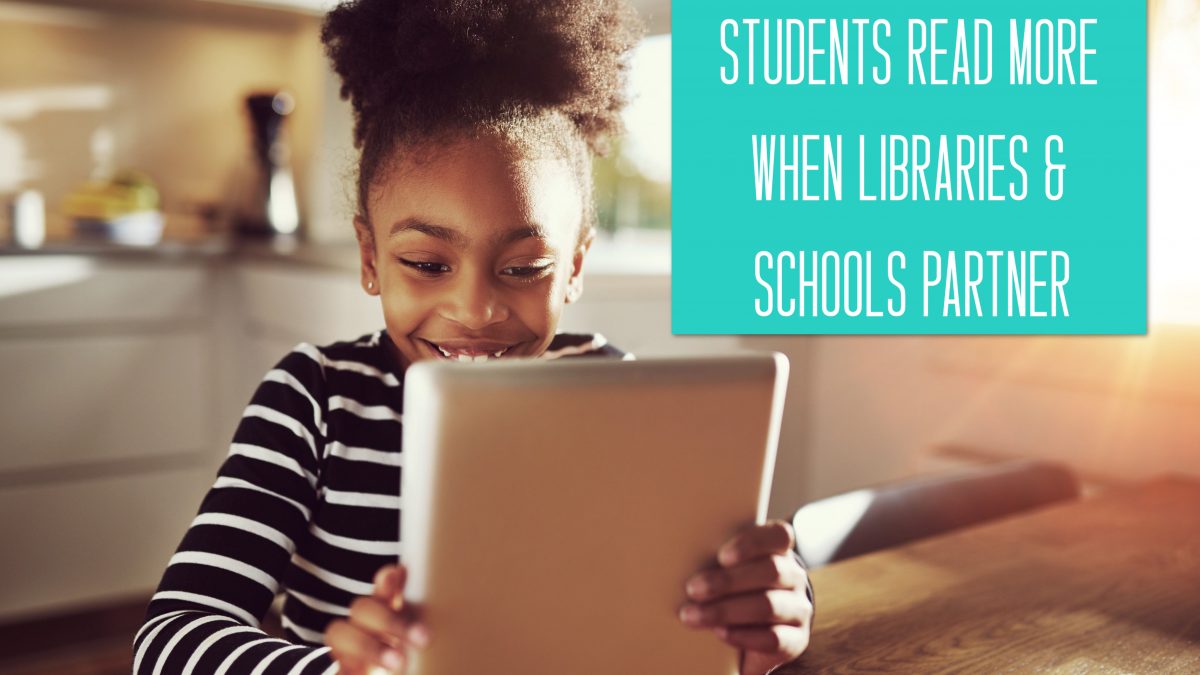 Students read more when libraries & schools partner
By: Jill Grunenwald, Marketing and Communications Specialist
Growing up, this time of year was always one of my favorites because my school library allowed students to take home additional books over winter break, not just the standard two book checkout limit. I'd load up my book bag with as many books as possible. Then, of course, I also had books I had checked out from the public library and there were all those books I got from Santa….
I spent the two weeks of my winter break curled up on the couch reading. It was the best.
This was long before OverDrive and ebooks, which would have made my life so much easier (and my poor book bag would have appreciated it, too). As it was, I had to keep track of which books came from where and sign them out on different accounts and cards to make sure they got back to the correct library. Not only would ebooks have solved that, but for a bookworm like me, it would have been fantastic if my reading app allowed me to check out books from my school library and public library all on the same account.
Enter Sora.
Our award-winning student reading app offers integration with the public library, enabling students to borrow ebooks and audiobooks from their public library's digital collection in addition to the ones from their school library. With Sora, kids can add their public library for instant access to thousands of age-appropriate ebooks and audiobooks, for both pleasure reading and classroom learning. This not only keeps them reading but also means more checkouts for public libraries' digital collections.
Libraries & schools work better together
We already have several success stories from school and library partnerships. Find out how Harlandale ISD has partnered with the San Antonio Public Library to provide digital materials for students, or read about how Fresno County Library has partnered with its school districts to provide similar support. You, too, can create these partnerships with school districts in your service area.
With Sora, students have a whole new world of books to select from and our own internal data shows students read more when using Sora with their public library (versus only having access to their school's digital collection). Interested in learning more? Check out our on-demand training to discover how OverDrive can help you extend your digital collection to students and teachers.
Tags In
Browse blog and media articles