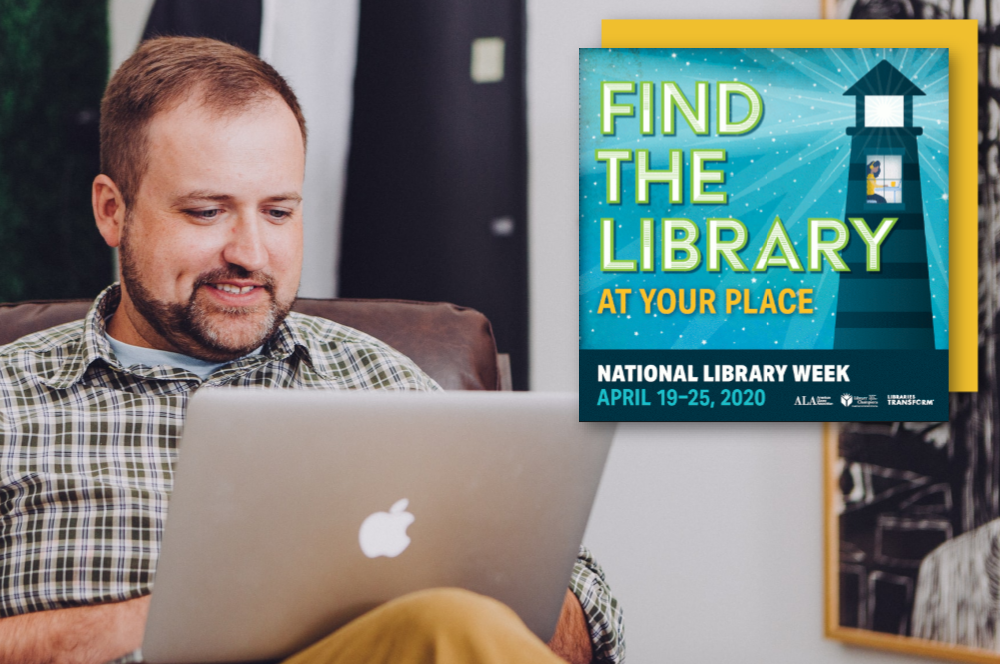 #ThankYouLibraries during National Library Week and every week
National Library Week is an annual celebration for libraries and librarians, and the important role they play in their communities. But even with so many physical locations currently closed, libraries continue to transform lives every single day.
This year's theme is all about finding your place at the library — which you can still do virtually! So many of our library partners have found innovative ways to support their communities during the COVID-19 crisis. You can also celebrate National Library Week by letting your library know how much you appreciate all the great things they do. This week, the American Library Association is encouraging readers to use the #ThankYouLibraries hashtag on social media and tagging their local library. Visit this page for more information on how you can get involved.
In honor of National Library Week, we wanted to share why readers from all over love their local libraries. From offering access to ebooks and audiobooks during this time and all the time, to the amazing librarians who staff the libraries and help patrons on a daily basis. #ThankYouLibraries for all that you do!
Ottawa Public Library has the best online resources, including eBooks! —@madonv

My children and I love our local library Lincolnwood Library. They offer great programming and the staff is always so willing to help my children with their questions, especially my daughter. —@hilarystrauch

I love my librarians. I miss stopping in to pick up books that I ordered and having the librarian be like, "I was flipping through this book you ordered earlier and it looks sooooo interesting. Have you also read…?" and then having a brief chat about some book or another. –Lauren

I'm using OverDrive to find targeted books for my 5 year old for our forced homeschool! She picks a topic and the night before I go on there and find books for storytime related to whatever topic it is. I can't imagine what we would do with the library closed without it! —Sara

I love the Libby App. It allows me to read my book club books while sitting in the dark waiting for the kids to fall asleep during these anxious times. It helps distract me without bothering them. –Elizabeth

I love Santa Barbara Public Library because with out them I would not have an OverDrive account and go broke buying books! —@posh4penniesbae

During these strange times, we like the variety we can get from Libby. If one library has a long wait for a book, then we check another library. I also love that on those occasions when all the books seem to be available at once, you can adjust the date the book gets delivered to you by skipping your delivery and getting it after the next person or two. As a school librarian, I love that PLCHC has a way where people can sign up for a library card online to access ebooks and audiobooks. My students can do this and still have access to great books while our school library and their local branch of the public library are closed. –Melody

I love Orange County Public Libraries because they have an amazing, huge collection, including a fantastic e/audio collection on OverDrive, and I can almost always find what I want. —@gingerandjazz

As avid library users all the time, we really miss the great programming at our local library, and while Libby doesn't replace that, it does give us easy access to all of the great books we love and it's free. —Heather

I love Libby (the app) so I can still read my inner child's little heart out while social distancing! I love Libby (our local children's librarian at Cleveland Public Library's West Park branch) because she knows my child and is always so helpful in finding me books on whatever theme we need! –Joy

I love that when I finish my cozy mystery in the middle of the night (because I just can't sleep until I know who did it !!!!), I can immediately download the next book in the series right then and there on OverDrive! And of course then I have to read the first chapter at least, right? –Angela

I love Alpena County George N. Fletcher Public Library because they provide an endless supply of information and entertainment. Some days we just like to take a walk there without much in mind, but always walk away with a good book or 12. I love Libby and OverDrive for the inevitable day I run out of things to read, or to listen to when I am gardening or doing home repairs. —Becky

I really miss the physical feeling of being in my local library, especially the computer lab. I often work from home and I go to Rocky River Public Library when I need a quiet place to focus. —Julie

I love that I have all the information and entertainment I need at my fingertips. And being able to request books is great, but if my county library doesn't have the book I'm looking for, then it comes from other institutions throughout the state. –Dana

I love the free programs Elyria Public Library offers, from workouts to how to garden and even movie discussions. –Corinne
If you are a library partner, contact your Account Manager to add a site message to your OverDrive website celebrating National Library Week and encouraging readers to share what they are reading using #ThankYouLibraries.
Tags In
Browse blog and media articles