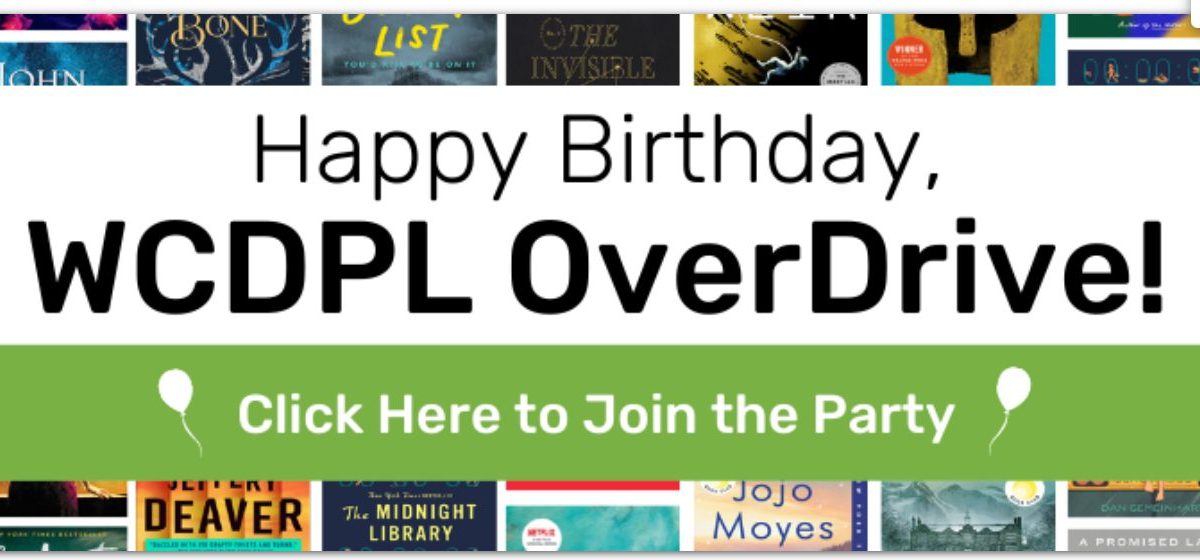 Libby Spotlight: Wood County District Public Library (OH)
Happy birthday to… Libby! That's the tune patrons and staff alike were singing at Wood County District Public Library in Bowling Green, Ohio last month. The library had been active with OverDrive for over 10 years as a member of a consortium, but moved to a standalone collection in August 2020. To celebrate their first year as a standalone, a party was in order with the added bonus of helping to bring awareness to the collection and increase circulation.
To tell us more about their monthlong celebration, we talked with Kristin Wetzel, Information Services Coordinator for the WCDPL.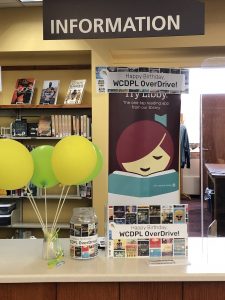 What did you do to celebrate with patrons?
We held an 'Introduction to Libby' kick-off event for patrons via Zoom. This kick-off event featured a demonstration using the Libby app and highlighting Libby's useful features. One-on-one tech help downloading and setting up the app was also offered to patrons. There were balloon bouquets on each of our service desks and the large Libby banner had a Happy Birthday sign displayed behind the Information Desk to attract attention. Patrons received a party favor when they entered the drawing for the prizes. The grand prize was a Samsung Galaxy Tablet and we had t-shirts and coffee mugs as other prizes at the end of the celebration.
What was your financial investment?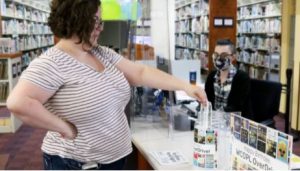 Our financial investment was minimal because of OverDrive's support.
We provided party favors such as lightning chargers, notepads, library pens, and Libby buttons. We also purchased balloon bouquet supplies.
How did it go? How will you measure success?
Birthday parties are fun and everyone loves party favors! Patrons were excited to learn about our standalone collection. Our checkouts went up 11% and our patron use went up 7% in the month of our celebration.
We also received some nice local press coverage for our celebration.
If another library wanted to do a similar promotion, what tips would you share?
I would recommend getting the entire staff excited about the celebration and preparing all staff members for responding to and assisting with the Libby app. The 'Introduction to Libby' App program was helpful to our patrons too.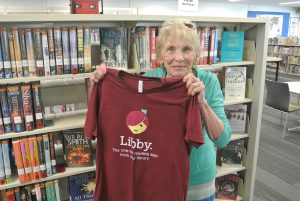 If you're interested in hosting a similar introductory training at your library, check out the Training Kits available on the Resource Center for PowerPoint slides and pointers to get started.
What other ways have you found success promoting Libby to patrons?
We take information about Libby to all outreach events. Recently, we were at Bowling Green State University's Campus Fest encouraging students and faculty to let us be their public library while they are at BGSU. We shared information about Libby and how they can access the collection with our library card.
We also have an e-media section on our webpage, post on social media and include information in our newsletters and mention the collection during our radio broadcasts on Bowling Green's local morning radio show.
In your opinion, why is digital reading important?
Digital collections are available anytime from anywhere. We once assisted a patron who was out of the country with access to ebooks via Libby on a FaceTime call. Digital books are adaptable to different reading preferences in both ebook and audiobook format. I don't know how we could have supported our patrons throughout this pandemic without our digital collections.
If you would like to nominate your library to be featured in an upcoming spotlight, please contact us and let us know what you're doing in your library and how you are reaching more users with Libby.
Tags In
Browse blog and media articles