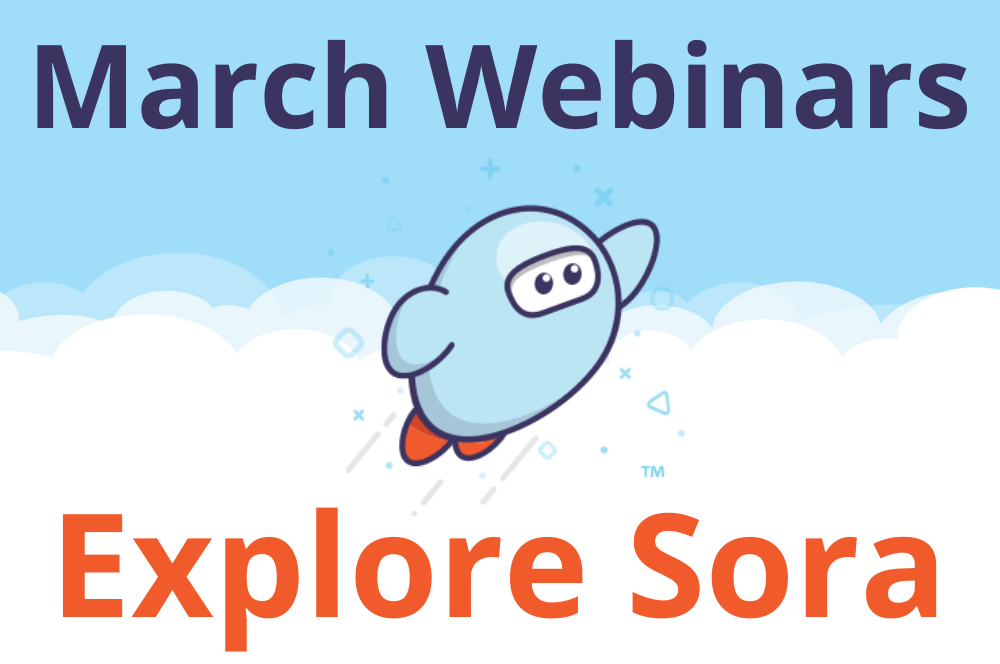 Spring forward with K-12 training webinars for March
Each month, our Training Team conducts live training webinars with one goal in mind: giving you more opportunities to use the Sora reading app to boost your students' learning! For 2022, we're offering a revamped approach to webinars, alternating focus each month on either Sora or Marketplace and providing both beginner and intermediate topics to explore.
When you join a live session, you'll have the opportunity to ask questions of our K-12 experts and walk away with confidence integrating Sora into your classroom practices. But never fear – if you don't have time to make a live session, you can also register to access the on-demand recording to watch at your convenience. And no matter how you watch, webinar attendees will receive a comprehensive resource packet to review, explore, and promote the topics on their own time and at their own pace.
This month, the spotlight is on Sora. You'll acquaint yourself with the basics of the student reading app and/or take a deeper dive into how to use different digital formats. Learn more about what's on tap for March below!
---
Wednesday, March 9
3:00 PM Eastern Time
Duration: 45 minutes
Learn the basics of Sora so that you can start exploring and help others get started, too! Sora Essentials sessions are great for educators who are brand new to the Sora platform and want to learn how to:
Log into Sora using your school credentials
Borrow an ebook and audiobook
Customize your reading and listening experiences
Explore the top 5 ways Sora serves students
Help your students and other staff get started with Sora
---
Tuesday, March 29
3:00 PM Eastern Time
Duration: 45 minutes
Ready to take the next steps with Sora? Learn simple, straightforward ways to implement digital formats such as comics & graphic novels, read-alongs, magazines, and Extras into your current teaching practices and curriculum.
This Sora Connections session is intended for educators with a basic understanding of Sora who want to:
Explore the evolving relationship between print and digital reading strategies
Increase student equity, access, and engagement with unique digital formats
Implement digital habits into your daily classroom practices
---
Please note: Times for all webinars are shown in Eastern Standard. We understand the timing may not suit everyone but signing up ensures that a recording is sent the day after the live session so you can view at your convenience.
Tags In
Browse blog and media articles