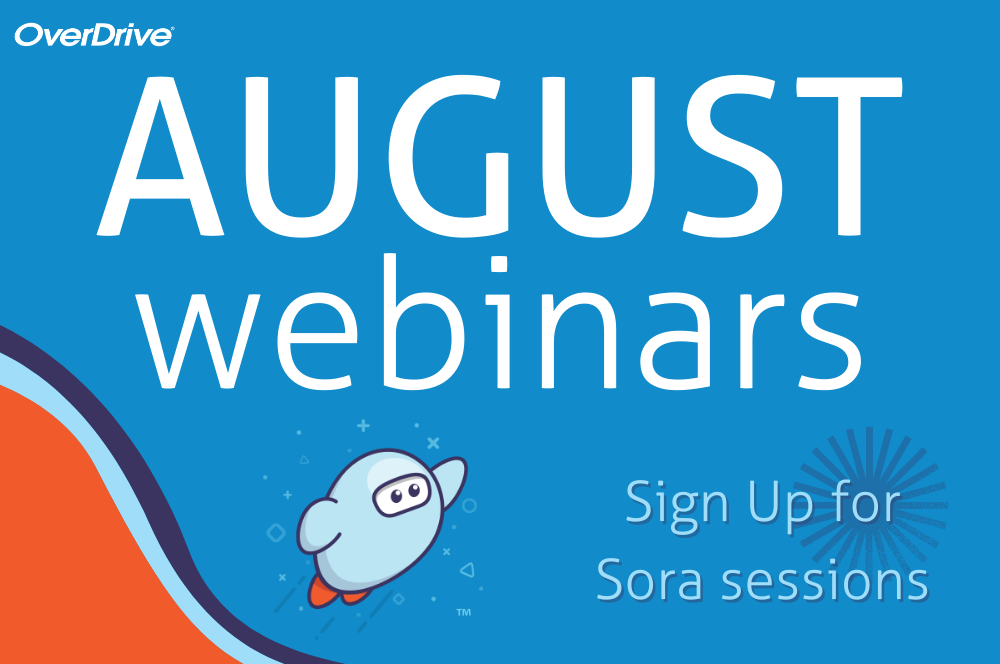 Make a splash in August with new K-12 webinars: Sora, Marketplace and more!
By: Lisa Mullins, Product Trainer
Here at OverDrive, the Training team is thrilled to be preparing for live webinars after a short break. Join us to learn about Sora, explore access, and expand your digital collection with new content.
---
Sora Essentials
Ready to learn the basics of Sora so you can start exploring and help others get started, too? This session is for educators brand new to Sora who want to learn to:
Log into Sora using your school credentials
Borrow an ebook and audiobook
Customize your reading and listening experiences
Explore the top 5 ways Sora serves students
Help your students and other staff get started with Sora
---
Sora Connections – It's About Access
Wednesday, August 31 – 3:00 PM ET (60 minutes)
Ensuring students have access to the right books and learning materials is more important than ever. Join OverDrive experts to learn more about:
What's happening behind-the-scenes,
How your digital collection is already working to individualize access, and
How Sora appears for different user types.
The benefits of a Public Library CONNECT partnership; and receive tips and tricks for implementation across your entire school community.
But wait, there's more! Join OverDrive and representatives from five prestigious publishing houses to learn about Chinese titles that will expand your collection and delight your users.
---
Expand Your Chinese Content Catalog
This session is intended for public library, K-12, and/or professional partners.  During this session you'll:
Explore titles for all ages and interests, including children's literature, artistic works, cultural books, and more!
Receive a link to all titles discussed in the session for easy shopping and curating.
---
NEW FOR BACK TO SCHOOL:
We are offering live, open Sora sessions weekly through July, August, and September. Sign up for a specific time or register for any session to receive the recording automatically.
Don't forget to bookmark our Upcoming Webinars page now to stay up to date with our current offerings and learn about what's coming next!
---
About the author:
Lisa is a Product Trainer at OverDrive. Working mainly with schools, she's been known to dabble on the public library side, using her perspective as a former classroom teacher to provide quality learning experiences for all audiences. Lisa's list of loves includes her animals, crafting, tap dancing, reading, gardening, clever word play, and…lists.
Tags In
Browse blog and media articles