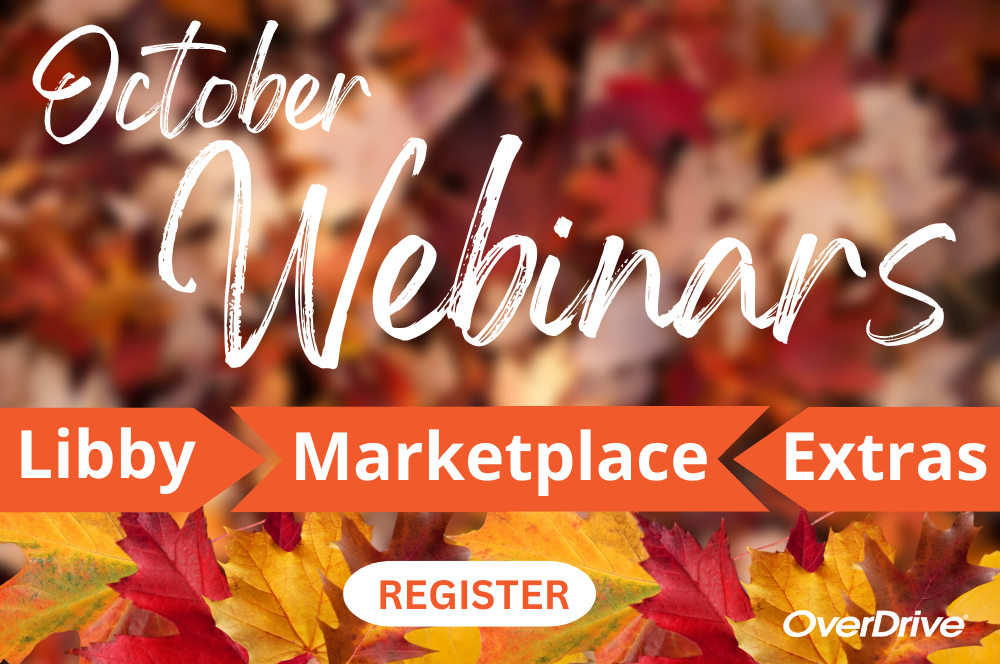 Join us for our October webinars!
With the arrival of October, we can expect crisp air, a changing of leaves, and a schedule chock full of library focused webinars from OverDrive's Training Team.
You can sign up to attend a specific webinar live or register for any session to receive the recording automatically.
Supporting Independent Authors with Indie Author Project Select
Thursday, October 6th  at 2:00 PM ET
Join our panel of experts as we discuss BiblioLabs' Indie Author Project from the library and author perspective, and demonstrate best practices for adding those Simultaneous Use titles to a digital collection in Marketplace.
Reach New Audiences with Libby Extras
Wednesday, October 12th at 2:00 PM ET
Join OverDrive experts for a live session on Libby Extras that will enhance your digital collection with compelling content. These Database and Streaming Media services will engage your community with entertainment, education, and unique digital experiences
Getting Started with Libby
Thursday, October 20th at 11:00 AM ET
Join OverDrive's training team to learn how easy it is to get your patrons started with Libby, the library reading app.
Maximize Your Time with the Top 10 Marketplace Search Techniques
Wednesday, October 26th at 2:00 PM ET
Have you ever searched for titles in Marketplace and wondered:
What's the difference between street date and on sale date?
What IS a street date?
Why does this search allow Publisher Account, Publisher, and Imprint?
Join OverDrive's Training team to learn 10 techniques to maximize your collection development time by using advanced search features in Marketplace.
As always, don't forget to bookmark our Upcoming Webinars page to stay up to date with our current offerings and to learn about what's coming next! Happy learning!
Tags In
Browse blog and media articles