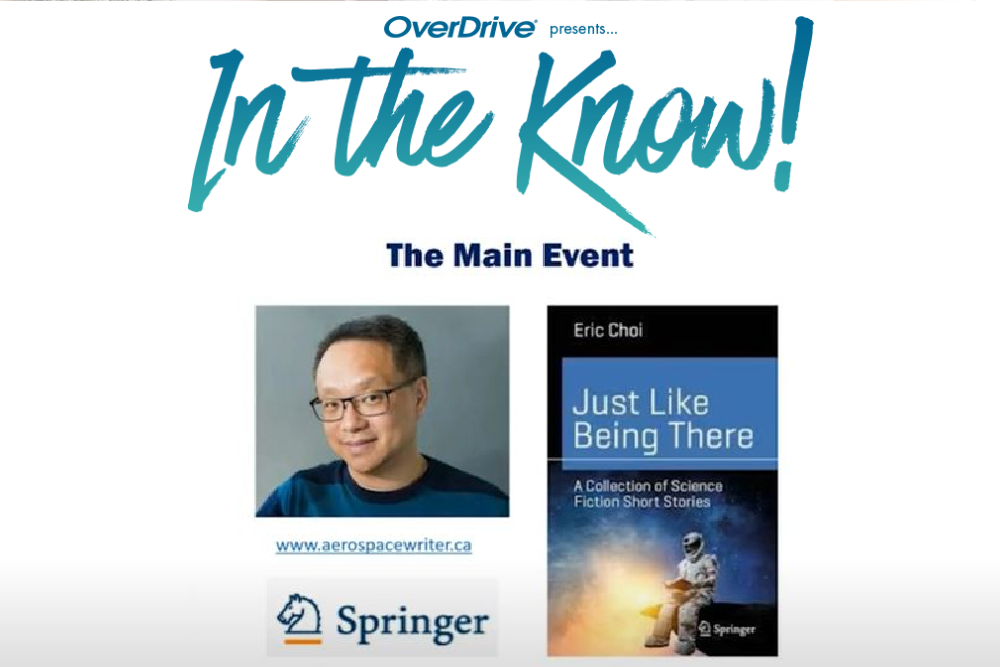 Be in the Know with Springer Nature and Eric Choi
Watch an exclusive In the Know recorded event featuring Springer Nature as Eric Choi, author of Just Like Being There, is interviewed by OverDrive's own resident sci-fi enthusiast, Kenny Cruse.
Springer Nature's mission is to advance discovery by publishing robust and insightful research, supporting the development of new areas of knowledge, and making ideas and information accessible around the world. Springer's Science and Fiction series, while fictional, includes real science written by scientists. In fact, in Just Like Being There you'll find an afterward offering scientific insight into each story.
About Eric Choi
Author Eric Choi is an aerospace engineer, editor, and science fiction writer. His short stories bring science and engineering concepts to life through page-turning narratives. Eric's writing is informed by his robust engineering career where he has worked on many space projects including Quantum Encryption and Science Satellite and the Meteorological payload on the Phoenix Mars Lander. In the course of his literary career, Eric has twice won the Aurora Award for authoring the short story "Crimson Sky" and for co-editing The Dragon and the Stars with Derwin Mak. Additionally, Eric was the first recipient of the Asimov Award for his novelette Dedication. To learn more about Eric, visit his website.
Librarians can visit OverDrive's Marketplace to purchase Just Like Being There and explore other offerings in Springer Nature's Science and Fiction series.
Be In the Know
Visit Marketplace today to register for upcoming collaborative publisher presentations by OverDrive and to see an archive of past presentations.
Tags In
Browse blog and media articles