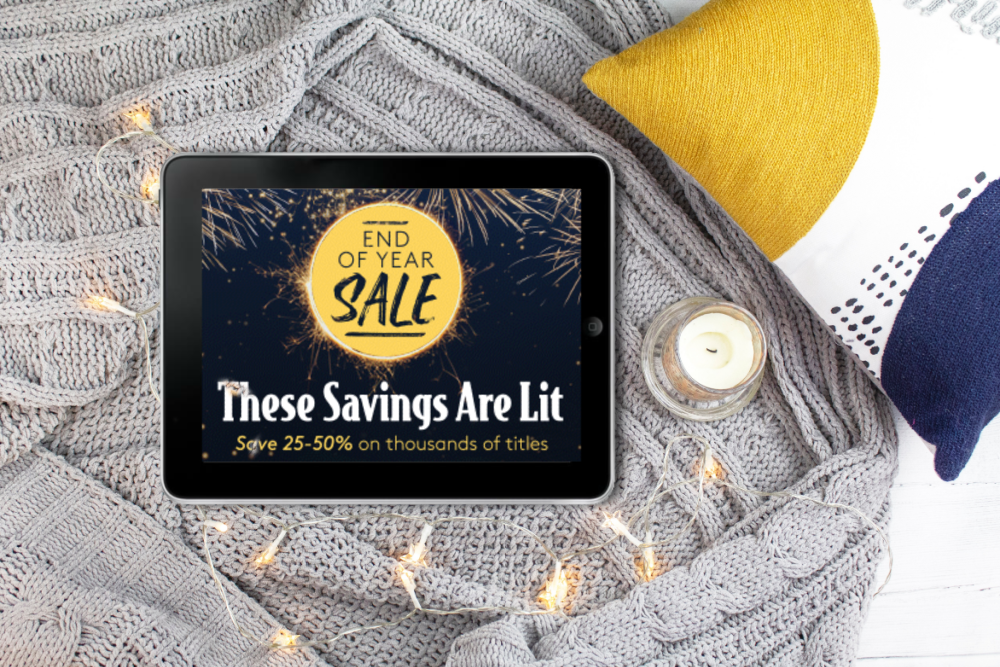 Wrap up 2022 with a grand finale of savings
Our biggest sale of the year is here and we want to make sure you're prepared! Between Nov. 14 and Dec. 31, you can save up to 50% off on over 100,000 titles by shopping our End of Year sale in Marketplace. To help you navigate the sale, we have premade lists ready, including 2022 releases, publishers new to the sale, diverse reads, and popular genres.
Shopping OverDrive's annual End of Year sale is only one opportunity to set your digital library up for success in 2023. To help you end the year strong, we've put together a list to make sure you have everything you need.
Ways to prepare your digital collection for the end of the year
Update your curated lists
The holidays are almost here and with them comes new devices and new users to your digital library. The end of the year is a great time to refresh the curated collections on your OverDrive site by reviewing and updating your existing collections and adding new collections as well.
Meet demand by shopping holds on sale
In addition to shopping our upcoming End of Year sale for new content to add to your library, you will also be able to shop titles that are on sale and on hold at your library. That list will be unique to your digital collection and is a great way to meet demand while still staying within your budget.
Reach more readers by adding OverDrive Magazines
Increase your library's overall circulation of content with OverDrive Magazines. Sold as an "all-in" plan, you pay a set price and receive all magazines currently available. You also will receive all magazines added during the duration of your subscription, at no additional cost. Our magazine package allows unlimited simultaneous use with no circulation caps, helping you increase circulation for one set price. Interested in learning more? Here are 8 things you may not know about OverDrive Magazines.
Attend an In the Know presentation
These informative and engaging publisher presentations always bring a little extra, such as appearances by authors, editors, and so much more. Visit Marketplace to register for one of the upcoming live events or view past recordings you may have missed.
Engage, educate, and entertain users with Libby Extras
These services include a wide variety of compelling content providers that offer new opportunities to engage your community with entertainment, education and unique digital experiences. Visit the Resource Center to learn more.
Remind your users the digital library is always open
Even though your physical library may be closed over the holidays or due to inclement weather, your digital library is always open. Visit the Resource Center for free downloadable marketing kits you can use to promote your digital collection on social media.
Visit Marketplace between Nov. 14 and Dec. 31 to save on thousands of titles
Our End of Year sale is the perfect time to stock up on titles to make sure your digital collection is fresh for new users and old. With over 100,000 titles up to 50% off there will be something for everyone. These savings are lit so be sure to visit Marketplace starting Nov. 14 to start shopping!
Browse blog and media articles