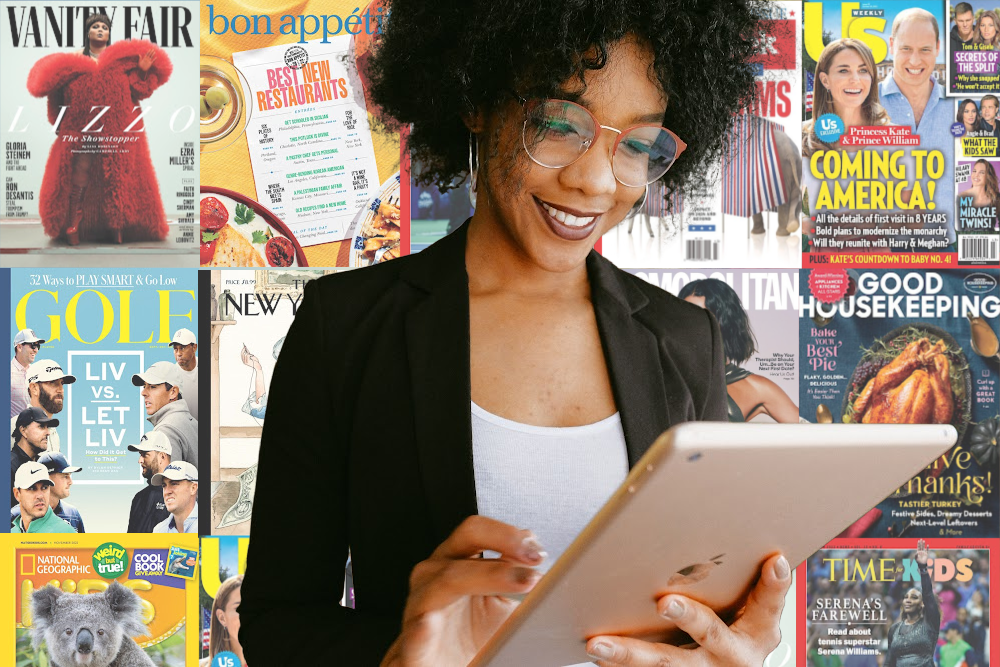 8 things you may not know about OverDrive Magazines
Give your community more to love in Libby with OverDrive Magazines! Your users will love having thousands of magazines available alongside the ebooks and audiobooks you already offer.  
In Dec. 2020, we launched our OverDrive Magazine package with our partner Zinio. Since then, so many of our library partners have seen tremendous success with magazines. Add OverDrive Magazines today to diversify your collection, reach more readers, and increase your library's overall circulation of content.  
One price gets you 4,000 magazine titles (and counting!)
OverDrive Magazines are sold as an "all-in" plan. This means you pay a set price and receive all magazines currently available. No need to budget for individual magazine titles or weigh the benefit of adding one title over another – it's all included! Any new magazines that we add during the duration of your subscription will also be added to your digital collection, at no additional cost to you.  
Excellent Libby reading experience 
Magazines are seamlessly integrated into Libby, creating a simplified patron experience. We've also introduced new Libby features to enhance that reading experience. By setting up a Notify Me smart tag users can be notified when the latest issue of their favorite magazine is available. Libby's article view allows users to resize the text for a more customized experience. And since no huge file is downloaded to their device, users always have quick and easy access to the titles they want to read.  
Magazines for every reader 
We know 4,000 titles is a lot, and you may be thinking it's way more than you really need. In addition to getting all the popular titles you know your readers want, you are adding thousands more to reach every user in your community. Because we sell these as an "all-in" plan, there is no real risk in adding them to your collection as they are all included in the set price.  
When we say every reader we mean every reader
Our robust catalog includes magazines for kids and titles in a variety of languages including Spanish, Chinese, Japanese, Italian, German, French, and more. The OverDrive Magazine all-in plan also includes one-off special collection issues to help you and your readers stay informed on current events. 
In some cases, we even have more than one magazine title for a particular interest, including: 
Kids & Teens:

TIME for Kids, Highlights, Storytime, Scoop, National Geographic Kids

 

Celebrity & Gossip:

Us Weekly, Star, OK!, Hello, InTouch

 

Home & Garden

: Good Housekeeping, House Beautiful, HGTV Magazine, Elle Décor

 

Women's Interest: Allure, Harper's Bazaar, Elle, Women's Day, Cosmopolitan 

 

Food & Health:

Cook's Illustrated, Bon Appetit, women's Health, Prevention

 

Lifestyle:

Country Living, Southern Home

 

Crafts & Hobbies

: Woodcraft magazine, Annie's craft magazines, Kalmbach hobby magazines, Interweave Press

 

Finance & Business

: Kiplinger's Personal Finance, Fast Company, Inc., WIRED, Entrepreneur Magazine

 

News & Current Affairs:

Newsweek, The New Yorker, Mother Jones, New York Magazine

 

Sports

: The Hockey News, Slam, Baseball America, Soccer 360, Golf Magazine, Tennis Magazine

 
Unlimited access means unlimited readers
OverDrive Magazines allow unlimited simultaneous use with no circulation caps. Everyone who wants to read the latest issue can without you needing to buy additional licenses or subscriptions to meet demand. It's like giving every member of your community their own subscription to all 4,000 magazines! Because there are no circulation caps with magazines, you don't have to limit access for your users. Readers can check out as many magazines as they want, helping you increase circulation and meet demand all for one set price.   
Personalized options for your library
We can help you organize your magazine titles by adding a Libby Catalog Guide. In addition to the standard magazine reading room your OverDrive Account Manager can turn on, you can also curate your own collections of magazines.  
Magazines can be curated alongside the ebooks and audiobooks already in your collection. Planning a cookbook curated collection for the holidays? Add in some cooking-related magazine titles!  
No space? No problem
The all-in package of OverDrive Magazines includes rolling 3 years of back issues, wherever available. With physical magazines you would have to find room to store all those issues, or you may need to limit how many years back you go. There's also the staff time required to weed physical back issues. With OverDrive Magazines that process is all automated.  
We help manage the collection so you don't have to
Our unique all-in package means an easy management process for you. If a magazine stops printing, we handle the backend process of removing the title from your collection. Gone are the days of manually managing multiple subscription expiration dates or budgeting for title price changes, saving you time and money.  
Ready to get started and grow usage? 
Whether you're new to the service or getting ready to renew, now's a great time to go all in with OverDrive Magazines. Just visit the Simultaneous Use section of Marketplace to add magazines to your digital collection today! Don't forget to visit the Resource Center to get our magazine marketing kit that you can use to promote magazines to your community. 
Browse blog and media articles