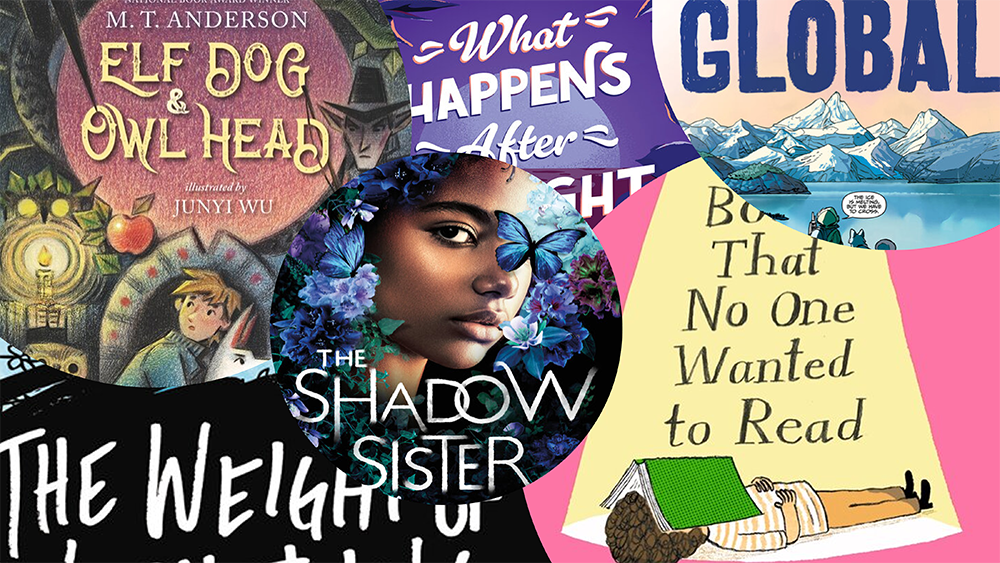 2023 releases for students that are on sale right now
By now, you're probably all-too familiar with the classic books that students can't get enough of. The Diary of a Wimpy Kids. The Harry Potters. The Summer I Turned Pretty. The Hunger Games. Pete the Cat. And so on, and so on.
All of those books are awesome (after all, they're beloved for a reason!). And it's certainly important to make sure they're available to your students, especially if they're a guaranteed way to get them into reading for the first time.
But once you've got their foot in the door, we don't have to tell you that there's a whole wide world of choice out there. New books (like the 2023 releases we're sharing below) come out every day, and who knows? One of them just might become your kids' next favorite!
And just in case we forgot to mention – all of the books shown here are at least 25% off through the end of September during our Back to School Sale in OverDrive Marketplace. Time is running out to add them to your Sora collection while they're at their best price!
---
2023 Releases: Elementary School
Elf Dog and Owl Head
By: M.T. Anderson, Junyi Wu
"Clay and his family are suffering the accumulated ­tensions of a "global sickness" shutdown. Online school, isolation from friends, financial worries, too much togetherness — Clay needs escape, and he gets it via a charming elf-hound who has wandered up from the fairy Kingdom Under the Mountain. The dog also gives Clay access to a new friend, Amos, an owl-headed boy who inhabits a different parallel world that resembles a Puritan village. Once these worlds start to leak into one another, chaos is loosed upon Clay and his family. The tone is largely cartoonish, as set pieces of hilarious slapstick involve, for example, an out-of-control wool sweater that reverse-evolves into its original sheep…Balancing this chill is the devoted relationship between Clay and his dog companion, a theme that stands sturdily in the middle of the mayhem. Black-and-white full-page pencil illustrations contribute to both coziness and eeriness." – Sarah Ellis, The Horn Book
Get Elf Dog and Owl Head in Marketplace
****
The Book That No One Wanted to Read
By: Richard Ayoade, Tor Freeman
"Comedian and actor Ayoade explores storytelling and books themselves. Readers are quickly introduced to the premise: The narrator of this book…is the book itself. Directly addressing the audience, the narrator waxes philosophical about judging books by covers before plunging readers into a story told in second person about a child who finds "a particular Book That No One Wanted To Read" on a library shelf. Interspersed with imagined, telepathic dialogue between reader and book, this delightfully droll work casually covers everything from footnotes to story structure; information about excess unwanted books being "pulped" by publishers leads to a gag about the book not wanting to be recycled into toilet paper. The design is clean, with different fonts effectively used to maintain speaker clarity, and facts about books blend beautifully with wacky, tongue-in-cheek illustrations…Lovingly crafted metafictive silliness both experimental and engaging." – Kirkus Reviews
Get The Book That No One Wanted to Read in Marketplace
---
2023 Releases: Middle School
The Weight of Everything
By Marcia Argueta Mickelson
"Through Sarah's tentative steps toward healing, Mickelson (Where I Belong) attentively showcases the mending power of tenderness, patience, and love in this moving read." – Publishers Weekly
Get The Weight of Everything in Marketplace
****
Global: One fragile world. An epic fight for survival.
By Eoin Colfer, Andrew Donkin, Giovanni Rigano
"Sami is a 12-year-old boy with light brown skin and brown hair who lives in a fishing village on the Bay of Bengal. Yuki is a 14-year-old girl, cued as Inuit, living in a small village inside the Arctic circle. Though they live on opposite ends of the globe, both kids' lives have been directly and negatively impacted by climate change, and both refuse to sit idly by…Beautiful full-color illustrations immerse readers in their precarious and dynamic world, while the fast-paced text keeps the tension high. Though Sami and Yuki's story is fiction, Colfer reminds readers in an end note that all the impacts of climate change that the characters experience are real and currently happening across the globe…With this newest work, Colfer has created a gripping graphic novel that is a hopeful call to action for all readers. Highly recommended for purchase." – Laken Hottle, School Library Journal
---
2023 Releases: High School
What Happens After Midnight
By: K.L. Walther
"High schooler Lily is just 12 days away from the end of senior year when she receives a ransom-style note from anonymous classmate the Jester, inviting her to participate in the annual senior prank. After spending four years cultivating the perfect student persona—exacerbated by pressures stemming from her mother's teaching role at her Rhode Island prep school—Lily is excited to shake things up and agrees to help. The night of the secret rendezvous, Lily, along with other carefully selected seniors, learns that the Jester is Lily's ex-boyfriend Tag, a reveal that prompts unease in Lily. Tag informs the group that they're to steal an important item from narcissistic senior class president Daniel, who is also Lily's prom date, and send him on a scavenger hunt to find it. Armed with keys she stole from her mother, Lily pairs up with Tag to hide clues for Daniel around campus. As the duo dodge school security, faculty members, and fellow students out after curfew, old feelings resurface. Walther (The Summer of Broken Rules) fills this edge-of-summer rom-com with mischief and mayhem, delivering swift action and a swoony second-chance romance perfect for soon-to-be-grads suffering from senioritis." – Publisher's Weekly
Get What Happens After Midnight in Marketplace
****
The Shadow Sister
By: Lily Meade
"In Meade's debut, sisters Casey and Sutton have a difficult relationship that goes beyond sibling rivalry. Then Sutton goes missing and, when she returns, has memories only of her sister. But something beyond Sutton's limited memory isn't right, and everyone is determined to get to the bottom of Sutton's mysterious disappearance. Unsettling to an excellent, haunting effect, The Shadow Sister makes the most of tone and atmosphere with prose that seems straightforward at first glance but buzzes with tension. In a book that keeps readers guessing, Meade harnesses generational and personal trauma to paint a stunning story while weaving in themes around religion, family, and privilege–the sisters' father is a Black historian, and Sutton is not the first Black girl to go missing in the neighborhood…Readers who enjoy domestic dramas will be sated as the book examines various relationships made complicated by the new dynamics introduced by Sutton's return and uncharacteristic behavior." – Booklist
Get The Shadow Sister in Marketplace
---
Browse additional 2023 releases & books for every grade level
The titles above are just a small sample of the 40,000+ juvenile and YA titles discounted 25-50% off during the Back to School Sale. Below, you'll find additional lists of new releases, plus some of the best books of the sale for students of all ages.
To view and purchase these titles, you must have a Marketplace account with the appropriate permissions. Need help getting one? Contact schools@overdrive.com.
Tags In
Browse blog and media articles