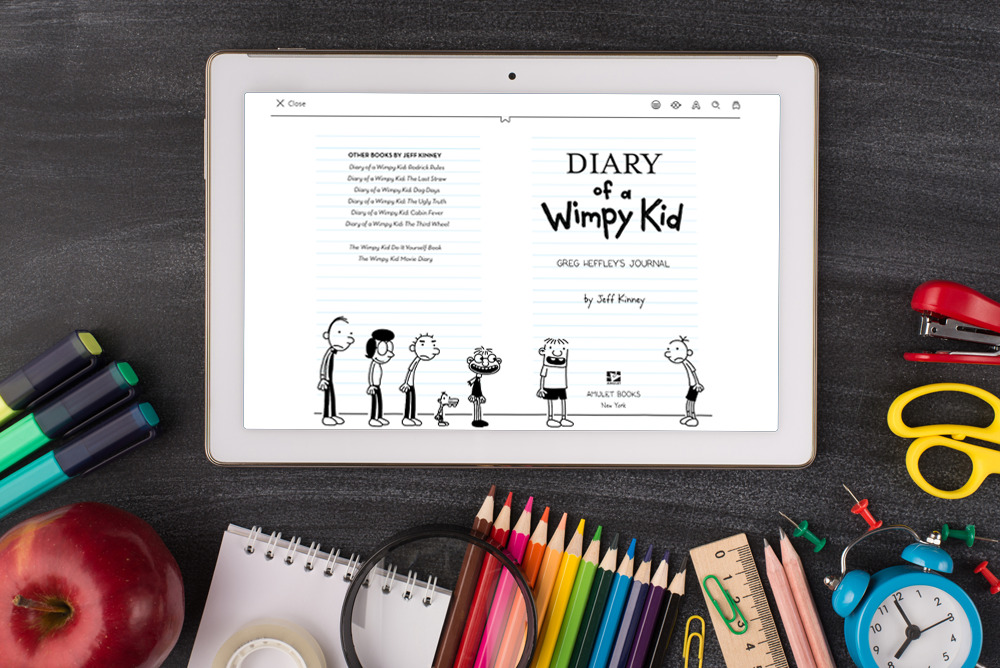 Back-to-School Sale Spotlight: "Diary of a Wimpy Kid"
A favorite book (or book series) is a bit like a blanket straight from the dryer. It's warm and cozy, and to instantly add a little extra joy to your life, all you need to do is lose yourself in its familiar pages.
As summer shifts into fall (and school year routines supplant carefree vacation days), some of your students might look for comfort and cheer from a favorite read. For many of them, one of the titles in Jeff Kinney's wildly popular Diary of a Wimpy Kid series just might occupy that place in their hearts.
Get 25% off Diary of a Wimpy Kid ebooks and audiobooks
Sound familiar? The original Diary of a Wimpy Kid has sold over 275 million copies worldwide and is consistently one of the top circulating titles across all OverDrive platforms (including the Sora app), so this probably isn't much of a shock to you.
But with 16 other titles in the series, the fun doesn't have to stop at Book One. And if you're looking to meet increased student demand by adding more copies per title (especially now that the first book has expired from the Sora Starter Collection), you're in luck! They're all discounted now through Sept. 30 during our Back to School Sale.
That includes English-language ebooks and audiobooks, as well as options in Chinese, Spanish, Portuguese and more! It's all in OverDrive Marketplace – so check out the list below to get started.
If you need help logging in to Marketplace, please reach out to your Account Manager, or contact schools@overdrive.com.
Explore more on-sale ebooks and audiobooks, up to 50% off
Diary of a Wimpy Kid books aren't the only popular titles that are on sale right now. OverDrive's Back to School sale features 90,000+ discounted ebooks and audiobooks for readers of all ages, including over 40,000 books for juvenile and YA readers. There's truly something for everyone!
You can shop the full sale, or explore recommended lists from our Digital Content Librarians.
Tags In
Browse blog and media articles