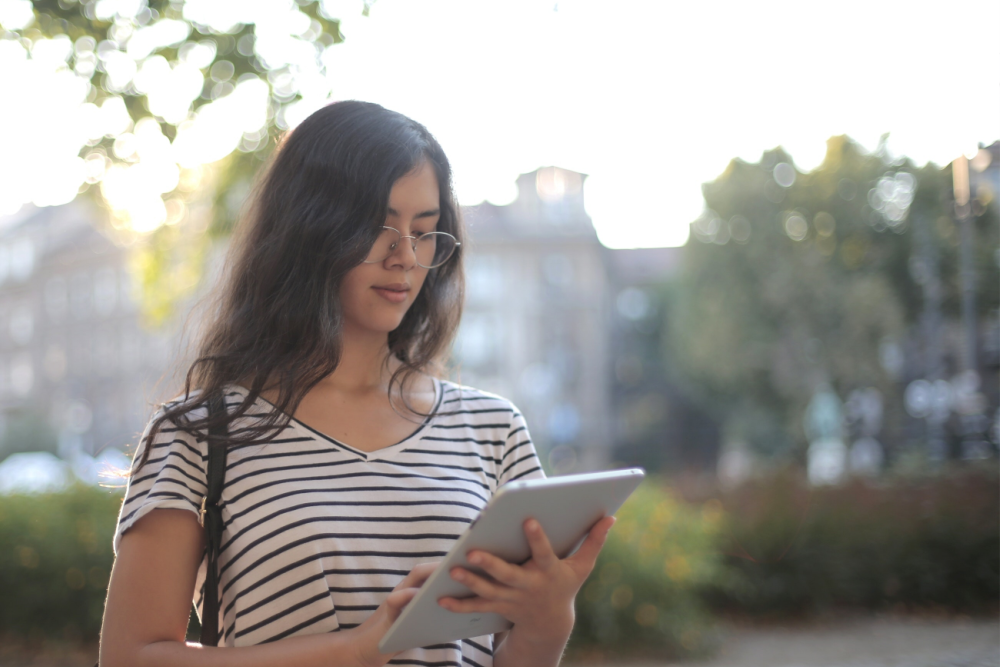 Shop Native American Heritage Month books, films, & more
Twice a month our team will assemble a thematic one-stop-shop collection of books, films, lists, and Libby Extras to provide a more seamless shopping experience. This week's theme is Native America Heritage Month! Celebrated since 1990, the month of November is the perfect time to remember and honor the achievements and diverse cultures of all the peoples native to North America.
Books you should know about
Warrior Girl Unearthed by Angeline Boulley
Buy the ebook here
Buy the audiobook here
From the publisher:
Perry Firekeeper-Birch has always known who she is – the laidback twin, the troublemaker, the best fisher on Sugar Island. Her aspirations won't ever take her far from home, and she wouldn't have it any other way. But as the rising number of missing Indigenous women starts circling closer to home, as her family becomes embroiled in a high-profile murder investigation, and as greedy grave robbers seek to profit off of what belongs to her Anishinaabe tribe, Perry begins to question everything.
In order to reclaim this inheritance for her people, Perry has no choice but to take matters into her own hands. She can only count on her friends and allies, including her overachieving twin and a charming new boy in town with unwavering morals. Old rivalries, sister secrets, and botched heists cannot – will not – stop her from uncovering the mystery before the ancestors and missing women are lost forever.
Code Talker: A Novel About the Navajo Marines of World War Two by Joseph Bruchac
Buy the ebook here
Buy the audiobook here
An ALA Best Book for Young Adults, this modern classic about the Navajo code talkers who were vital to America's victory in WWII is a true must for every collection.
From the publisher:
Throughout World War II, in the conflict fought against Japan, Navajo code talkers were a crucial part of the U.S. effort, sending messages back and forth in an unbreakable code that used their native language. They braved some of the heaviest fighting of the war, and with their code, they saved countless American lives. Yet their story remained classified for more than twenty years.
But now Joseph Bruchac brings their stories to life for young adults through the riveting fictional tale of Ned Begay, a sixteen-year-old Navajo boy who becomes a code talker. His grueling journey is eye-opening and inspiring. This deeply affecting novel honors all of those young men, like Ned, who dared to serve, and it honors the culture and language of the Navajo Indians.
The Sentence by Louise Erdrich
Buy the ebook here
Buy the audiobook here
Pulitzer Prize winner Erdrich is always a masterful storyteller, and The Sentence is an expertly crafted tale about book people.
From the publisher:
A small independent bookstore in Minneapolis is haunted from November 2019 to November 2020 by the store's most annoying customer. Flora dies on All Souls' Day, but she simply won't leave the store. Tookie, who has landed a job selling books after years of incarceration that she survived by reading "with murderous attention," must solve the mystery of this haunting while at the same time trying to understand all that occurs in Minneapolis during a year of grief, astonishment, isolation, and furious reckoning.
Killers of the Flower Moon: The Osage Murders and the Birth of the FBI by David Grann
Buy the ebook here
Buy the audiobook here
Did you miss this bestseller when it came out in 2017? Catch it now before heading to the theater for the new Martin Scorsese film!
From the publisher:
In the 1920s, the richest people per capita in the world were members of the Osage Nation in Oklahoma. After oil was discovered beneath their land, the Osage rode in chauffeured automobiles, built mansions, and sent their children to study in Europe.
Then, one by one, the Osage began to be killed off. The family of an Osage woman, Mollie Burkhart, became a prime target. One of her relatives was shot. Another was poisoned. And it was just the beginning, as more and more Osage were dying under mysterious circumstances, and many of those who dared to investigate the killings were themselves murdered.
As the death toll rose, the newly created FBI took up the case, and the young director, J. Edgar Hoover, turned to a former Texas Ranger named Tom White to try to unravel the mystery. White put together an undercover team, including a Native American agent who infiltrated the region, and together with the Osage began to expose one of the most chilling conspiracies in American history.
Also available in a Young Readers edition!
Buy the ebook here
Buy the audiobook here
The Only Good Indians by Stephen Graham Jones
Buy the ebook here
Buy the audiobook here
The book Locus Magazine called "a masterpiece," this horror novel will keep you up at night as much from thinking as from fright.
From the publisher:
From New York Times bestselling author Stephen Graham Jones comes a novel that is equal parts psychological horror and cutting social commentary on identity politics and the American Indian experience. Fans of Jordan Peele and Tommy Orange will love this story as it follows the lives of four American Indian men and their families, all haunted by a disturbing, deadly event that took place in their youth. Years later, they find themselves tracked by an entity bent on revenge, totally helpless as the culture and traditions they left behind catch up to them in a violent, vengeful way.
Path Lit by Lightning: The Life of Jim Thorpe by David Maraniss
Buy the ebook here
Buy the audiobook here
The story of America's first superstar athlete comes to life in this thorough biography by Pulitzer Prize winning journalist, David Maraniss.
From the publisher:
Jim Thorpe rose to world fame as a mythic talent who excelled at every sport. Most famously, he won gold medals in the decathlon and pentathlon at the 1912 Stockholm Olympics. A member of the Sac and Fox Nation, he was an All-American football player at the Carlisle Indian School, the star of the first class of the Pro Football Hall of Fame, and played major league baseball for John McGraw's New York Giants. Even in a golden age of sports celebrities, he was one of a kind.
But despite his awesome talent, Thorpe's life was a struggle against the odds. At Carlisle, he faced the racist assimilationist philosophy "Kill the Indian, Save the Man." His gold medals were unfairly rescinded because he had played minor league baseball, and his supposed allies turned away from him when their own reputations were at risk. His later life was troubled by alcohol, broken marriages, and financial distress. He roamed from state to state and took bit parts in Hollywood, but even the film of his own life failed to improve his fortunes. But for all his travails, Thorpe survived, determined to shape his own destiny, his perseverance becoming another mark of his mythic stature.
Interested in exploring more titles that center around Native America Heritage Month?
Explore our full Native America Heritage Month list here
Check out our list of Native & Indigenous Graphic Novels here
---
Must-watch films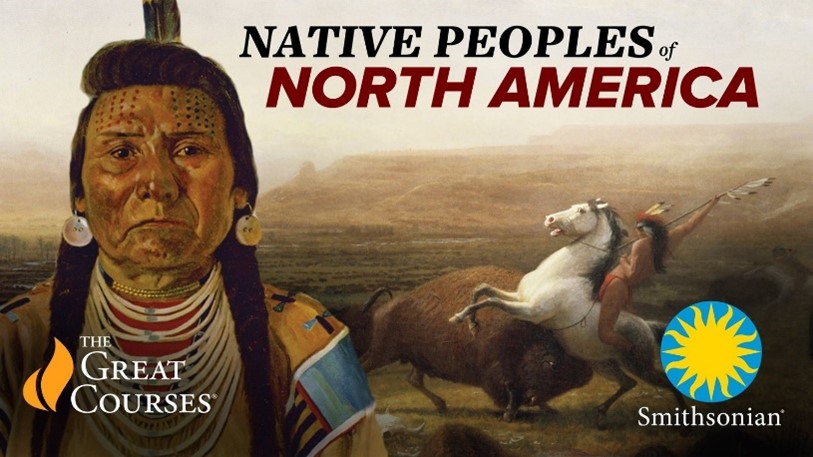 Native Peoples of North America, 2016
Watch on Kanopy here
Go in depth with The Great Courses to learn the fascinating history of the peoples of North America.
From the studio:
The Great Courses has partnered with Smithsonian to bring you a series that reveals new perspectives on the historical and contemporary experiences of Indigenous peoples and their significant impact on this country. Gain a new point of view on seemingly familiar stories America was built on, and be prepared to change how you understand American history.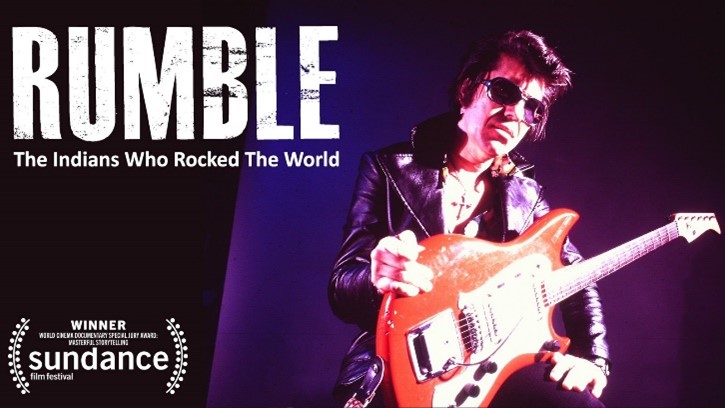 Rumble: The Indians Who Rocked the World, 2017
Watch on Kanopy here
Music owes a debt to Native American artists. Find out more about these amazing musicians in this award-winning documentary.
From the studio:
This revelatory documentary brings to light the profound and overlooked influence of Indigenous people on popular music in North America. Focusing on music icons like Link Wray, Jimi Hendrix, Buffy Sainte-Marie, Taboo (The Black Eyed Peas), Charley Patton, Mildred Bailey, Jesse Ed Davis, Robbie Robertson, and Randy Castillo, RUMBLE: The Indians Who Rocked the World shows how these pioneering Native American musicians helped shape the soundtracks of our lives.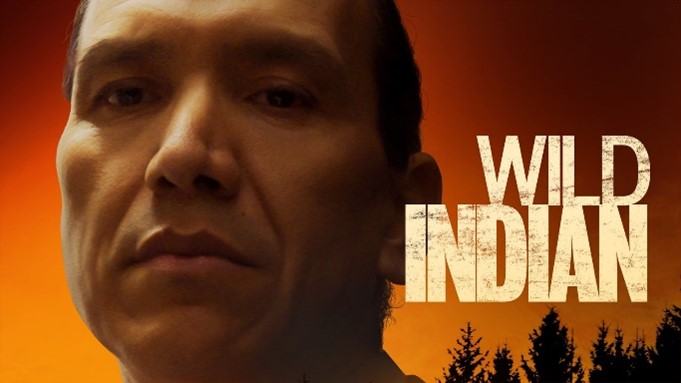 Wild Indian, 2021
Watch on Kanopy here
See why Variety named filmmaker Lyle Mitchell Corbine Jr. one of the "10 Directors to Watch" after seeing this film debut at Sundance.
From the studio:
Two men learn to confront a traumatic secret they share involving the savage murder of a schoolmate.
---
A little Extra something
Support your community by diversifying your Libby offerings with Libby Extras. This week, we're highlighting Qello Concerts by Stingray.
Qello Concerts by Stingray is the world's largest collection of full-length concerts and music documentaries streamed on-demand to just about any digital device. See more of the musicians mentioned in the Kanopy documentary, Rumble, on Qello!
Thank you for joining us on this week's round up of Native American Heritage Month materials! Reach out to your digital content librarian or account manager for more information on how to provide the best content for your community.
Tags In
Browse blog and media articles