Thanks for Visiting OverDrive Education at AASL

Thanks for attending! We hope you enjoyed the AASL Conference and learned more about OverDrive Education and our Sora student reading app. We've made our presentation slide decks and collateral available in case you missed one or wanted to revisit or share them with your colleagues.
Reach out if you have any questions or would like to discuss your students' reading needs further.
Browse through and download a few of our key resources to learn more about Sora and the unique reading features and integrations that keep students coming back for more.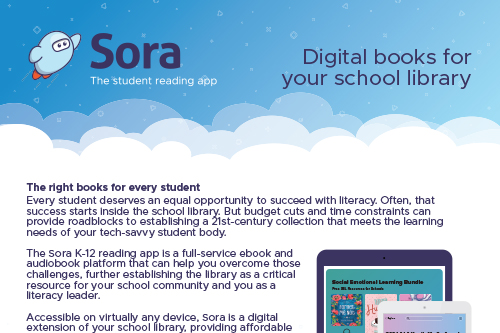 Library Service Overview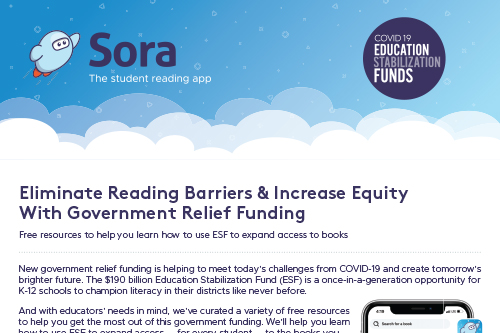 ESF Resources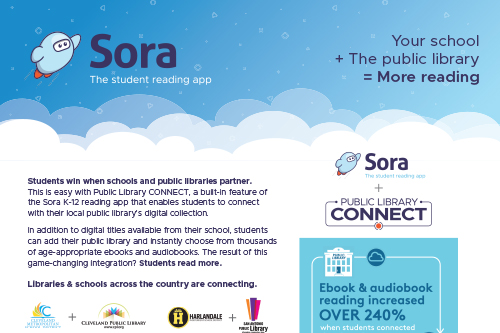 Public Library CONNECT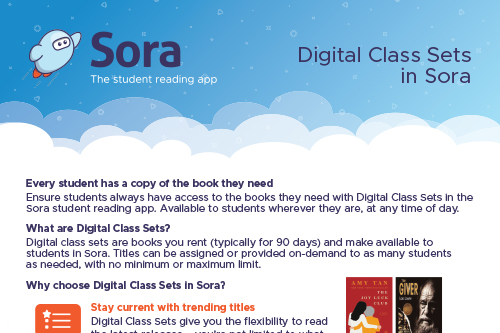 Digital Class Sets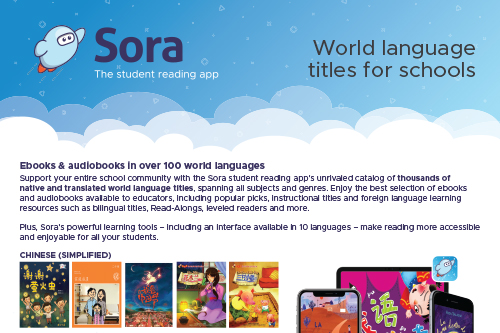 World Language Content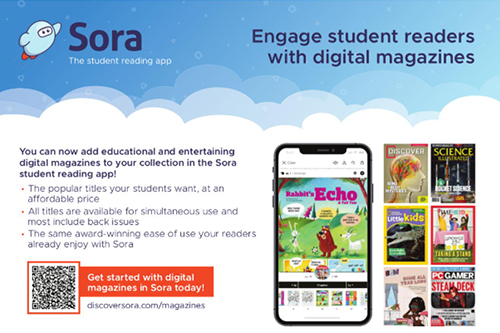 Magazines in Sora
Expand the session you are looking for and click on the "Download PDF" button to get a copy of the slides.
Thursday, October 21nd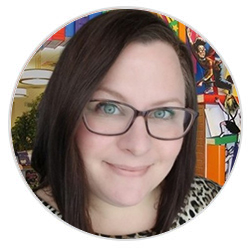 Barbara Bailey
OverDrive Education
Marketplace Masterclass
6:00pm MST
OverDrive Marketplace is the Sora reading platform's central purchasing and administrative hub, providing access to a huge catalog of content, tools and insights you need to deliver a successful digital service for your school. Join us for a tour of all that Marketplace has to offer.
Download PDF
Friday, October 22nd
Saturday, October 23rd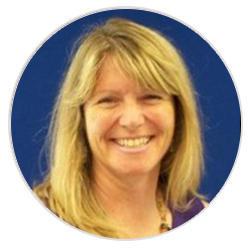 Lisa Pockrus
Ogden School District (UT)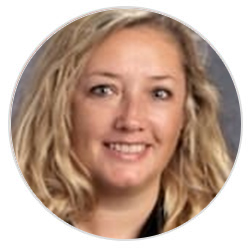 Shannon Johns
Ogden School District (UT)
The curious librarian's guide to collection curation
11:30am MST
When you're cultivating a digital collection to meet the needs of all your student readers, purchasing titles is often just the first step. You'll also want to optimize your collection so that it's easily searchable and discoverable — and that's where curated collections come in handy! Join Library Specialists Lisa Pockrus and Shannon Johns from Ogden School District (UT) for a primer on why, how and when to curate digital book collections. Attendees will walk away with curation best practices and new ideas for how to use curation in their own school communities, whether it's to minimize holds, celebrate holidays, reflect trending topics or meet the unique needs of diverse student populations.
Download PDF
Click on the session to see more details and add the event to your calendar.
Friday, October 22nd
New to Sora? Get started here!
Discover Sora:
Visit
DiscoverSora.com
to find out how you can
activate Sora
for your district or get a
60-day trial!
The best part? All new accounts come loaded with hundreds of no-cost titles.
Attend a demo:
Sign up for a group sales demo to walk through Sora basics followed by Q&A.
---
Already have Sora? Take these next steps!
Explore our K-12 Resource Center
Get marketing assets, training tools and more to engage your entire school community.
Explore our K-12 Resource Center

Get marketing assets, training tools and more to engage your entire school community.
FOLLOW US: