Use digital books with your students
Sora, the student reading app, is our school's gateway to the world's largest selection of ebooks and audiobooks, spanning millions of titles from thousands of publishers.
Our current collection features digital books for required reading and supplemental reading, and can be customized with books your students need right now.
Want to customize Sora for your school? Contact Us
Assign Books
In Sora, you'll be able to link to specific books or curated collections to share directly with students.
Track Achievements
View what badges students are receiving for reading achievements with in the app.
View Progress
Monitor student progress. See how much & how often they are reading & in what formats.
Explore
You and your students can browse & borrow from our Mosaic grade-level reading collections.
Helpful Sora Resources for Educators and School Staff
Getting Started with Sora – For Educators eLearning Module
Start Here
Word Docs & PDFs
Info Sheets & FAQs
Word Docs
Printable Marketing Materials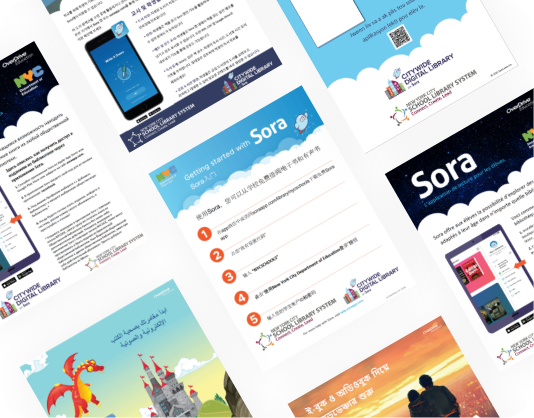 Word Docs
Multilingual Materials
This kit includes 1 Getting Started Guide in Full or Half-Sheet (PDF). Also available in German, Spanish, French, Italian, Japanese, Russian, Swedish, Chinese (Traditional), and Chinese (Simplified).
Graphics
Social Media Graphics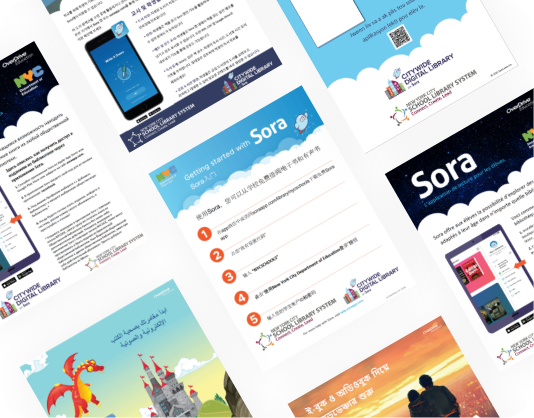 Ready to get started with Sora?