Magazines return to your OverDrive services
We're excited to share that libraries can now add magazines to your OverDrive digital collection for readers to enjoy right in Libby or their browser. Magazines come in the OverDrive Read formatting, meaning there is no need to download any third party apps or create any new logins. All magazines are available as simultaneous use without circulation caps. Libraries can purchase magazines in a sim use package of either 25 or 50 titles of your choosing. To see the full list of title options, visit our Sim Use page in Marketplace.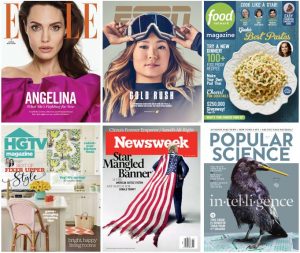 Subscriptions are on a yearly basis and once purchased, you will keep all magazines you've selected even after your subscription expires. Subscription prices are based on annual circulation. A selection of the titles you'll find available include OK! magazine, HGTV Magazine, O, The Oprah Magazine, ESPN, The Atlantic, New York Magazine, Newsweek, Reader's Digest and many other popular publications.
These magazines come with no hidden costs, no budget to monitor, and instant integration to your eBook and audiobook collection that only OverDrive can provide. These always available titles are a perfect way to improve the value to your readers as well as significantly increase your circulation. Users can enjoy several magazines in a single sitting, each one counting as a checkout for your library.
*If you don't see the option to add magazines to your collection contact your OverDrive Account Manager about their availability for your library
Tags In
Browse blog and media articles