20 Reasons Why Readers Are Thankful For Libraries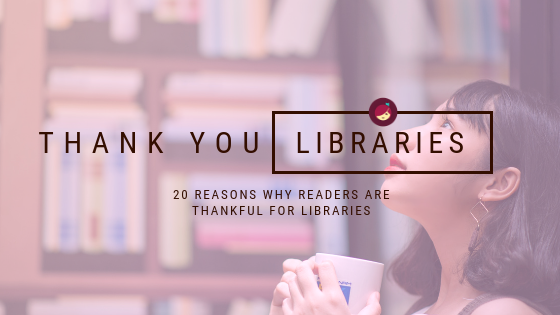 By: Rickie Mascia, OverDrive Social Media Specialist
It certainly goes without saying (or at least we hope it does) that the OverDrive staff is eternally grateful for every library in every community around the world. The value a library provides to a community is truly immeasurable. Our appreciation of libraries goes much deeper than being a partner or digital content provider. As a company, our team is made up of librarians, teachers, and book nerds who all grew up visiting the local library. We spent our time exploring the shelves for the perfect book, sifting through pages for a school project, or waiting patiently for the librarian to begin story time. In fact, it is quite likely each one of us considers our local library a second home. Libraries serve as a community center, a yoga studio, a STEM research lab, a home office, a recording studio, a house to all our favorite (and not so favorite) stories, and so so much more.
Although, I can go on and on about how much we, as a company, love libraries we want to share a few reasons why readers around the world are thankful for their local library. Recently we asked our social media followers why they love libraries and the response was overwhelming.
1: "Because no matter what I ask of them, they find a way to support our elementary schools!"

2: "The library has been my go-to place ever since i was young! i've always been an avid reader and volunteering at my library to spread the love of books has been one of my best experiences ❤️?"

3: "The library is a safe sanctuary to see friends, study, READ, relax, and have a peace of mind. I love being surrounded by a variety of stories, knowing that each one is built with so much thought and heart."
4: My local library has always been a safe place for me. I met my best friends there, cried a bunch there, and found some of the best books I've ever read there. No place feels like home so much as the library."
5: "I love my library because it gives me a chance to read so many of the books I couldn't otherwise because of financial limitations. It satisfies my craving to buy books without actually spending money!"

6: "I love my local library because it is a safe place for many kids to go in my community. They have great summer programs that are positive alternatives than what we're use to doing and seeing. They care about growth and our community at large and greatly contributed to my growth?"

7: "As a kid, it was my retreat, my 1st home away from home, every weekend with my family. And it started a habit of me finding homes in different libraries in different stages throughout my life. More recently, it gave me a place to escape virtually while recovering from illness. ?"
8: Because libraries transform lives every day – the ONLY place that builds communities and offer equal access to information and resources for ALL! #librarylove

9: "I love libraries because they are community centers where you can meet your neighbors, attend story time, join a book club, do your homework, join a knitting/crochet circle, get the news and use a computer. Libraries also level the playing field. It doesn't matter how much money you have or how much you don't, what gender you associate as, whether you are married or single, have a GED or a PhD, all resources in the library are available to you in equal measure.

10: "It gives my children the whole world."

11: "We moved a lot when I was young. Finding a library was one of our top priorities in a new city. When there was uncertainty, the library was a constant. Now, when things are up in the air, the library is a calm influence."

12: "I love how much my children love the library; their eyes light up when we go! It's also a productive working space for me and I get to check out new media."

13: "Library's are a safe place. it kinda even feels like reality/time has been altered. I can always go there to focus on school work, read, or just hang out. Getting new books is cool."

14: "They let me volunteer there and I see all the programs they provide to help the children of the community. Ex: Harry Potter Day and Homework help."

15: Because our library loves their community! They have programs for all ages, and make it a safe haven for everyone! They even have a teen movie night!

16:"I love my local library because it's a safe place for me where I can be myself without judgement"

17: "I love my local library because the librarians are so nice and helpful! And they always try to get new items that interest their patrons."

18: "I love my local library because they have an amazing, huge collection, including a fantastic e/audio collection on Overdrive, and I can almost always find what I want, but the branches handy to me all still have the atmosphere of a cozy little neighborhood library. Plus, shout out to the musical theatre score collection at the Cypress Branch!"

19: "I read a few books a week. My local library is the only way I can do this! I also like my library's themed recommendations."

20: "I love my library because the librarians have the patience of saints!"
Feel inspired? We hope so. To our library partners, educators, and librarians, we hope you know how much we appreciate you and MORE importantly, how much your community appreciates you! Trust us, there are MANY MANY MORE comments than the ones we have shared here about how much communities cherish their local library. Keep advocating for literacy in your communities, keep spreading reading happiness, and we promise, we will always support you in any way we can! To library card holders, THANK YOU for supporting your local libraries, for reading with OverDrive, and for connecting with us through social media. We love hearing these stories and we love interacting with you on a personal level. Keep reading, keep exploring, keep visiting the library, and we promise to provide you with the best digital reading experience there is.
READERS: Don't have a library card (bet ya want one now ? ) – Download the Libby app to see if your library offers an Instant Digital Library Card to browsing their digital collection instantly right on the device in your hand. If they do not have the Instant Digital Card feature, check their website or visit your local branch to get started!
LIBRARY PARTNERS: Interested in providing your readers easy access to library card sign-up. Get started with the Instant Digital Card feature here.
Looking for your next great read – Try Libby!
Tags In
Browse blog and media articles