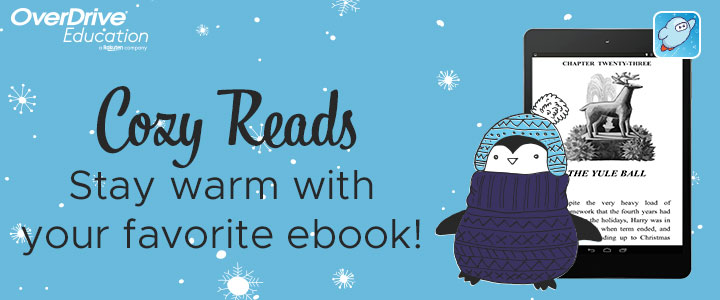 Oh, what fun! Promote your digital library this holiday season.
By:  Christina Samek, Outreach Specialist.
? School bell rings, are you listening?
Break has started, screens are glistening!
Spend it right, happily reading each night
Holidays with Sora in hand!?
NEW GRAPHICS YULE LOVE
We're in the holiday spirit, and we hope you're feeling it too! To help you inspire your students to take advantage of your school's digital collection this season while they are home with their families, a new holiday marketing kit is available and is brimming with good cheer. Find 11×17 posters, 2×6 bookmarks, and flyers in both full and half-sheet sizes featuring a seasonal message, an adorable penguin or two, and of course a little sparkle.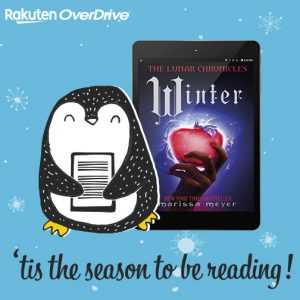 Deck your halls, walls, bulletin boards, circulation desks, bookshelves, computer tables, bathroom stalls, and more. Add the seasonal digital graphics to your website, plasma screens, newsletter, or social media pages as well to remind users that titles are available to check out even when school is closed.
'TIS THE TIME FOR PROMOTING DIGITAL
With many of the year's hottest titles hitting shelves this fall, make sure your students know about the variety of formats you offer to help cut down on wait times and holds. Plus, with automatic returns, the title will always be ready for the next patron in line.
Many students may even be racing to complete their 2018 reading resolutions, so reminding students to check out your digital offerings for titles available now can help procrastinators (like me, I am so behind!) reach their goal in time.
For parents, audiobooks can be a perfectly pleasant distraction in the car or plane as they make the annual trek to grandma's house with the kids. You can remind them that even though school's out and the library may be closed, the digital library is always open.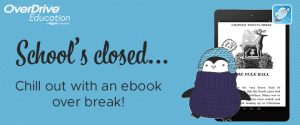 More holiday marketing goodies will be coming next month to renew the holiday magic. Check out the Resource Center for all the latest marketing materials, training updates, and title suggestions to carry you through the season.
Tags In
Browse blog and media articles