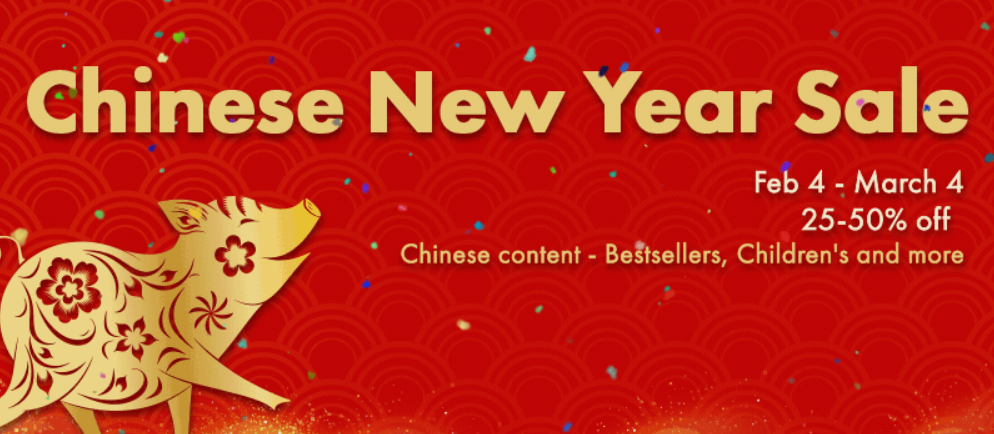 Go hog wild this Chinese New Year
It's the Year of the Pig and the three little piggies have a webcast featuring Chinese titles you will want to add to your OverDrive collection before the Big Bad Wolf blows your house down (although, hopefully your library is built from bricks and will still be standing after all of the huffing and puffing).
This fun and whimsical OverDrive webcast features Chinese content for all ages, such as bedtime stories for adults, a Chinese cookbook by a popular blogger, Tang poetry, the top ten bestselling Chinese authors and an adorable picture book about a dumpling who goes on an adventure. Even the Big Bad Wolf offers some recommendations so be sure to check out our Chinese New Year webcast for more Chinese content.
After viewing the webcast, this little piggy went to Marketplace and took advantage of our Chinese New Year Sale! Between now and March 4th, there are 3000 titles on sale up to 50% off, including bestselling Chinese fiction, fun children's books, titles translated into English, language learning, Chinese cooking and crafts, and more! Whether you have international community members you are looking to reach or patrons who want to learn a new language, our Chinese New Year sale is the perfect opportunity to save some bacon.
We will create a free eReading room for you that you can use to highlight all of your new Chinese content. Need help curating? We have a Chinese content selector on staff who would be more than happy to handle any curated collections you would like to feature on your OverDrive site.
Browse blog and media articles