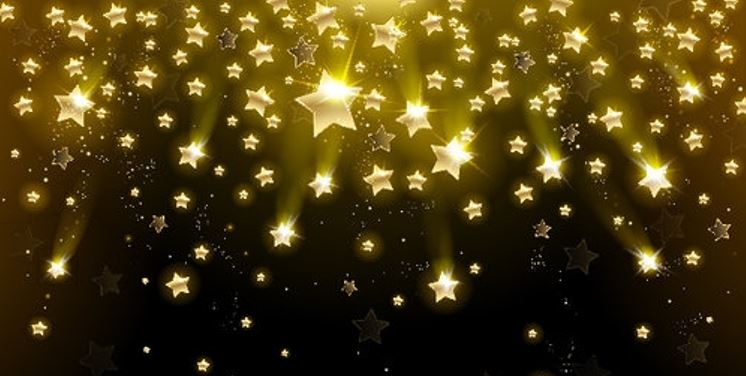 School Stars winners announced!
By: Christina Samek, Outreach Specialist.
And that's a wrap on another School Stars promotion contest! There were so many wonderful entries this year, so many promotional all-stars to chose from, but we were able to narrow it down to the schools and districts below!
Grand Prize: River Trail Middle School
Three cheers for our Grand Prize winner, River Trail Middle School, part of the Fulton County Schools in Atlanta, Georgia. Media Specialist Sarah Sansbury maintains an active social media presence to engage with her students in the space they hang out most: online. She posts on her media center Instagram (@RTMSreads) sometimes daily, using both the feed and Instagram stories. Sansbury also utilizes Twitter (@salaughs), where her audience is mostly parents, to share stats on the benefits of digital reading. She ensures her entire community is aware of their content in Sora, and it shows: River Trail Middle has ranked #1 in circulations across the entire district. And the kids love it. "I use social media to connect with students and hear what they want to read," notes Sansbury. "Student voice and choice is key to developing a lasting love for reading."
Here's a sampling of some of the content Sansbury shares: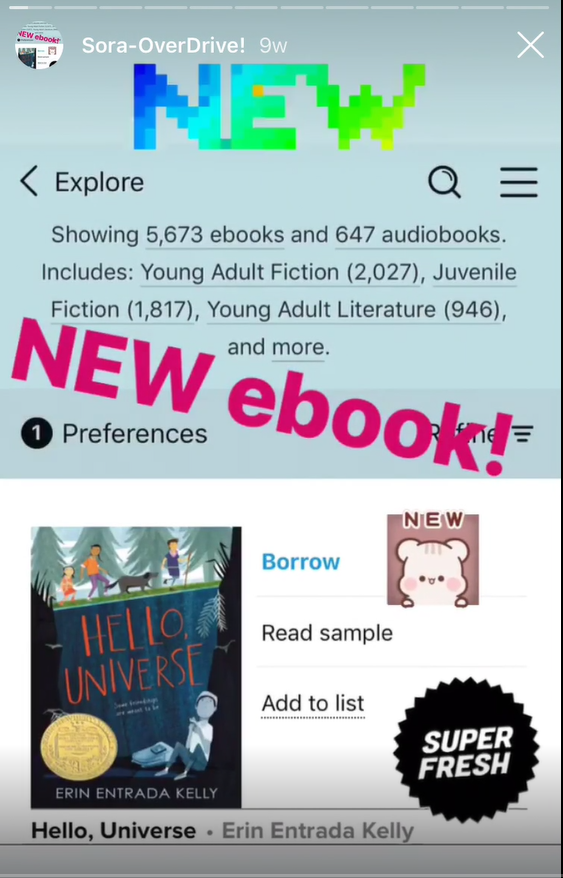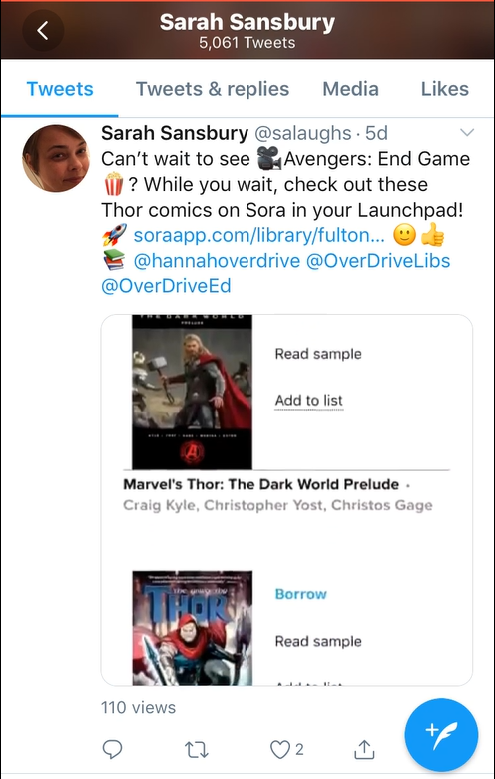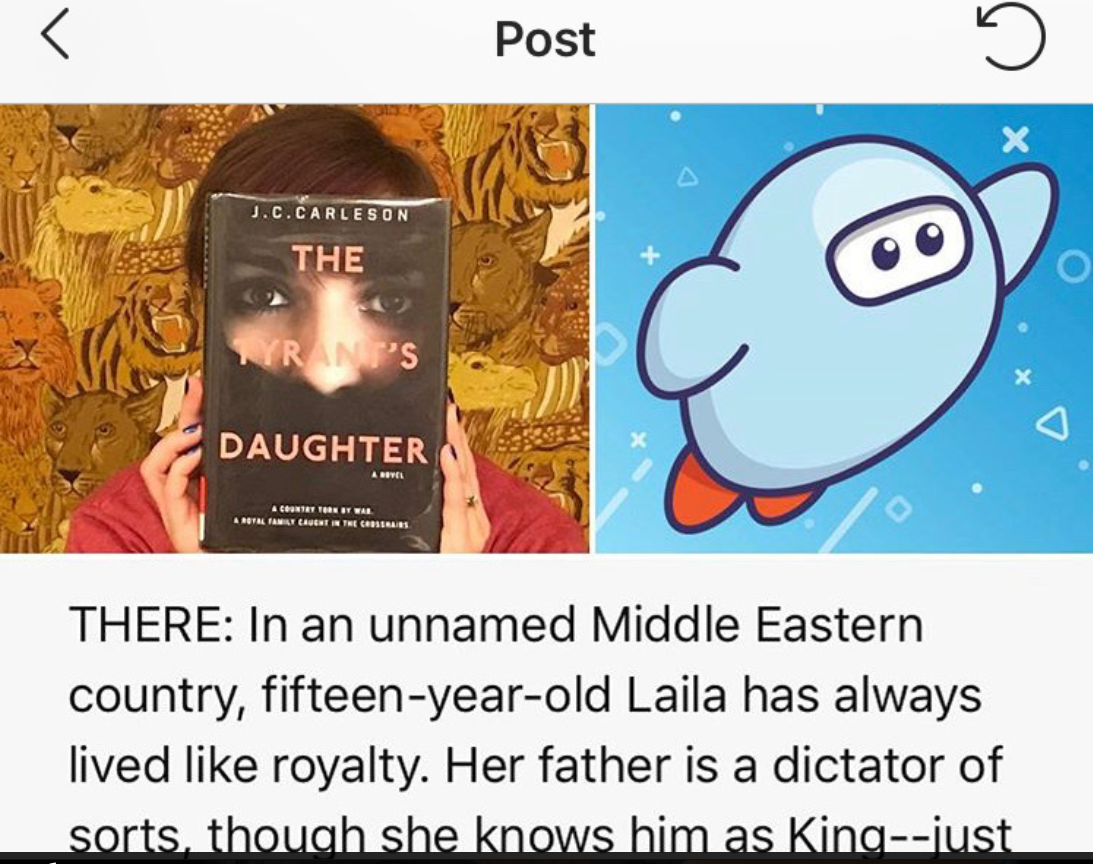 Most Creative: Colorado City Unified School District
The Colorado City Unified School District in Arizona made Sora the center of their literacy month, "Soar through the World of Genres." They created a giant Sora display complete with promotional and informational items for students and parents. Teachers also decorated their classrooms and designed their curriculum around assigned genres, again featuring Sora. Per Superintendent Carol Timpson, "Our goal is that every student and parent will remember the Sora name and icon so that they will be able to get the app at home."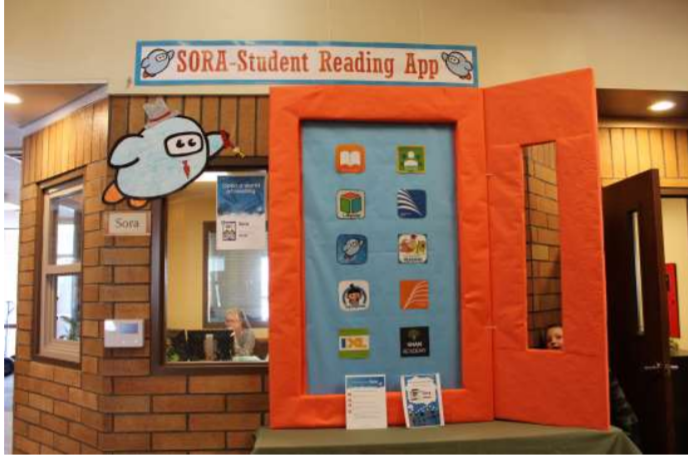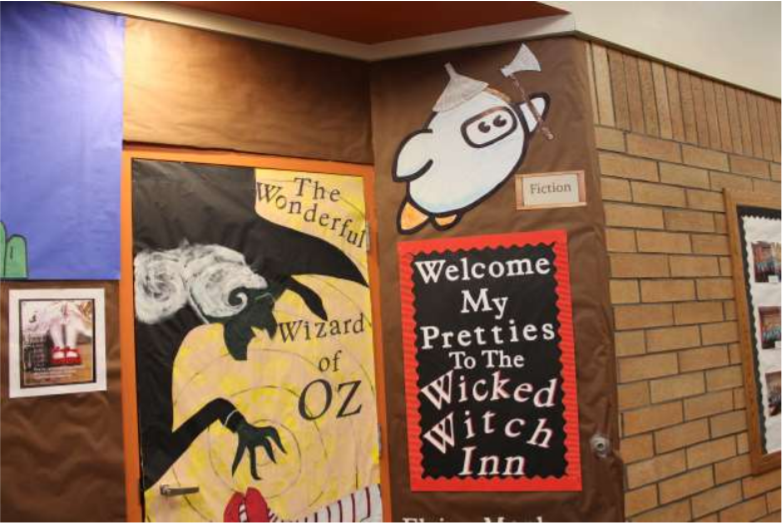 Best in Social Media: Gates County High School
Like River Trail Middle, Gates County High School in Gatesville, North Carolina, utilized Instagram (@redbaronsread) because it's most popular with their students. Media Specialist Tamara Simons posted 10 reasons students should use Sora over 10 days. She used eye-catching and funny memes to capture student interest, upped engagement with a consistent hashtag (#moresora) and added a poll to Instagram stories to ask what students read using Sora.
Most Original: Charlotte High School
Media Specialist Tara Cain of Charlotte High School in Punta Gorda, Florida, appealed to her students' sweet tooth by offering "treats" to students and teachers who checked out books in Sora during particular time periods. March's items were St. Patrick's Day themed. What a way to perk interest!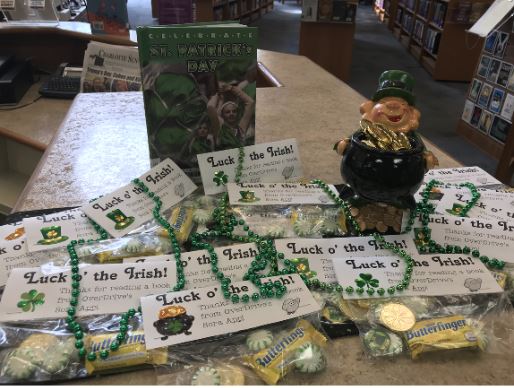 Best in Student Participation: Kelowna Secondary School
Trina Manca, a teacher/librarian at Kelowna Secondary School in Kelowna, British Columbia, created a "life-sized" Sora icon cut out that students could borrow and take to a mystery location in the school for a photo op. She then had to guess where the student had taken "Sora," which of course led to students working hard to stump her!
Best Video: North Davis Junior High School
Students at North Davis Junior High School in Clearfield, Utah, claimed they preferred "real" books, so Librarian Ann Riding and her library media students came up the video below to solve for any "book emergencies."
Best Visual Display: Maple Grove Public School
Teacher Kim Oxley and her fifth-grade students at Maple Grove Public School in Midhurst, Ontario, went above and beyond with their interactive bulletin board promoting Sora. According to Oxley, students "come into the classroom each morning looking forward to updating our graph." She notes "this has been a great way to promote a love of reading among the students!"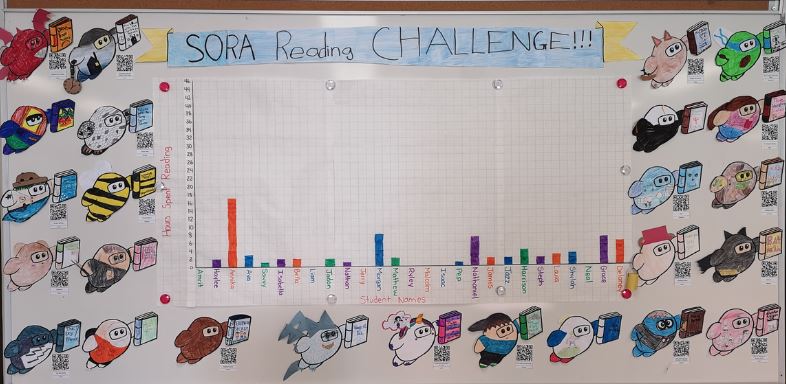 Additional congratulations to our runner-ups, listed by category:
Most Creative Runner-up: Lucy Marshall, More House School in Frensham, Surrey, United Kingdom
Best in Social Media Runner-up: Daniel Seamans, Brunswick County Schools in Bolivia, North Carolina
Most Original Runner-up: Amy Jamison, Ogden School District in Odgen, Utah
Best in Student Participation Runner-up: Daniela Prando, World International School of Torino in Torino, Italy
Best in Video Runner-up: Erin Carr, Hubbard Elementary School in Forsyth, Georgia
Best Visual Display Runner-up: Chris Bell, The American School in Japan in Chofu-shi, Tokyo, Japan
We can't wait for 2020 and another round of entries! If you have any fun, engaging, promotional ideas you would like to share before then, please contact your OverDrive team. We're always looking for promotional ideas to share on the blog.
Until next time!
Tags In
Browse blog and media articles