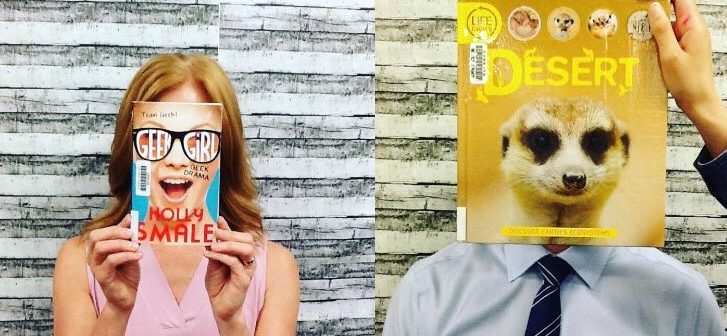 3 ways to celebrate Get Caught Reading Month!
By: Tiffany Wincek, Account Manager
May is Get Caught Reading Month! You know we love every opportunity to introduce students to the joy of reading and positively reinforce their efforts. The Get Caught Reading campaign, founded in 1999 by the Association of American Publishers, is a great way to do just that, especially with long summer breaks looming on the horizon.
You've likely seen classrooms adorned with Get Caught Reading posters featuring icons like Alicia Keys, Mayim Bialik, and Neil Gaiman. These serve to remind students that everyone can be a reader, reading is valued, their role models read, and reading is for life.
How can you involve your student population this May? Try the following ideas.
Get competitive
Use your school or school library's Instagram or Twitter account to run a Get Caught Reading competition throughout the summer. Promote a custom hashtag so students can tag posts of themselves reading in odd places around town (or in amazing vacation spots!). Pick some creative winners when the school year resumes. What a great way to keep in touch with students while school is out and to help prevent the summer slide!
Pro tip: Flip this idea and have staff compete to be the first to guess where students are.
Get creative
Speaking of hashtags, have you ever heard of #BookFace? If not, get thee to your nearest social media account and do a search! Creative folks everywhere are morphing into their favorite book covers by cleverly aligning their faces and limbs with cover art (photo, above). Gather your art and digital media students to create your own Get Caught Reading posters.
Pro tip: Don't stop with the #BookFace idea — brainstorm with students to come up with other creative ideas, and get your building leaders involved!
Get collaborative
Although Drop Everything and Read Day was last month, events can happen anytime and anywhere! Set up a time for a shared reading event. It could take place either before the end of the school year or at a chosen time and location during the summer break. Invite everyone: students, faculty, school staff, administration, parents, siblings, grandparents, and anyone else who'd be interested in demonstrating the power of reading.
Pro tip: Invite a local news anchor to the event — not only to promote your efforts, but also to join the reading festivities!
Learn more about the nationwide Get Caught Reading campaign here and share your ideas with us on social media!
Browse blog and media articles