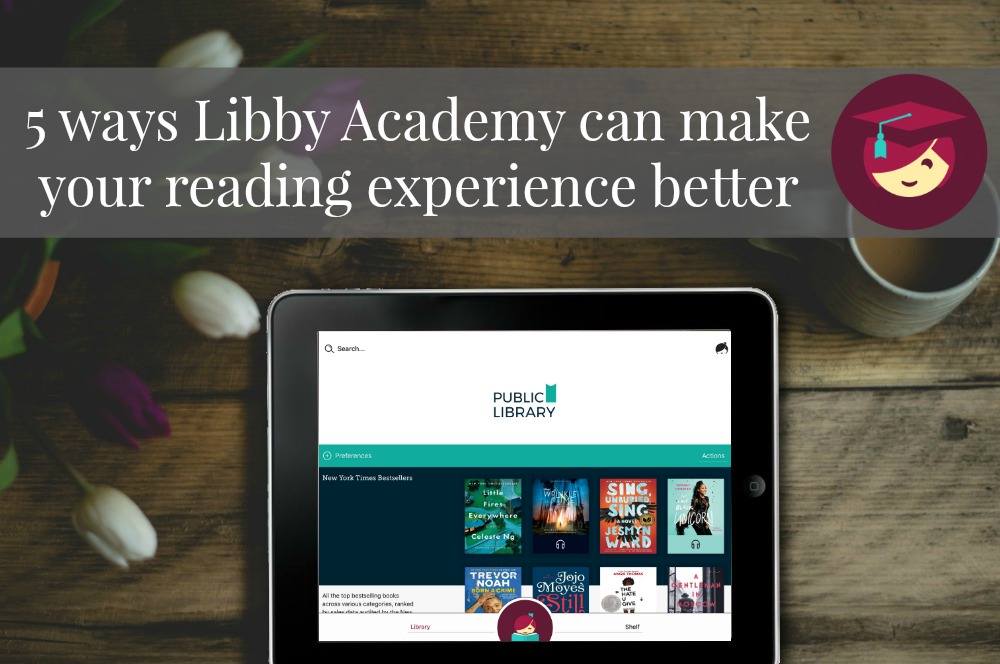 5 ways Libby Academy can make your reading experience better
A year ago, we introduced Libby Academy. These short training videos were created to highlight features that help readers get the most out of their Libby experience. Each in-app video is only 20-40 seconds and takes readers step-by-step through different Libby actions like how to move backwards and forwards through a book and turning pages in the app.
All of the Libby Academy videos are available right in the app. After opening the app, look for Libby's face in the upper right hand corner of the screen. Tapping it will open a sidebar with options. At the top of the sidebar will be the space where you add libraries and library cards to your account, and if you go down to the bottom, you'll see a section on "Find out more about the Libby app." If you click on the Learn Libby option, you'll be directed to Libby Academy.
There are several Libby Academy videos to choose from, but here are some of our favorites that will help make your reading experience on Libby even better than it already is: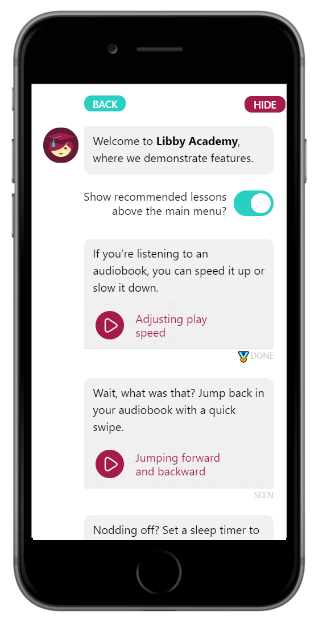 Adjusting play speed
Do you ever find yourself listening to an audiobook and wishing you could either slow down or speed up the narrator's voice? In Libby, you can easily adjust the speed to find the right one for your ears, and Libby Academy shows you how. The speed settings go as low as 0.6x, which is great if you are listening in a second language, and go as fast as 3x, which, surprisingly, a few OverDrive employees manage! Even just speeding audiobooks up a little bit will help you get through them faster, which means more completed books at the end of the year.
Setting a sleep timer
According to the Audio Publisher's Association, 52 percent of audiobook listeners enjoy listening to an audiobook right before going to sleep. But what happens if you fall asleep while listening? Setting a sleep timer means even if you doze off, Libby will pause your audiobook after a set period of time. The default is 30 minutes, but Libby Academy teaches users how to adjust the time from as little as four minutes up to two hours. You can even tell Libby to stop when you reach the end of your current chapter. (Need to jump back in the audiobook the next morning? There's a Libby Academy video for that, too!)
View book progress
Maybe instead of listening to an audiobook before bed, you like to read an ebook. But it's late at night and you want to know how close you are to the end of the chapter or even the end of the book. With Libby Academy, you can discover all of the ways to determine your progress through the book, including percentage of the entire book you've already completed, how many pages you've read and how many pages are left in the chapter. Audiobooks in Libby offer the same progress reports, but told in number of hours and minutes rather than pages.
Defining words
Reading an ebook and come across an unfamiliar word? Libby Academy has you covered and will show you the simple steps to looking up a definition right in the app. If you want more information on the selected word, Libby Academy shows you how to expand your search to include Google and Wikipedia, and how to easily get back to your book with a simple tap of a button. You can even look up translations of foreign words, too!
Zooming into magazines
Did you know OverDrive offers magazines? We have a wide range of magazines that your library can add to the collection, all available on the same platform as ebooks and audiobooks. When viewing the magazines in Libby, readers can zoom in for a closer look. Along with magazines, readers can also zoom into comic books and many children's picture books all within the Libby app, and Libby Academy can teach you how.
Next time a new user comes into the library and you introduce them to Libby, be sure to show them how to access the Libby Academy videos to get the most out of their reading experience. Because Libby works the same way across all devices, you can highlight Libby Academy during any patron training sessions no matter what smart phone or mobile tablet they're using. We also know librarians love and use Libby, too, so don't forget to check out all of the Libby Academy tips and tricks for yourself!
Tags In
Browse blog and media articles