Monday 5×5 for May 20, 2019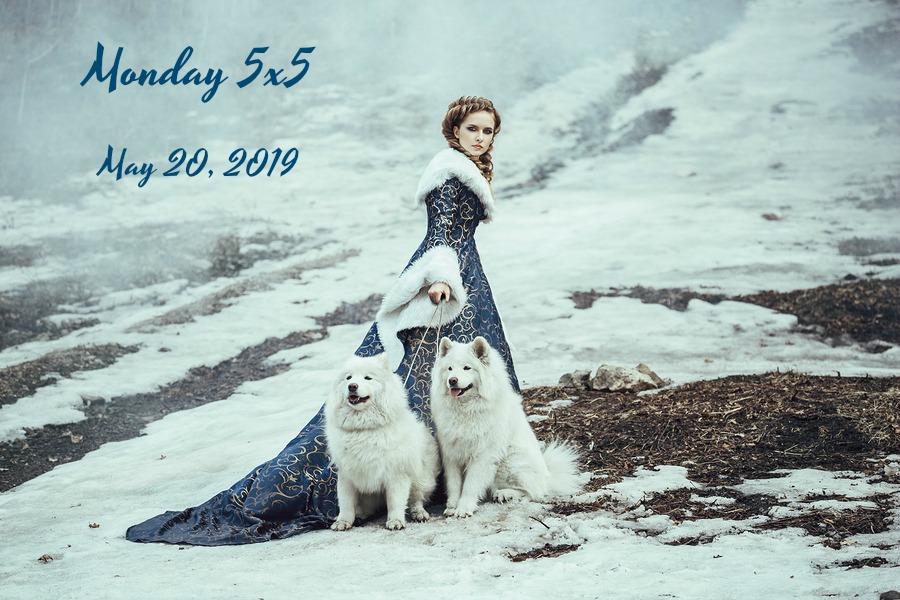 A throwback for you: the original 1996 book reviews of George R. R. Martin's A Game of Thrones
This is it, y'all. There is no more Game of Thrones on HBO. Know what that means? No more Game of Thrones showing up in the 5×5. So. You're welcome. (Okay, well, no more until the spin-offs start airing LOL). But, seriously. Regardless of how you feel about the books or the television show or the amount of time I spend talking about it here every Monday, I think we have to all at least take a step back and acknowledge the phenomenon that GoT is and will continue to be. Here we have an epic fantasy with dragons and dark magic and ice zombies and it is everywhere. EVERYWHERE. And, really, it shouldn't be. Fantasy was one of those genres always looked down upon by the collective, relegated to weird nerdy kids like, well, like me. (The "indoor kids," to borrow a phrase from Wet Hot American Summer.) But for all of the problems it had in the last few seasons (and, make no mistake, there were several), it reached peak levels of interest from people who otherwise would have had nothing to do with a fantasy series. Because of its popularity, other adaptations of beloved series like The Wheel of Time and The Name of the Wind, actually have a decent chance of being really well done. (I also appreciate this line from the starred Kirkus review: "Still, after 672 dense pages, were you expecting a satisfying resolution? You won't get it: Be prepared for a lengthy series with an indefinitely deferred conclusion." Lulz.)
BookRiot on a new literary prize where the jurors are all in prison
As a former prison librarian, I love everything about this. And, let me tell you, people who are incarcerated read a lot of books. The men I worked with were easily daily book readers. As in, finishing one book a day. Sometimes more if the books were short enough or they were fast enough readers. It was really incredible how prolific their reading habits can be. They always told me that reading kept them out of trouble. If you're in prison, you have a lot of time on your hands and it can be easy to get caught up in something. But reading kept them occupied.
The Baffler on J.D. Vance and Appalachia
I'll admit, when I first read Vance's Hillbilly Elegy I loved it. But then, friends of mine who grew up in Appalachia began speaking out about the book and I realized my own privilege colored my reading experience. I really took a step back and listened to my friends and their critiques of the book. I still think it has something important to say, but I do think it should make us all think about how we decide who gets to be the definitive voice on a subject.
The Columbia Journalism Review on Hemingway's $187,000 magazine expenses claim
And to think I sometimes feel bad about expensing some extra espresso shots that are desperately needed during those long ALA days.
LitHub on Winona Ryder and the page to screen adaptation of Girl, Interrupted
I've talked before about my great love for Sylvia Plath's The Bell Jar (I mean, hi. Back in November I got a tattoo inspired by it). But if I had to pick a second favorite book that deals with mental health, it would be Suzanne Keysen's Girl, Interrupted. I saw the movie my senior year of high-school. I distinctly remember buying a paperback copy of the book from the airport on the way to a spring break trip. This was right around the Oscars and I was on the trip when Angelina Jolie won for her role. Kismet.
Tags In
Browse blog and media articles