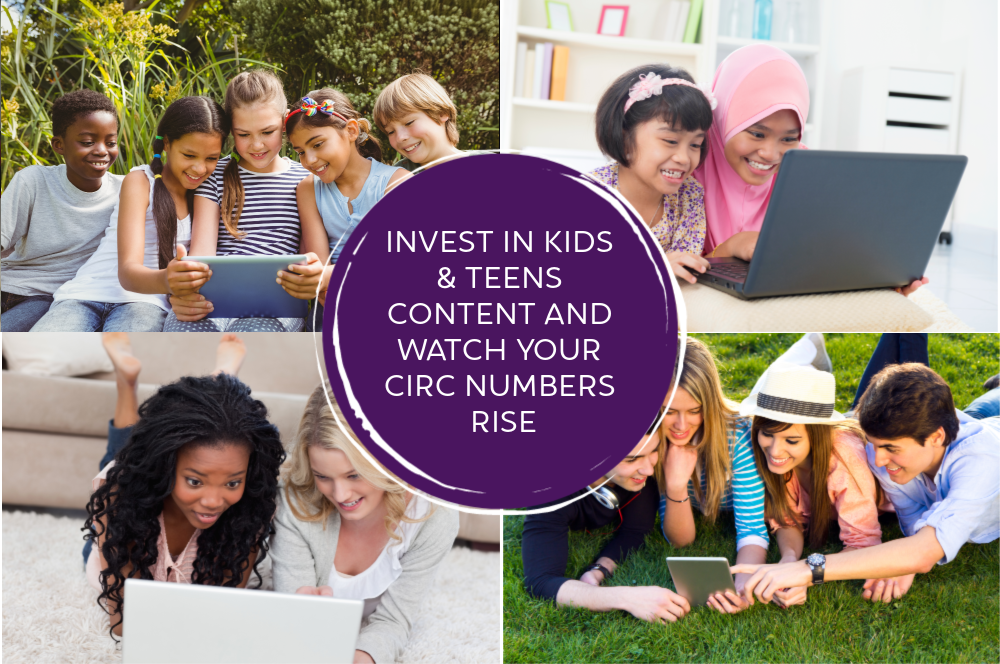 Invest in kids & teens content and watch your circ numbers rise
Is there anything better than the start of the new school year? Kids trade in their summer swimsuits for school supplies. Every day is an opportunity to learn new things and, of course, read new books. (Perhaps unsurprisingly, I was that girl who always spent her recess hour holed up in the library at my elementary school.) Between my school library and my public library, I had more books than I could reasonably read. I also didn't have the benefit of digital content and had to lug around all of my books in my poor backpack.
These days, kids and teens can take an entire library with them wherever they go, and public libraries are often the first place they turn to for ebooks and audiobooks.

TRENDS IN CIRC AND SPEND
But purchasing kids and teen content isn't always a priority among our library partners. Libraries generally spend about seven percent of their OverDrive budget on juvenile content and eight percent on young adult. The circulation numbers match accordingly, with juvenile and young adult titles accounting for a combined 16 percent of total circulations so far in 2019.
We know that when it comes to allocating money, our partners are careful and thoughtful. You have to be, as libraries are often working within a set budget that has no room for error. Setting aside over 80 percent for adult titles makes sense if adult titles make up over 80 percent of your circulation, as it does for many of our partners. Doubling the amount of money you spend on kids and teen content might mean taking away money from other areas, and there's no guarantee the titles you buy will ever be checked out.
But some of our library partners are doing just that: spending twice as much on kids and teens content than the OverDrive average of 16 percent. Not only that, but the circulation numbers for those audiences are often outperforming what they spend.
HAVE BOOK, WILL READ
We looked at three library partners who have each put a combined 30 percent of their OverDrive budget toward kids and teen ebooks and audiobooks in the first half of 2019. All three have seen the circulation numbers for those audiences increase to over 30 percent as well, sometimes significantly.
One library has put 30.2 percent of their budget toward kids and teen content. That same library now sees kids and teen content account for a combined 36.9 percent of their 2019 circulation numbers.
Breaking it down even more, of the 30.2 percent spent on kids and teen content, 14.6 percent of that was just for children's titles. And now children's titles make up 22.1 percent of their total circulation. Nearly one quarter of all their ebook and audiobook checkouts so far this year are children's titles.
That's a phenomenal return on investment.

MAXIMIZE YOUR BUDGET WITH OUR BACK TO SCHOOL SALE
Building lifelong readers starts in the library. Kids are surrounded by screens, and it's important they know that along with the games and apps, they can get also get books on their tablet and phone, too. That starts with the local library building a robust digital collection, just like they do a physical one.
Libraries that are providing digital content for kids and teens are seeing tremendous success, including double-digit circulation growth in those areas. Setting aside just a little bit more for kids and teen content not only gives the young readers in your community more books to choose from, but the library will benefit from those check outs as well.
Our upcoming Back to School sale is the perfect time for you to take advantage of savings to begin building out your own juvenile and young adult collections. From Aug. 12-Sept. 30, you can save up to 50% on thousands of titles. Don't wait until the last period bell rings to start shopping!
Browse blog and media articles