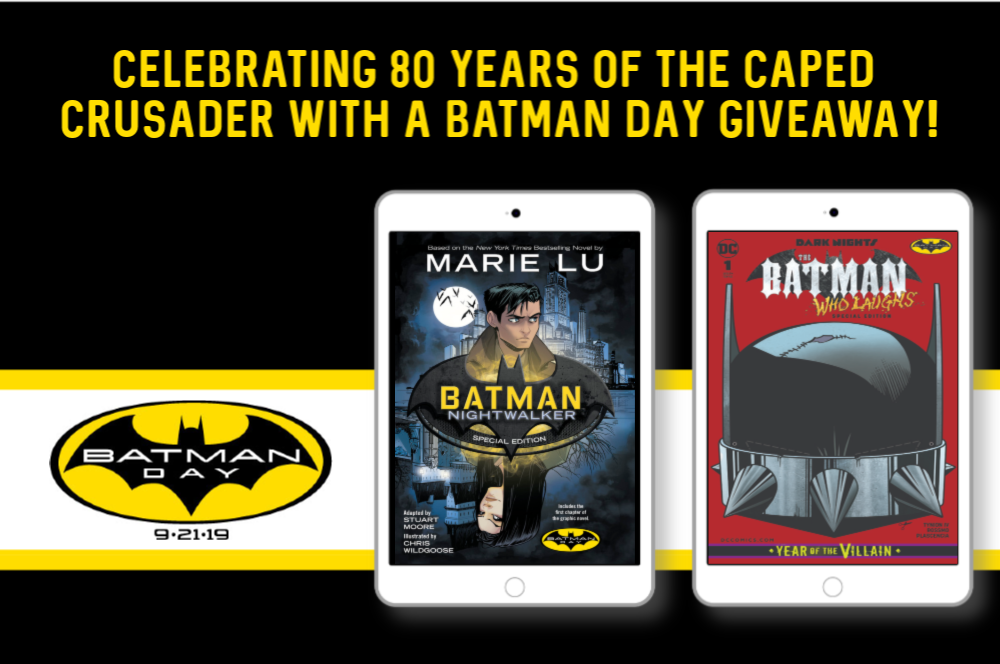 Na na na na Batman Day giveaway!
By: Regis Coustillac, Account Manager
Batman Day is still in full effect! Each year, the Caped Crusader leaves Gotham City to visit cities across the globe where the masked hero is honored with Batman-themed events. This year, on Sept. 21, fans all over the world celebrated 80 years since the creation of the iconic comic book character. Beyond just the Bat's birthday, this special day also marks one of our biggest sweepstakes of the year.
DC Comics is giving away digital copies of two popular Batman titles to OverDrive school and library partners. Each school and library is eligible to receive up to 100 copies of each title. The promotion will close on Monday, Sept. 30. Be sure to register to receive these free titles and check out this collection of other Batman titles.
About the Titles:
Batman: Nightwalker (All audiences)
Before he was Batman, he was Bruce Wayne. A reckless boy willing to break the rules for a girl who may be his worst enemy.
The Nightwalkers are terrorizing Gotham City, and Bruce Wayne is next on their list. Bruce is turning 18 and inheriting his family's fortune, not to mention the keys to Wayne Industries and all the tech gadgetry that he could ever desire. But on the way home from his birthday party, he makes an impulsive choice that leads to community service at Arkham Asylum, the infamous prison.
There, he meets Madeleine Wallace, a brilliant killer with ties to the Nightwalkers. A girl who will only speak to Bruce. She is the mystery he must unravel, but is he convincing her to divulge her secrets, or is he feeding her the information she needs to bring Gotham City to its knees?
Bruce Wayne is proof that you don't need superpowers to be a superhero, but can he survive Madeleine's game of tense intrigue and deception?
Dark Nights: The Batman Who Laughs, Issue 1 (Mature audience)
Left rattled by the events of Dark Nights: Metal, Bruce Wayne must come face-to-face with the nightmares spawned from the Dark Multiverse. But even though evil devoured evil in the collapse of Challengers Mountain, the Dark Knight still has his doubts. He discovers that the Batman Who Laughs not only survived the fight with The Joker at the end of Metal, but now he is enacting a sinister plan across the Multiverse — something both terrifying and oddly familiar.
But when Bruce Wayne realizes the only way to stop this madman is to kill him, he must consider violating the very rule Batman won't break…the same rule that created this insatiable villain — the Batman Who Laughs!
Get these two Batman titles for free by registering before September 30!
Browse blog and media articles