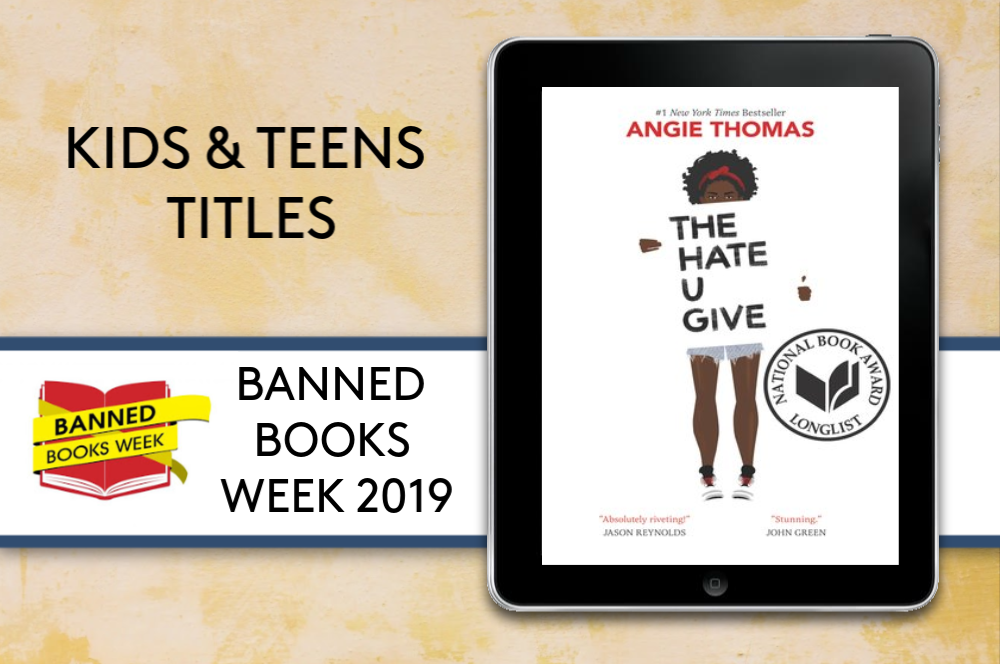 Banned Books Week 2019: Kids & teens
Banned Books Week is coming to an end. Over the past few days, we've looked at some of the most frequently challenged or banned books of the past few years, including LGBTQIA+ titles, comics and graphic novels, and adult books.
Yesterday, I mentioned that there was not a single adult title on the 10 most challenged books of 2018 list. Even in years when there is an adult title, books by kids and teens tend to make up the bulk of the most frequently challenged books. Some of these books are even on the list multiple years in a row.
The 10 most challenged books of 2018 can be viewed here along with lists from previous years. Here is a handful of kids and teen titles that have made it onto the most-frequently challenged list in the last few years:
A Day in the Life of Marlon Bundo by Jill Twiss, illustrated by EG Keller
"HBO's Emmy-winning "Last Week Tonight" with John Oliver presents a picture book about a Very Special boy bunny who falls in love with another boy bunny. Meet Marlon Bundo, a lonely bunny who lives with his Grampa, Mike Pence – the Vice President of the United States. But on this Very Special Day, Marlon's life is about to change forever…With its message of tolerance and advocacy, this charming children's book explores issues of same-sex marriage and democracy. Sweet, funny, and beautifully illustrated, this book is dedicated to every bunny who has ever felt different."
The Hate U Give by Angie Thomas
"Sixteen-year-old Starr Carter moves between two worlds: the poor neighborhood where she lives and the fancy suburban prep school she attends. The uneasy balance between these worlds is shattered when Starr witnesses the fatal shooting of her childhood best friend Khalil at the hands of a police officer. Khalil was unarmed. Soon afterward, his death is a national headline. Some are calling him a thug, maybe even a drug dealer and a gangbanger. Protesters are taking to the streets in Khalil's name. Some cops and the local drug lord try to intimidate Starr and her family. What everyone wants to know is: what really went down that night? And the only person alive who can answer that is Starr. But what Starr does—or does not—say could upend her community. It could also endanger her life."
Thirteen Reasons Why by Jay Asher
"Clay Jensen returns home from school to find a strange package with his name on it lying on his porch. Inside he discovers several cassette tapes recorded by Hannah Baker—his classmate and crush—who committed suicide two weeks earlier. Hannah's voice tells him that there are thirteen reasons why she decided to end her life. Clay is one of them. If he listens, he'll find out why. Clay spends the night crisscrossing his town with Hannah as his guide. He becomes a firsthand witness to Hannah's pain, and as he follows Hannah's recorded words throughout his town, what he discovers changes his life forever."
The Absolutely True Diary of a Part-Time Indian by Sherman Alexie
"Bestselling author Sherman Alexie tells the story of Junior, a budding cartoonist growing up on the Spokane Indian Reservation. Determined to take his future into his own hands, Junior leaves his troubled school on the rez to attend an all-white farm town high school where the only other Indian is the school mascot."
And Tango Makes Three by Peter Parnell and Justin Richardson, illustrated by Henry Cole
"Roy and Silo are just like the other penguin couples at the zoo; they bow to each other, walk together and swim together. But Roy and Silo are a little bit different: They're both boys. Then, one day, when Mr. Gramzay the zookeeper finds them trying to hatch a stone, he realizes that it may be time for Roy and Silo to become parents for real."
I Am Jazz by Jazz Jennings and Jessica Herthel, illustrated by Shelagh McNicholas
"From the time she was 2-years-old, Jazz knew that she had a girl's brain in a boy's body. She loved pink and dressing up as a mermaid and didn't feel like herself in boys' clothing. This confused her family, until they took her to a doctor who said that Jazz was transgender and that she was born that way. Jazz's story is based on her real-life experience and she tells it in a simple, clear way that will be appreciated by picture book readers, their parents and teachers."
Tags In
Browse blog and media articles