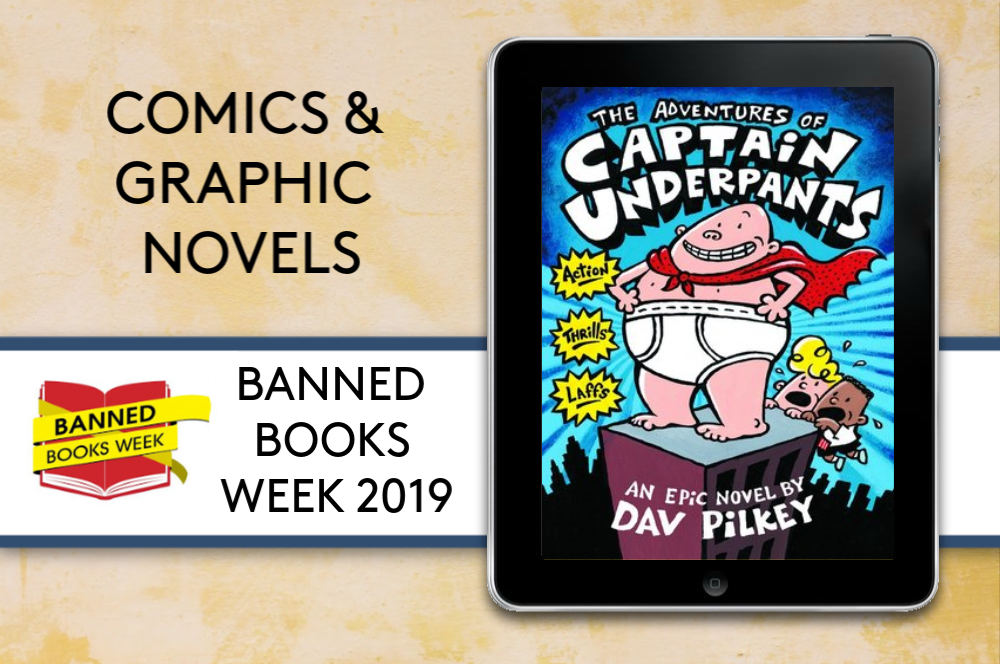 Banned Books Week 2019: Comic books & graphic novels
It's Banned Books Week, and every day this week I'll be sharing frequently challenged or banned books. Yesterday, we looked at LGBTQIA+ content. Today, I'm talking about comic books and graphic novels, starting with the Captain Underpants series by Dav Pilkey, which was challenged in 2018 because "it was perceived as encouraging disruptive behavior."
Here are some other comic books and graphic novels that have been challenged over the years:
This One Summer, written by Marika Tamaki and illustrated by Jillian Tamaki
Every summer, Rose goes with her mom and dad to a lake house in Awago Beach. It's their getaway, their refuge. Rosie's friend Windy is always there, too, like the little sister she never had. But this summer is different. Rose's mom and dad won't stop fighting, and when Rose and Windy seek a distraction from the drama, they find themselves with a whole new set of problems. One of the local teens – just a couple of years older than Rose and Windy – is caught up in something bad… Something life threatening. It's a summer of secrets, sorrow and growing up, and it's a good thing Rose and Windy have each other.
Sex is a Funny Word, written by Cory Silverberg and illustrated by Fiona Smyth
A comic book for kids that includes children and families of all makeups, orientations and gender identities, Sex Is a Funny Word is an essential resource about bodies, gender and sexuality for children ages 8-10 as well as their parents and caregivers. Much more than the "facts of life" or "the birds and the bees," Sex Is a Funny Word opens up conversations between young people and their caregivers in a way that allows adults to convey their values and beliefs while providing information about boundaries, safety and joy.
Fun Home by Alison Bechdel
Meet Alison's father, a historic preservation expert and obsessive restorer of the family's Victorian home, a third-generation funeral home director, a high school English teacher, an icily distant parent and a closeted homosexual who, as it turns out, is involved with his male students and a family babysitter. Through narrative that is alternately heartbreaking and fiercely funny, we are drawn into a daughter's complex yearning for her father. And yet, apart from assigned stints dusting caskets at the family-owned "fun home," as Alison and her brothers call it, the relationship achieves its most intimate expression through the shared code of books. When Alison comes out as homosexual herself in late adolescence, the denouement is swift, graphic — and redemptive.
Persepolis by Marjane Satrapi
The intelligent and outspoken child of radical Marxists, and the great-granddaughter of Iran's last emperor, Satrapi bears witness to a childhood uniquely entwined with the history of her country. Persepolis paints an unforgettable portrait of daily life in Iran and of the bewildering contradictions between home life and public life. This is a beautiful and intimate story full of tragedy and humor – raw, honest and incredibly illuminating.
Saga, written by Brian K. Vaughan and illustrated by Fiona Staples
Saga is the sweeping tale of one young family fighting to find their place in the world. When two soldiers from opposite sides of a never-ending galactic war fall in love, they risk everything to bring a fragile new life into a dangerous old universe.
Drama by Raina Telgemeier
Callie loves theater. And while she would totally try out for her middle school's production of Moon over Mississippi, she can't really sing. Instead, she's the set designer for the drama department's stage crew, and this year she's determined to create a set worthy of Broadway on a middle-school budget. But how can she, when she doesn't know much about carpentry, ticket sales are down and the crew members are having trouble working together? Not to mention the onstage AND offstage drama that occurs once the actors are chosen. And when two cute brothers enter the picture, things get even crazier!
Tags In
Browse blog and media articles