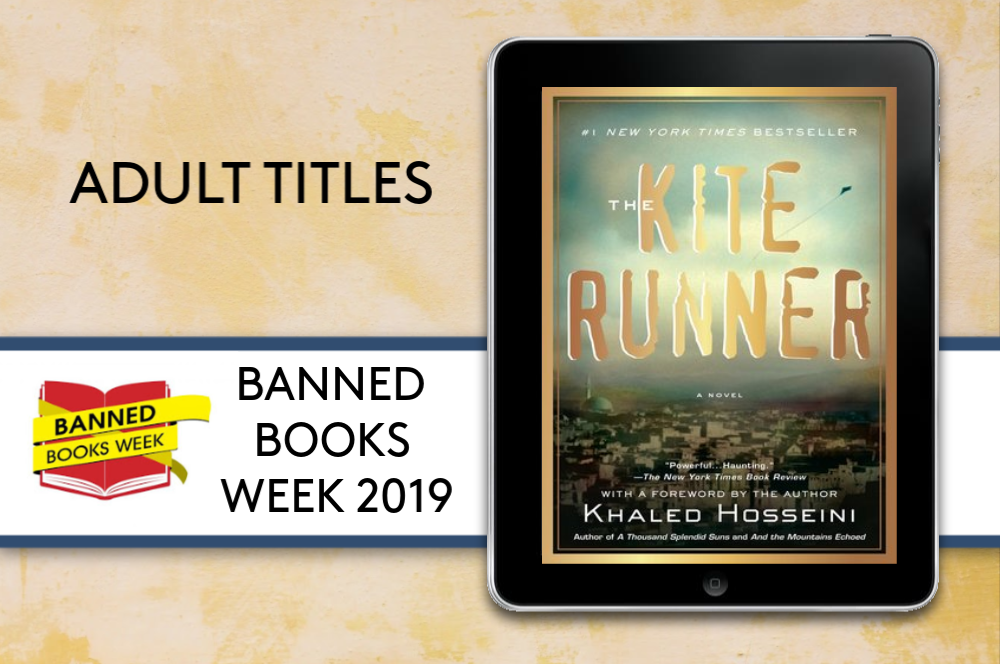 Banned Books Week 2019: Adult titles
It's Banned Books Week, and I've discussed LGBTQIA+ books and comics and graphic novels. So far, all of the frequently challenged books I've talked about have been for kids or teens, and while juvenile and young adult titles do make up the bulk of books frequently challenged, they aren't the only ones. While it would be easy to assume that most challenges happen in schools, data from the American Library Association shows that 59 percent of book challenges happen in public libraries. For today, I'm going to share adult titles.
No adult title made it on the top 10 most-challenged books list in 2018. But in 2017, Khaled Hosseini's novel The Kite Runner was challenged and banned because it includes sexual violence and was thought to "lead to terrorism" and "promote Islam."
Other adult titles that have been frequently challenged over the years:
To Kill a Mockingbird by Harper Lee
One of the best-loved stories of all time, To Kill a Mockingbird has been translated into more than 40 languages, sold more than 40 million copies worldwide, served as the basis for an enormously popular motion picture and was voted one of the best novels of the 20th century by librarians across the country. A gripping, heart-wrenching and wholly remarkable tale of coming-of-age in a South poisoned by virulent prejudice, it views a world of great beauty and savage inequities through the eyes of a young girl, as her father — a crusading local lawyer — risks everything to defend a black man unjustly accused of a terrible crime.
Make Something Up by Chuck Palahniuk
Twenty-one stories and one novella from Chuck Palahniuk, literature's favorite transgressive author, Make Something Up is a compilation that disturbs and delights in equal measure. In "Expedition," fans will be thrilled to see a side of Tyler Durden never seen before in a precursor story to Fight Club. And in other stories, the absurdity of both life and death are on full display; in "Zombies," the best and brightest of a high school prep school become tragically addicted to the latest drug craze: electric shocks from cardiac defibrillators. In "Knock, Knock," a son hopes to tell one last off-color joke to a father in his final moments, while in "Tunnel of Love," a massage therapist runs the curious practice of providing 'relief' to dying clients. Funny, caustic, bizarre, poignant; these stories represent everything readers have come to love and expect from Chuck Palahniuk.
Fifty Shades of Grey by E.L. James
When literature student Anastasia Steele goes to interview young entrepreneur Christian Grey, she encounters a man who is beautiful, brilliant and intimidating. The unworldly, innocent Ana is startled to realize she wants this man and, despite his enigmatic reserve, finds she is desperate to get close to him. Unable to resist Ana's quiet beauty, wit and independent spirit, Grey admits he wants her, too — but on his own terms. Shocked yet thrilled by Grey's singular tastes, Ana hesitates. For all the trappings of success — his multinational businesses, his vast wealth, his loving family — Grey is a man tormented by demons and consumed by the need to control. When the couple embarks on a daring, passionately physical affair, Ana discovers Christian Grey's secrets and explores her own dark desires.
The Bluest Eye by Toni Morrison
Pecola Breedlove, a young black girl, prays every day for beauty. Mocked by other children for the dark skin, curly hair and brown eyes that set her apart, she yearns for normalcy, for the blond hair and blue eyes that she believes will allow her to finally fit in. Yet as her dream grows more fervent, her life slowly starts to disintegrate in the face of adversity and strife. A powerful examination of our obsession with beauty and conformity, Toni Morrison's virtuosic first novel asks powerful questions about race, class and gender with the subtlety and grace that have always characterized her writing.
A Stolen Life by Jaycee Dugard
"In the summer of 1991 I was a normal kid. I did normal things. I had friends and a mother who loved me. I was just like you. Until the day my life was stolen. For 18 years I was a prisoner. I was an object for someone to use and abuse. For 18 years I was not allowed to speak my own name. I became a mother and was forced to be a sister. For 18 years I survived an impossible situation. On Aug. 26, 2009, I took my name back. My name is Jaycee Lee Dugard. I don't think of myself as a victim. I survived. A Stolen Life is my story — in my own words, in my own way, exactly as I remember it."
Tags In
Browse blog and media articles