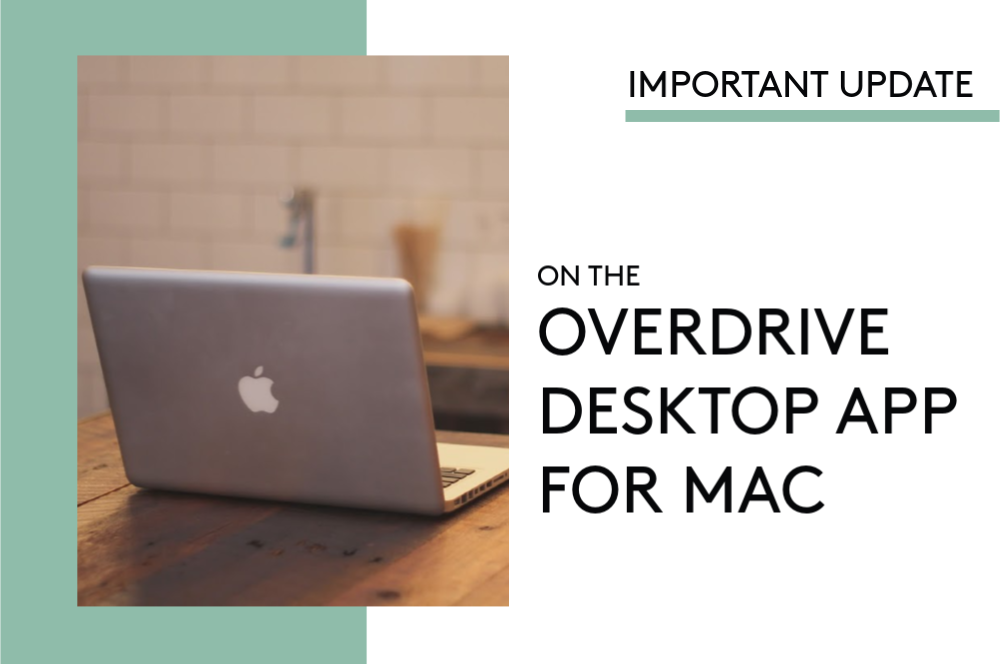 Important update on the OverDrive desktop app for Mac
On August 26, 2019, OverDrive notified library partners that we would be discontinuing support for the OverDrive for Mac desktop app. On September 4, OverDrive removed the app from app.overdrive.com and eliminated the download option for MP3 audiobooks on Mac via your library's OverDrive website. This change unfortunately frustrated users who were using the app to download and transfer audiobooks from your library to MP3 players.
OverDrive made this decision in anticipation of Mac's new OS, expected for release this fall, called Catalina. The macOS Catalina will require all apps to be 64-bit. The OverDrive for Mac app is 32-bit, which will make it incompatible with the upcoming macOS.
When we decided to end support for OverDrive for Mac, we failed to appropriately gauge the number of users that would be impacted and how. We are sorry for this mistake and the inconvenience it caused for your patrons and staff.
As a result, we are working as quickly as possible to restore the download option for MP3 audiobooks to users running macOS 10.6 (Snow Leopard) through 10.14 (Mojave). Once restored, the following message will appear for Mac users on your OverDrive website with a link to an updated Help article: MP3 audiobooks are only supported on macOS 10.6 (Snow Leopard) through 10.14 (Mojave). These updates will be made by October 2.
Users who upgrade to the newest macOS Catalina will not be able to download and transfer MP3 audiobooks from OverDrive. Those users can listen to audiobooks in their browser, or depending on their device compatibility, install the OverDrive or Libby app (for public libraries) or the Sora app (for schools) directly on their device to listen to audiobooks.
Again, we sincerely apologize for this disruption of service to your Mac desktop patrons. We can and will do better and are committed to providing the best experience for your patrons across platforms.
As always, please contact your Account Manager with any questions.
Tags In
Browse blog and media articles