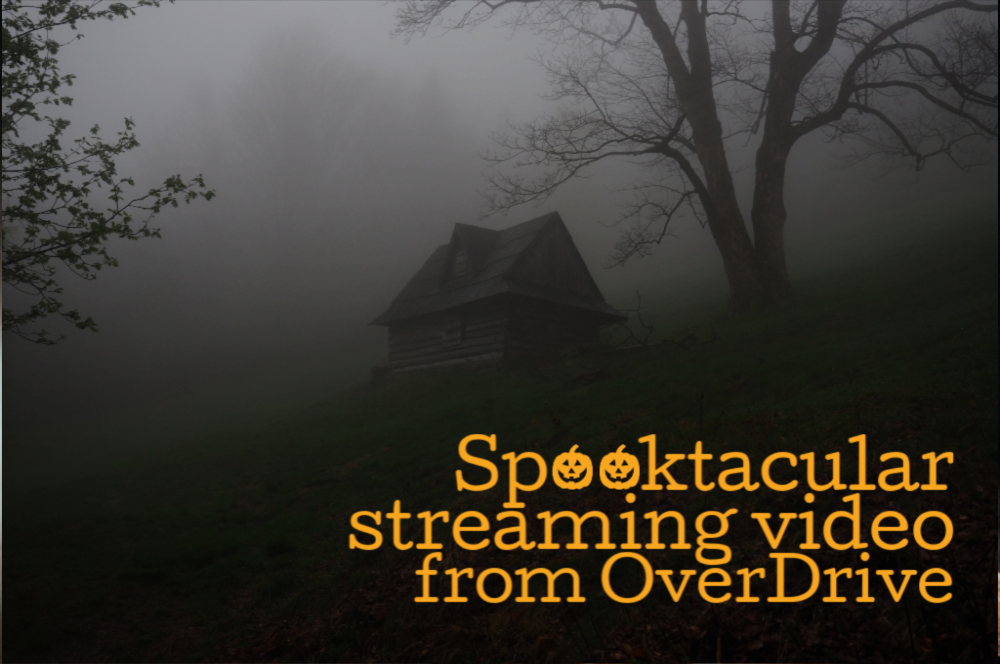 Spooktacular streaming video from OverDrive
In the words of Lucy Maud Montgomery, "I'm so glad I live in a world where there are Octobers." One of my favorite things about this time of year is indulging in some horror movies (I even have two friends who only watch horror films in October. They watch them year-round, but in October, it's all that they watch). While I don't put myself at that level when it comes to the horror genre, I do enjoy being frightened by a good scary movie. Sometimes, I even set myself up for it. Like that time I decided to watch "Saw" for the first time when I was home alone and turned all the lights off.
With Halloween just a few weeks away, now is the ideal time to add some screaming, I'm sorry, I mean streaming video to your OverDrive collection by shopping Marketplace for horror movies. Not sure where to start? Here are 10 of my personal recommendations:
Let the Right One In
Based on John Ajvide Lindqvist's book of the same name, this Swedish film tells the story of the burgeoning friendship between 12-year-old Oskar and Eli, a pale, serious young girl who only comes out at night. This is a vampire story unlike any other (and while it was remade into an English film, I recommend you go with the original Swedish).
Nosferatu
A vampire so famous, he has a Cleveland beer named after him (Nosferatu is also my favorite of all Great Lakes Brewing Company's drafts and I spend all year awaiting its return). This 1929 silent film is an iconic classic, and one that any film buff should see at least once.
Stonehearst Asylum
Who doesn't love creepy turn-of-the-century asylums? When young doctor Edward Newgate arrives at Stonehearst Asylum, a series of unusual events leads him to make a horrifying discovery that pushes him to the limits of his conscience. Stars Jim Sturgess, Kate Beckinsale, Ben Kingsley and Michael Caine.
The Host
South Korea is known for its horror films, including this 2006 film by director Bong Joon-ho. When a young girl is snatched away from her father by a horrifying giant monster that emerges from the River Han to wreak havoc on Seoul, her entire family sets out to locate the beast and bring their little girl back home to safety.
Night of the Living Dead
George A. Romero's 1968 film is a cult classic and for good reason. I still remember seeing it for the first time in college, and the end continues to haunt me 20 years later. The movie spawned five sequels, but the original has stood the test of time and has even been preserved in the National Film Registry for its cultural importance.
Serial Killer Culture
This documentary examines the reasons why artists and collectors are fascinated by serial killers. Through music, painting, filmmaking, writing and collecting, 13 individuals are interviewed about creating art and searching for murderous artifacts. This is sure to catch the attention of true crime fans.
Sleepaway Camp
Every October, my friends and I get together and do a scary movie double feature. A few years ago, one of the selected titles was "Sleepaway Camp." A 1983 slasher film, "Sleepaway Camp" follows a young girl whose is sent to summer camp and, naturally, shortly after she arrives a series of murders begin. The movie has gained cult status among horror movie fans, and notoriety for its ending. The perfect companion film for fans of "American Horror Story: 1984."
Rubber
A tire comes to life and goes on a killing spree. No, really.
Texas Chainsaw Massacre: A Family Portrait
In 1974, Tobe Hooper unleashed a film that was an intense study of homicidal madness in psychological horror. It has since become a cult phenomenon and the most successful independent horror film ever made. This is the first-ever comprehensive documentary of the making of this landmark film.
House on Haunted Hill
In this horror film classic, Vincent Price plays an eccentric millionaire who invites five people to a party he is throwing at a house. If the group is able to stay the entire night in the locked house, each will be given $10,000. Sounds easy enough, right? Oh, well, I guess I should mention that the house is rumored to be haunted, but I'm sure everything will turn out just fine.
Browse blog and media articles