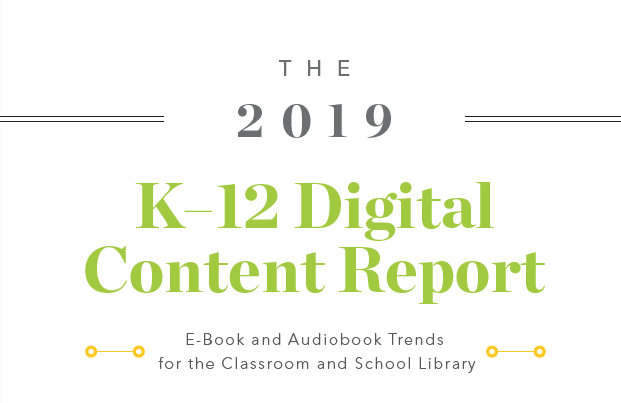 The 2019 K-12 Digital Content Report: Ebook & Audiobook Trends for the Classroom & School Library (Part 1)
By: Alecia Mouhanna, Marketing and Communications Specialist
Whether it's deployed inside or outside the classroom, there's no question that digital content is weaving itself into the fabric of students' everyday educational experiences. This is reflected in the results of The 2019 K-12 Digital Content Report, a newly released study co-sponsored by ASCD and OverDrive Education.
The 2019 K-12 Digital Content Report offers a comprehensive look at educators' use of and attitudes toward digital content. It's a follow up to the eye-opening 2016 study, and found that not only are more districts and schools using ebooks and audiobooks, they're also using them in more ways. Data was collected from 2,000 K-12 administrators to provide a complete perspective of the digital content landscape, including current usage (extent, budgeting, subject areas, devices), prevailing attitudes (effects, benefits, concerns), and future plans and priorities.
In this series, we'll highlight key findings from The 2019 K-12 Digital Content Report, at times comparing results against figures from the 2016 study. Today, we'll dive into the data as it relates to current usage.
Overall, 92% of survey respondents reported use of ebooks and audiobooks for instructional content or independent, student-choice reading, an increase of 12% over 2016. Furthermore, reported use of digital content within the classroom jumped 16% due to a hike in those using ebooks and audiobooks as part of the curriculum.
Fewer educators reported using digital content outside the classroom only, such as in the library, with a 3% decrease from 2016, indicating that more and more, educators are seeing the positive impact ebooks and audiobooks can have on student performance.
Here's the complete breakdown of digital content usage: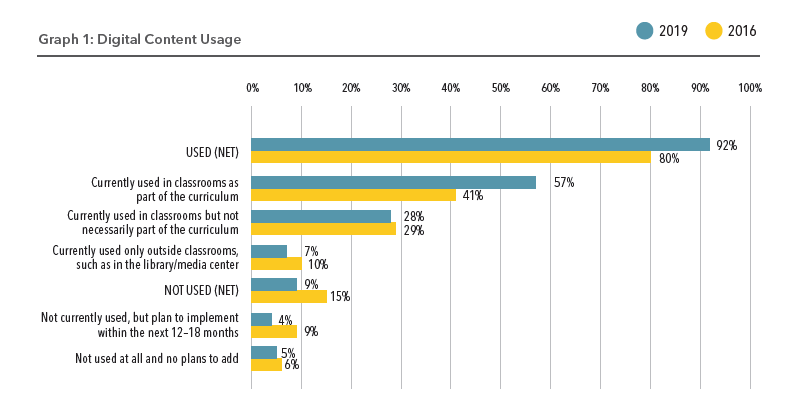 So what are these results saying? More than anything, it's clear that ebooks and audiobooks are becoming an increasingly important component of the curriculum as usage continues to expand beyond the library.
To learn more about current ebook and audiobook trends for the classroom and library, check out The 2019 K-12 Digital Content Report.
Browse blog and media articles