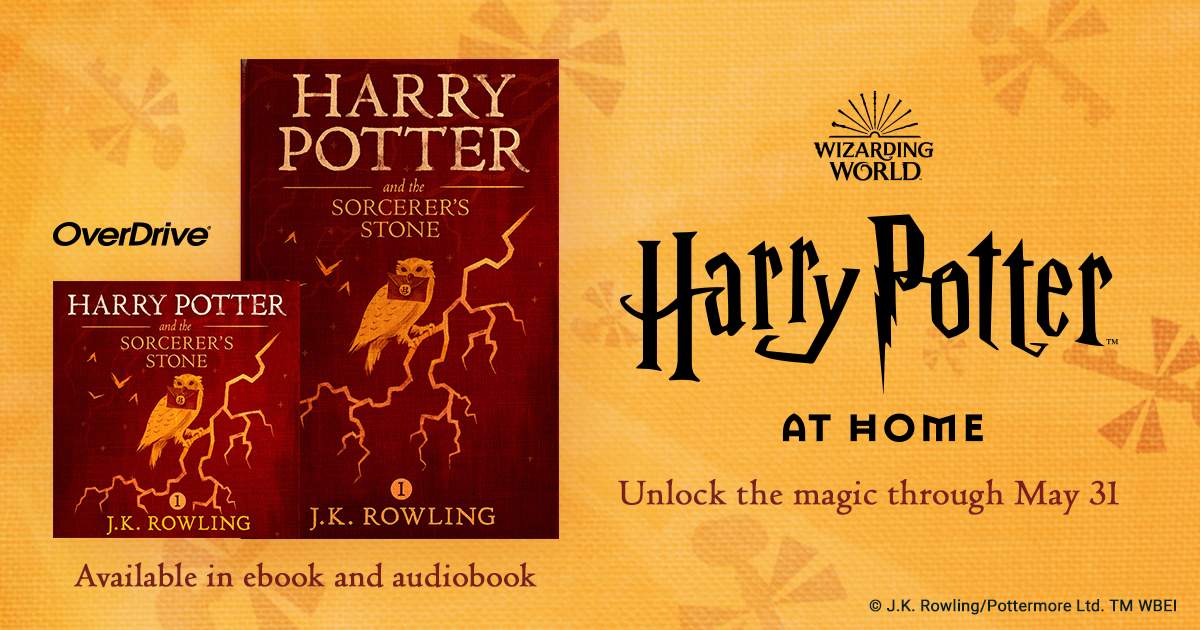 Students can enjoy #HarryPotterAtHome through June 30 with unlimited access to the ebook and audiobook
Though school may be closed, Hogwarts will always be there to welcome you home. Through June 30, your students can join Harry, Ron and Hermione as they hop aboard the Hogwarts Express, wander through Diagon Alley or risk losing house points with an after-hours jaunt in the Forbidden Forest – all without ever leaving the living room.
With so much uncertainty in the world right now, it stands to reason that homebound kids could use a little magic in their lives – and where better to find it than in the stories about the Boy Who Lived?
That's why, in collaboration with Pottermore Publishing, we're pleased to announce that schools will have access to simultaneous use ebook and audiobook versions of Harry Potter and the Sorcerer's Stone (U.S.)/Harry Potter and the Philosopher's Stone (globally) in every available language. The title will be available for free – with no waitlists – to our school and public library partners worldwide through June 30. The offer is part of the #HarryPotterAtHome program, which is intended to bring the magic of reading for pleasure into the lives of kids, educators, parents and caregivers amid global school and library closures.
All available versions of the title (availability may vary by geographic region) will soon be featured in your collection as a new simultaneous use curated list. Be sure to let your students know they're available for check out before they apparate away!
To help you spread awareness, we've put together a marketing kit that includes some spellbinding social media graphics. For additional information and ideas for at-home activities, be sure to visit the Harry Potter At Home hub.
Whether your homebound students are experiencing the Sorting Ceremony for the first time or consider themselves advanced enough to sit for their N.E.W.T.s, they'll have a chance to read (or reread…or re-reread…) a timeless classic that has comforted and delighted countless readers of all ages across the globe.
Please be sure to reach out to your Account Manager with any questions or if you'd like to opt out of this program.
Tags In
Browse blog and media articles