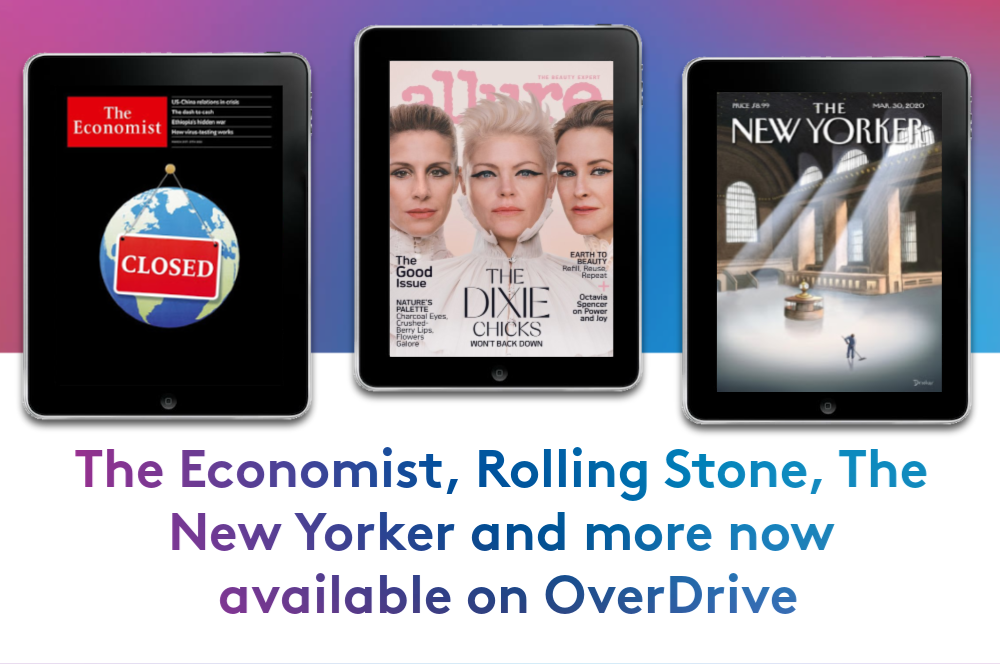 The Economist, Rolling Stone, The New Yorker and more now available on OverDrive
Since relaunching our magazine service in Libby in June 2018, libraries across the globe have seen tremendous success. Because magazines are available to readers on the same platform as their OverDrive ebooks and audiobooks, there's no need for additional apps or log-ins. Users can browse, borrow, and read them right alongside your other digital content.
We're excited to share that even more magazine titles have been added to our already robust offerings. Our second magazine package includes The Economist, The New Yorker, Wired, Rolling Stone, Allure, Foreign Affairs and more!* To see the full list of magazine options, visit our Sim Use page in Marketplace.
All magazines are available as simultaneous use without circulation caps. Libraries can purchase magazines from two different sim use packages: the new titles are available in packages of either 10 or 25, while our current magazine package allows you to select magazines in packages of 10, 25, 50, 75 or 100. Both packages are customizable, so you can choose which magazines you want to buy for your OverDrive digital library. Subscriptions are on a yearly basis and once purchased, you will keep all magazines you've selected even after your subscription expires. The price of each subscription tier is based on a library's annual circulation. Both packages can be found on our Sim Use page in Marketplace.
With physical libraries closed and readers relying heavily on your digital collection, now is the perfect time to either add these new titles to your magazine collection or to start offering magazines for the first time.
Contact your Account Manager with any questions.
*These new titles are currently unavailable to libraries in the U.K. and Europe. We hope to make these titles available to those markets soon.
Tags In
Browse blog and media articles