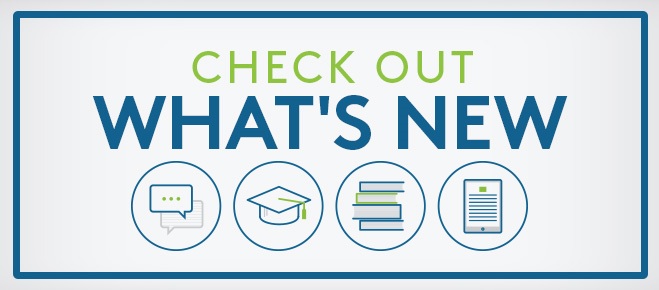 Keep learners engaged (remotely) with the Sora – Student Learning at Home kit
By: Gabby Cregan, Training Specialist
For many students, it's been weeks (or maybe even longer) since they've attended traditional, in-person classes. While technology affords some teachers the opportunity to reach their learners in real-time, educators and parents continue to face the task of finding and implementing worthwhile, engaging learning opportunities for students.
A free training kit to support distance learning
To support K-12 students as they read to learn, we've assembled the Sora – Student Learning at Home training kit, a free resource that provides remote educational activities for homebound students. It's perfect for schools, educators and parents that are new to the Sora student reading app or looking for more ways to use the app as an educational tool. You can share the entire file with students and colleagues, or pick and choose items to fit your needs.
For students who are unfamiliar with Sora or need a refresher, the training kit contains getting started resources to help them sign in and find their next great read. Aligning with traditional curriculum and student learning objectives, these lessons also help students get comfortable with Sora and discover how to use the reading interactions, tools and resources available in the app.
Each lesson includes opportunities for creativity and student choice. Teachers can customize the included lessons by assigning titles, or by inviting students to self-select. Activities can be assigned individually, or students can complete the entire lesson.
Though the kit provides basic structure and directions, it's ultimately intended to provide educators with options for application, without restricting the lesson to a particular book or class.
What's included in the Sora – Student Learning at Home kit
Download the Sora – Student Learning at Home kit to access:
A link to a 5-minute Sora overview video – a great introduction for students, teachers or parents!
A "Getting started with Sora" flyer to help students sign in quickly and start borrowing books. Customize this PDF with your school's setup code to make signing in even easier.
A lesson plan for elementary school students. Engage early learners with three learning activities, focused on read-along ebooks. Tips are included for parents or older students to help younger readers at home.
A lesson plan for middle school students. In this lesson, kids complete learning activities before, during, and after reading, with a focus on Sora's interactive tools (definitions, notes, and highlights).
Two lesson plans for high school students, during which teens are asked to "read beyond the screen". Learning activities include a focus on using visuals to summarize, explain, or retell.
You can find this kit – and other learning resources – on the K-12 Schools Staff Training page of the OverDrive Resource Center.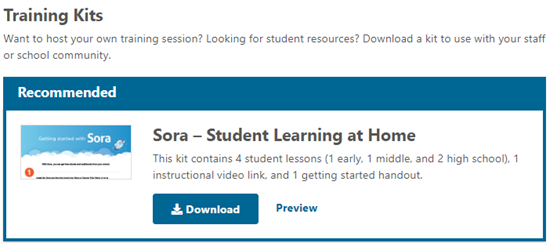 ---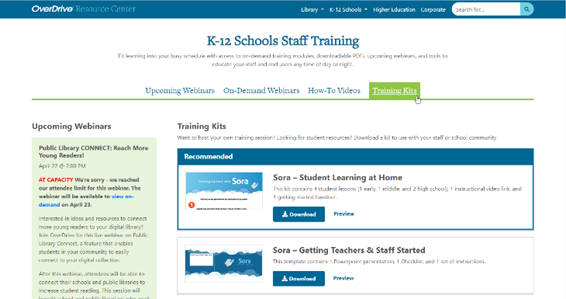 Looking for more remote learning resources? While you're on the Resource Center, you can also:
---
And be sure to visit our new remote learning hub, the Resources for Remote Learners page!

---
About the Author
Gabby is a Training Specialist at OverDrive, where she creates and implements trainings for K-12 school partners. Her experience in education includes teaching middle school math and studying the processes of learning and motivation in the field of educational psychology. Spending time near the water, attending concerts, and laughing with friends are her favorite ways to spend a day.
Browse blog and media articles