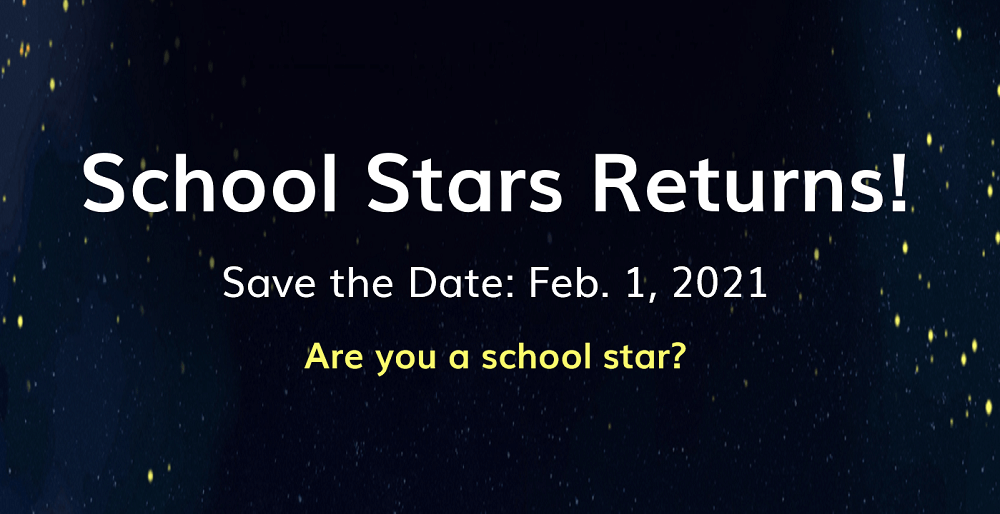 School Stars returns Feb. 1! Are you ready?
By: Christina Samek, Outreach Specialist
Although it seemed like it would go on and on into forever, 2020 is finally coming to an end. Like almost everyone, I am ready for it to be over and am feeling hopeful for what 2021 may bring. This year has taught me so many things: patience, adaptability, gratitude, how to make bread…but above all else, it's taught me to find joy wherever possible.
Joy is everywhere. It's in my son's face when he realizes he gets another day home with me, because he sees possible trips to the playground and sing-alongs at lunch—not the worry or the stress. It's there when you find that a book you've been wanting to read is available on Sora, the reading app. It's reflected in your students when they've grasped a concept you've been explaining. I promise you, it's there.
School Stars launched in 2018 as a means to find measurable joy in our partner schools across the globe. It's returning in 2021 with the same mission, so we want to ask you: what are you doing to spark a joy of reading in your classrooms (physical or virtual)?
The program launches Feb. 1, 2021 and will run through Mar. 31, 2021. If you don't know what School Stars is, that's okay! We welcome and encourage newcomers to participate! School Stars is a global contest aimed at celebrating how schools promote Sora. For 2021's contest, we're looking for how your school has promoted Sora during the 2020-2021 school year (August 2020 – Time of entry). Past entries have included videos, visual displays and bulletin boards, social media campaigns, and student created resources. We hope you aim for the stars, but know that no promotion is too small!
Categories and Prizes
The 2020-2021 school year has probably been the most unique of your life. We hope our 2021 categories help capture all the unique ways you've been promoting Sora in this challenging time:
Best in Social Media: Share how you promoted Sora across your social networks (Facebook, Twitter, Instagram etc.) to engage your school community.
Student Made Sora Promotion – Teens: Some of the best promotions are student made! Share how your teens have helped promote Sora to their classmates.
Student Made Sora Promotion – Young Readers: Much like the teen readers, we want to know how young readers (13 and under) are spreading the word about Sora!
Best in Visual/Virtual Display or Bulletin Board: Share your best visual or virtual Sora display! This could be anything from a compelling Zoom background, a unique bulletin board or a towering display case!
Most Creative – Did you pass out candy with the Sora icon on it? Host an interactive event through Sora? Show us how your school got creative and encouraged reading in 2020-2021!
And of course…Best Overall.
We'll be rewarding you for your efforts. Here are the 2021 prizes (awarded in content credit):
Grand Prize (1 winner) : $2,500 USD
Best in Category (5 winners): $500 USD
Best in Category – Runner Up (5 winners): $250 USD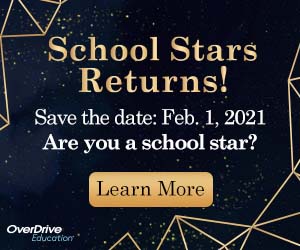 Additionally, we'll select 5 lucky entrants to receive $100 USD simply for entering!
Check out the School Stars website for more, including a count-down to launch day, a helpful webinar, and this year's winning entries!
---
Christina Samek is an Outreach Specialist at OverDrive. She develops resources that help K-12 educators grow engagement among their students, faculty and parents. Prior to coming to OverDrive, she worked in the magazine industry. She has a degree in journalism and English literature from Miami University (OH). She loves reading, writing, running, her adorable little boy, her husband, cherry turnovers and her dog, Willow.
Tags In
Browse blog and media articles