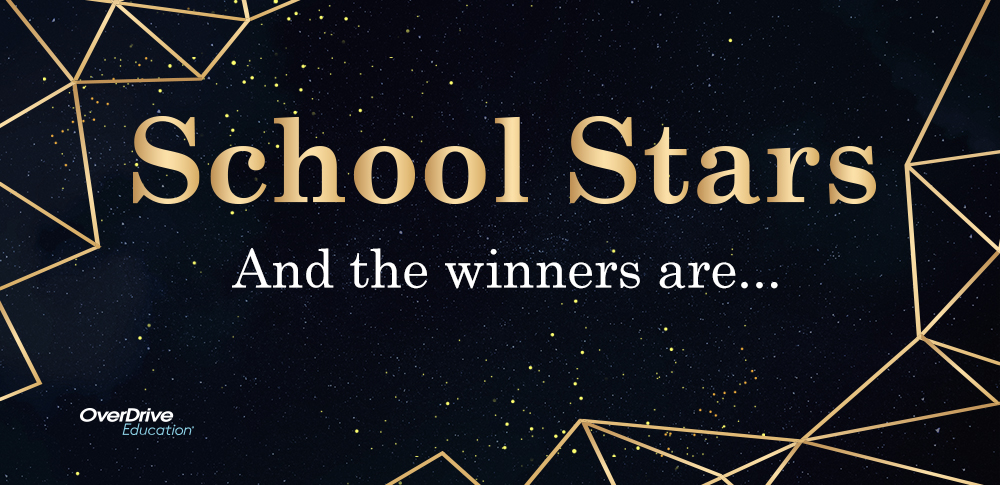 School Stars 2021: Meet our winners!
By: Christina Samek, Outreach Specialist
That's a wrap on School Stars 2021, and it was one for the record books! With over 200 entries, there were so many wonderful, thoughtful, compelling, heart-breaking, beautiful, engaging, amazing…I could go on and on…entries. It was truly very difficult to select this year's winning entries, but we've done it!
Meet this year's crop of winners, below! Remember, School Stars will return in February 2022. We'll be looking, again, for all the ways YOU – yes you! – promote the Sora reading app in your school!
Grand Prize: Gatlinburg-Pittman Junior High School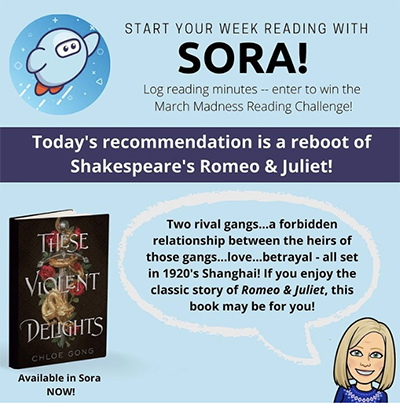 Sally Helton, Library Media Specialist at Gatlinburg-Pittman Jr. High School in Tennessee, let us know they had only recently adopted Sora at their school —launching the platform on March 1, 2021. Her team decided to borrow themes from the very popular March Madness craze to introduce Sora to students. In February, leading up to Sora's debut, the library launched its social media presence on Instagram and began adding followers. Then, one week prior to the Sora launch, Helton and team started posting teasers like "Something Big Is Coming March 1, 2021" and a picture of their Word of the Week sign featuring the word "Sora."
While their social campaign definitely increased their engagement, they found (and we did, too!) that the centerpiece of the promotion was their March Madness-themed Sora "hype" video. All their hard work paid off! Per Helton, "We are so pleased that our data indicates our students are reading in Sora."
Great work, team!
Best in Social Media
Our category winner, JCSP Library Project Digital Library (Ireland), relied heavily on social media during lockdown. Librarian Lorna Vogelsang let first year students vote on their online class read by creating a vote tool on Teams (a student system) based on titles that were always available in their Sora collection. This inspired a rousing debate that spilled over online. According to Lorna, students "were able to see the power of their voice and their vote, because the winning title only won by two votes!"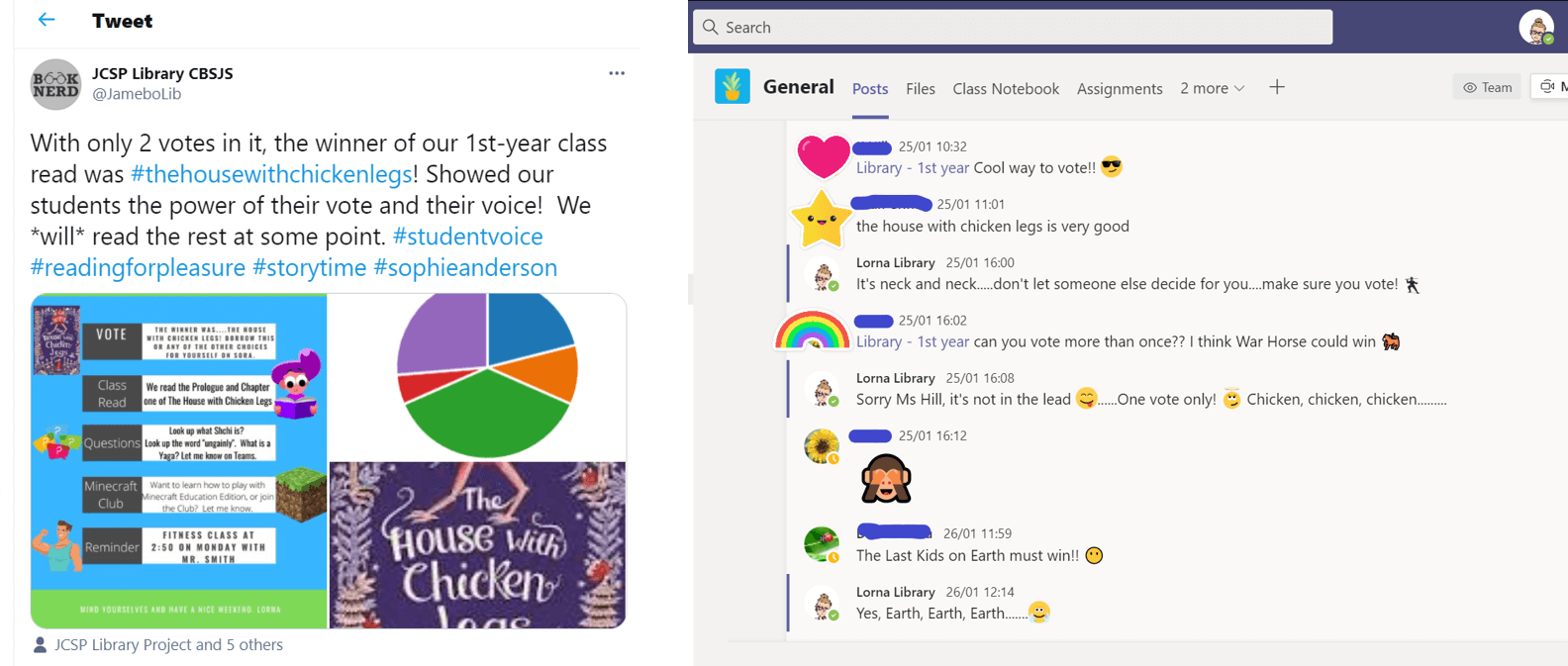 Category runner-up Pasco County School District in Florida also relied on social media during their 4th quarter quarantine. According to Susan Forgas, Resource Management Associate: "I found out that (the) district had previously declined to allow schools across the district to use Sora, so I asked them to reconsider, explaining how it would increase literacy, especially during COVID times when many students wouldn't have access to tangible library books."
Her request was approved and she used her budget to purchase the 2020-2021 Florida Sunshine State Young Readers Award books. She heavily promoted the collection to students with quizzes that students could take to earn "brag tags". She thought of her entire community and created a video explaining to parents, teachers and students how to access Sora. All her hard work was worth it, as evidenced by the sweet student testimonials included in her entry.

Best in Visual/Virtual Display
Category winner Laurel Public Schools in Montana won with this thoughtful and timely virtual display. Per Librarian Mikayla Hirschkorn, "Sora is such a fantastic resource for students wanting to check out books on sensitive topics while maintaining privacy." The display, sent out via email, features some of these sensitive topics and linked directly to Sora for instant check-outs. It was also published on the school library webpage and in Google Classroom.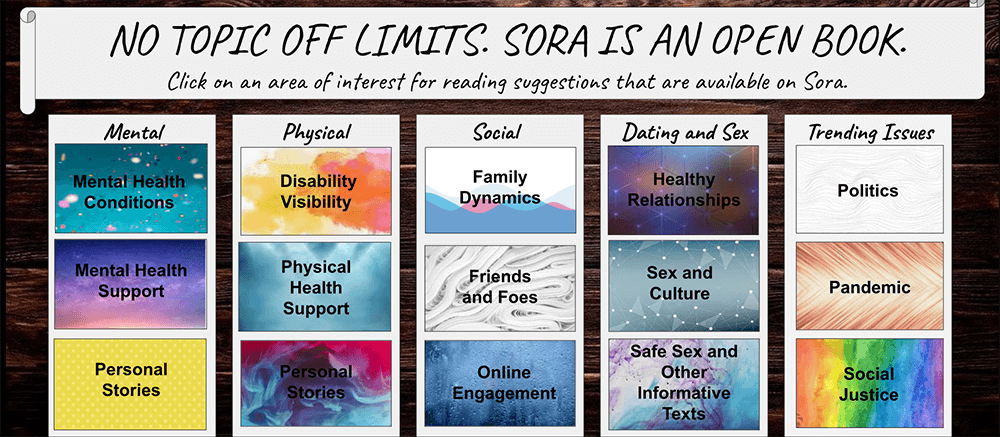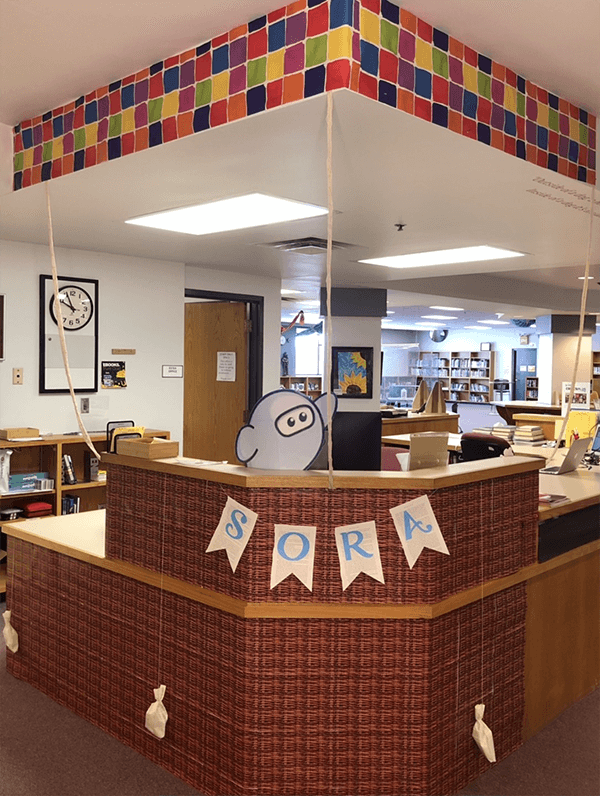 Category runner-up Lincoln Public Schools in Nebraska ran with a "Go big or go home" mentality when it came to their visual displays. They started with a theme: "Adventure Awaits – Find it with Sora."
They had floor-to-ceiling displays, including a display featuring books available in Sora and a 3-D display in their hallway – but the star was their circulation desk, modeled after a hot air balloon and piloted by none other than the Sora mascot!
Best in Student Made – Young Readers
This is probably one of my favorite categories! I love seeing what the kids come up with, and this year delivered some of our best to date! Category winner Durham Public Schools in North Carolina has a budding filmmaker in it's student population. Per Library Staff Kathryn McCullen, one of her 4th graders heard about School Stars and got right to work. What a talent!
Category runner-up World International School Torino in Italy also has a talented crop of young readers. Librarian Daniela Prando introduced a traditional storytelling theatre called Kamishibai to her primary students – and after listening and experiencing it for themselves, they created their own! This video showcases all of their hard work.
Best in Student Made – Teens
Speaking of talented kids, category winner Clear Creek ISD Intermediate Schools in Texas has their own group of stars. Media Specialist Valerie Loper and her team collaborated with their theater department to create this amazing commercial about Sora, reminiscent of a cheesy late-night TV infomercial. It was shared in English classrooms and across social media.
The students at LGCA Lake-Geauga Computer Association in Ohio, our category runner-up, really got creative with their entry and we loved it. Per Angie Jameson, School Library Director, students designed Bathroom Barcodes/Potty Posters to promote Sora in the school bathrooms as well as all around the school. Students used Slidesgo.com to design the posters, and selected books in verse in honor of National Poetry Month to kick off this promotion of materials. Students curated titles and linked the ebooks to the posters using a QR code generator.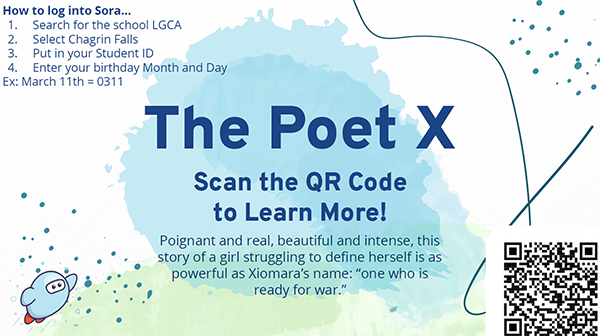 Most Creative
Our Category Winner, Akron Public Schools in Ohio, wanted to keep the momentum going for their voracious readers who'd already collected all of Sora's 30 achievement badges — so they had students create their own. According to Library Staff Susan Hall, the badges reflect STEM learning in their school and prompted a classroom conversation about the badges students imagined for themselves.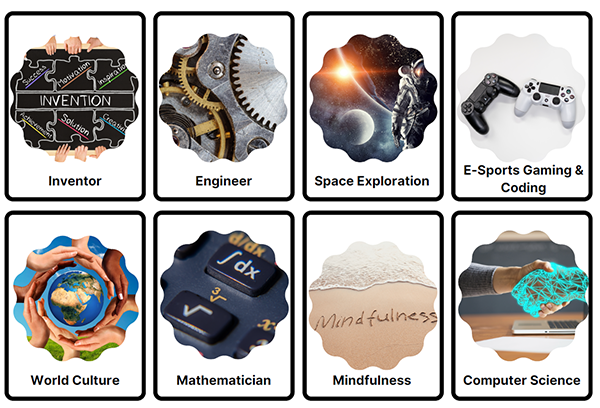 Media Specialists Dana Owens and Jennifer McCutchen from Owasso Public Schools in Oklahoma were our category runner-up. They saw an opportunity to inspire reading when their schools went to a mix of virtual and in-person learning, via…book tastings! The Media Specialists demonstrated their Virtual Book Tasting Bitmoji-presentation experience to each class during their library time and encouraged teachers to make the presentation available to students in their classrooms. The book tasting was linked to the students' Google Classrooms on their Chromebooks so it could be accessed from anywhere, at any time. The kids were very excited and began "tasting" the books immediately!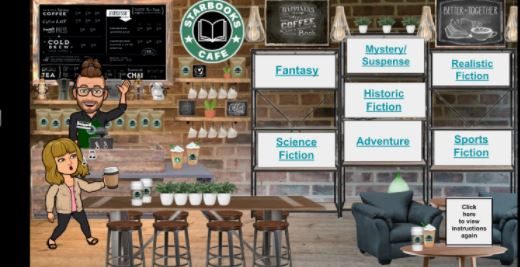 Honorable Mentions
Shout out to our lucky $100 Winners:
Andria Morningstar-Gray (Lakeview Local School District, Ohio)
Lauren Jansen (Ebooks Now South Africa, South Africa)
Casey Sirochman (Frazier School District, Pennsylvania)
Lori Sasaki (San Leandro USD, California)
Cinthia Ureta (Humble ISD, Texas)
See you all in 2022! If you have any fun, engaging promotional ideas for Sora that you'd like to share before then, please contact your OverDrive team – we're always looking to showcase educators' creativity on our blog and social media!
---
About the Author:
Christina Samek is an Outreach Specialist at OverDrive. She develops resources that help K-12 educators grow engagement among their students, faculty and parents. Prior to coming to OverDrive, she worked in the magazine industry. She has a degree in journalism and English literature from Miami University (OH). She loves reading, writing, running, her adorable little boy, her husband, cherry turnovers and her dog, Willow.
Tags In
Browse blog and media articles